A round at Augusta National. It is pretty much every golfer's dream isn't it? In a recent Twitter poll 44% of those questioned (283 golfers) said they'd move the most expensive day of their lives to accommodate it.

With the average wedding costing north of £30,000 according to Brides Magazine it is safe to say that golfers value a round at the host venue of The Masters pretty highly.
And it isn't just weddings that might suffer for that elusive tee time, 34% said they'd miss their child's birthday to fit in a round. So, with more than 70% of the votes, it would be safe to say that a date at Augusta National is worth more than some potential strife at home.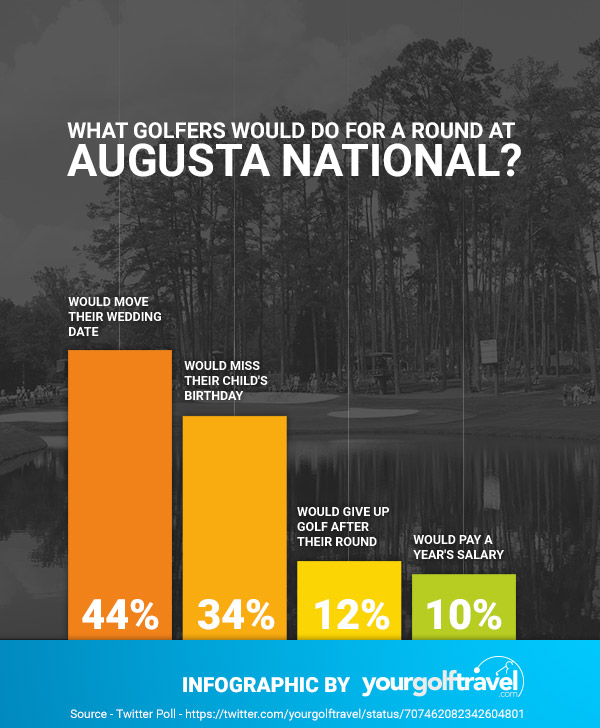 Share this Image On Your Site
Despite the potential cost of moving a wedding being a large one, golfers weren't happy to put their money where their mouth is with just 10% of respondents willing to part with a year's salary. With UK average salaries now around £26,500 (via Office for National Statistics), a round at this Georgia's most magnificent golfing masterpiece could cost you more than £6,500 an hour (presuming a four hour round). At this hourly rate you'd be nearly in the leagues of Wayne Rooney (£6,770 an hour)* or Cristano Ronaldo (£7,800 an hour)*. So, I guess the benefit of this is that you'll now know what it feels like to spend it like a footballer, even if it means you don't have anything left for the rest of the year.
Now, for those people that know golfers you'll be very surprised by this number. 12% of those asked said they'd be willing to give up golf after their round. Happy in the knowledge that they'd played the best course they could. Their spikes (soft we hope, so not to mess up the lovely greens), hung up. Their clubs now on eBay and their weekends now free. I guess the only reason why this might be believable is that there probably wouldn't be enough time for them to play golf, they'd be spending all of their free time telling people about "…the time I played Augusta National…my 8 on 12 was the greatest 12 you'd ever see…"
So, there you have it, from changing wedding days to giving up golf, it turns out a round at Augusta National is something golfers would do almost anything for.
For those not wanting to give up their salaries or miss child's birthdays, we at Your Golf Travel can offer a host of travel experiences to watch The Masters – check out ticket, hotels and flights here
*These figures are taken from Google Knowledge Graph search results, Rooney, according to the search result "Wayne Rooney Salary" earned £13,000,000 a year in 2015, whilst the same search for Cristiano Ronaldo sees him come in at £15,000,000. Because footballers tend to get some time off over the summer, we felt it only fair to divide their wage by 48 weeks with them working 40 hours a week.