Turkey has fast become a golf holiday destination of international repute and that is thanks to a rapid development of the Belek region and the arrival of a number of golf courses that, despite their relative youth, are comparable with the finest in Europe. And speaking of the finest in Europe, Colin Montgomerie, who once won 7 consecutive European Order of Merit titles, unveiled his Turkish delight back in 2007 and in its current form it is one of the finest layouts in the country.
Many a professional golfer has put their name to golf course designs over the last decade or two with golf course developers becoming increasingly aware of the fact that having the likes of Montgomerie, a name of considerable clout in the golfing world, associated with their course is a great way of generating interest and publicity. However in Monty's case it is more than just vanity that persuades golf course developers to sign him up.
---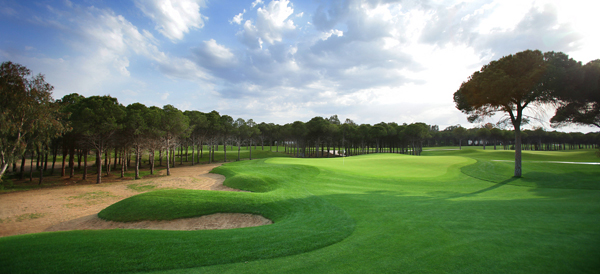 Waste bunkers, like the one bordering the left side of the hole above, are a common feature on Monty's course. They certainly add to the challenge should they be found but thankfully offer the player a chance to escape the trouble and walk off with a par.
---
Monty's name is of course synonymous with golfing quality but it is his roots in the traditions of Scottish links golf and the quality of the courses in his design portfolio that really sets him apart from other celebrity designers.
Historically Montgomerie has combined classical links features with modern design technology to embrace the natural contours of the sites on which he has worked, ensuring that nature is not tampered with unnecessarily. His designs are always highly strategic where bunkers are to be avoided, inflicting a moderate penalty should they be found; where fairways are generous, allowing golfers some freedom from the tee and where rough is exactly that…rough! Water hazards tend to be both beautiful and strategically relevant, whilst greens are challenging and full of character. Anyone who has played the Montgomerie Maxx Royal will testify that all of these design principles have been adhered to and that a truly world class course awaits your arrival in Belek.
---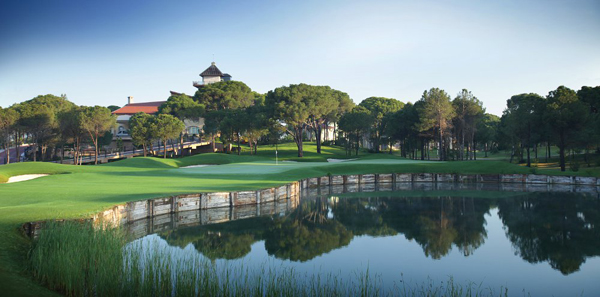 The seemingly endless water hazards at Montgomerie Maxx Royal demand one or two forced carries but in general they simply punish wayward shots.
---
It is hard to pinpoint the main characteristic of Monty's course in Belek but one would go so far as to say it is definitely either water or waste bunkers. Water is prevalent, coming into play on no less than 9 of the 18 holes, and so are waste bunkers, which are both large and numerous. The opening hole for example, a par 5 of 579 yards, features a waste bunker that runs along the entire length of the hole, cutting across the fairway just short of the green. The par 3 5th is another fine example of these features defining the course. Here water stretches from the tee to the green leaving the golfer with a forced carry of some 200 yards from the back tees. In other parts of the course there are no forced carries but water does come into play depending on how aggressive the player is. The majority of the course offers great risk vs. reward holes where golfers can choose to be as aggressive or conservative as they wish, where decision making has a dramatic effect on the difficulty of the next shot.
Sand waste bunkers again provide considerable hazards for most of the back nine and while they are by no means unfair, strategy and accuracy are certainly rewarded over brute strength and ignorance. It is fair to say that many a modern golf course architect might be overly concentrated on length – perhaps a result of the increasing distances modern day players hit the ball thanks to advancements in club and ball technologies – so it is refreshing to see an architect of Monty's stature placing more emphasis shot-making and accuracy.
Umbrella pines that border each hole add not only further challenge to the course, but a great feeling of isolation from the outside world and a natural beauty that adds to the overall experience.
---

The quality of the course is reflected in its amazing practice facilities. Those who like a good golfing warm up will be in heaven at the Montgomerie Maxx Royal!
---
The course is challenging and handicaps may not travel well, particularly for higher handicappers, but golfers who leave expectations at home will no doubt enjoy the challenge and the sheer quality of the course including the remarkable conditioning. Fairways are pristine, bunkers are well looked after and the greens are quick and true.
It's not just the golf course though that makes the Montgomerie Maxx Royal stand out from the pack. With one of the most impressive clubhouses in Belek, where views of the course and surrounding area can be enjoyed from a 30 meter tower, and ample practice facilities that include a flood-lit nine hole short course and a golf academy; Monty's course and the luxurious, ultra-all-inclusive hotel to which it is attached form a golfing haven that will appeal to players of all shapes and sizes. Should a Turkish Golf Holiday be on the cards for you in 2013, be sure to give it the Full Monty!