The Boat Race between Oxford and Cambridge might be the most famous sporting duel between two of England's finest universities but there is another annual tussle between the two academic heavyweights which is far more important…at least to us golfers anyway!
The University Golf Match, also known as the Varsity Match, is an annual golf match between the Full Blue teams (the best of the best) from the two famous universities and while many would guess that The Amateur Championship is the oldest amateur golf tournament in the world, it is in fact the University Match that leads the way, preceding the Amateur Championship by 7 years.
The first ever University Golf Match was played at Wimbledon Common in 1878 with Oxford claiming victory by a healthy 24 holes. Since then there have been 122 matches to date, with Oxford again claiming victory in the 2012 match held at Hunstanton Golf Club.
Until the 1890s there were very few golf courses in England, and none considered to be of sufficient quality in the Oxford and Cambridge areas. As such The University Golf Match was initially played at Wimbledon Common which, along with Royal Blackheath, was one of just a handful of courses in the London area.
---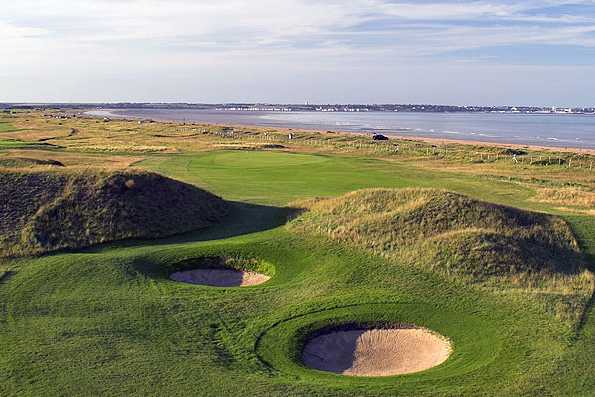 Royal St. George's will host the 2013 University Golf Match.
---
Of course with time England became a haven for golfers thanks to a great wealth of top class golf courses being built throughout the years and since its formative years, The University Golf Match has been played on the likes of Royal Cinque Ports, Royal Liverpool, Sunningdale and, this year's Open Championship host Muirfield.
Interestingly the choice of venue alternates between the teams with the match returning to Rye Golf Club every five years, much like the Open traditionally returns to the famed St Andrews Old Course over the same timeframe. It was the honour of Cambridge to choose the 2013 venue and the mighty Royal St George's in Kent got the nod.
Originally the match was contested over 4 singles matches but now each team comprises ten players plus two reserves. The University Match is contested over the course of two days with five 36 hole foursomes matches being played on the Friday, followed by ten 36 hole singles matches on the Saturday. The Dinner Match is also contested by each team's reserve players. Squaring off for 18 holes of alternate shot foursomes, followed by 18 holes of singles, the losing team is responsible for paying the dinner bill on the Saturday evening!
While the Ryder Cup is undoubtedly THE team golf event, traditional matches such like The University Match continue to hold an important part in the history of the game of golf and long may it continue.