Ever thought of playing golf in Turkey? But didn't know where to play or where to stay? Here's 5 reasons why you should stay at Voyage Belek or Maxx Royal and enjoy some of the finest golfing and living facilities Europe has to offer.
Voyage Belek Golf & Spa and Maxx Royal Golf & Spa are two 5 star resorts where more than just golf can be on the agenda. The fantastic hotels are host to a variety of stunning rooms which either gift you with a view of the inland surroundings or the picturesque coastline. Combine this with a plethora of activities on offer such as the on site water slides and the incredible array of other sporting activities (besides golf of course) a stay in one of these hotels is an experience to remember.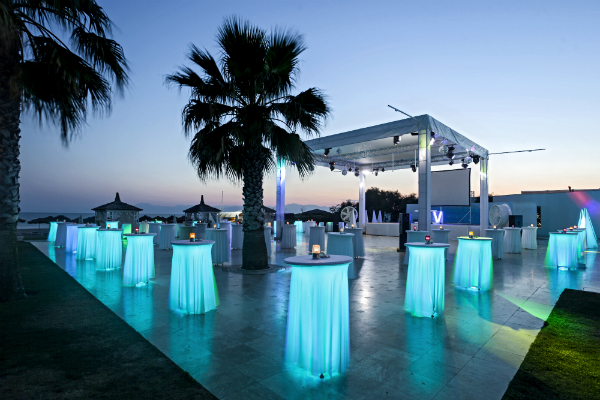 Play the home course of the Turkish Airlines Open
4 sets of tees
6 pars 3, 6 par 4s and 6 par 5s
14 water hazards
72 bunkers
And an island green on the 13th.
The course measures in at over 7000 yards from the championship tees and it is therefore no surprise that when it hosted the Turkish Airlines Open (2013-2015) the best and longest hitters in the world were finding it a test.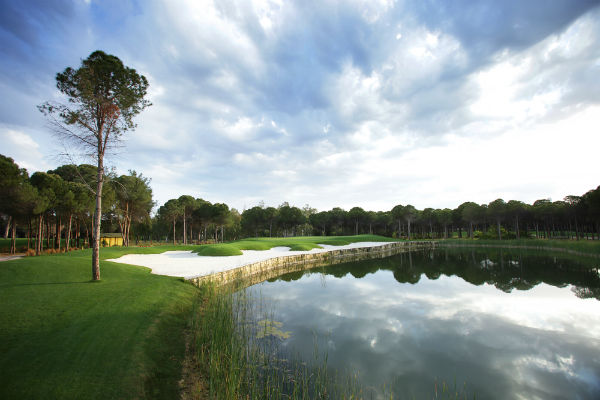 The 13th is dubbed The Montgomerie Maxx Royal's signature hole. The tee shot is a test of any golfer's course management skills, risk has the potential to be met with reward as a tee shot to the left will provide you with a better chance of attacking the green with the second as you follow the dog leg round to the right. However, miss your target at your peril as a waste bunker lays in wait and is sure to ruin any chances of reaching the green in regulation. The easiest way to play the hole is to lay up to the right off the tee and then to lay up again in order to give yourself a "comfortable" iron shot into the green for your third.
27 holes at Cornelia Faldo
Faldo's inaugural golf course in Turkey is certainly one to be admired. All 27 holes are designed to challenge each aspect of a golfer's game because no two holes being exactly the same which means each and every shot puts you to the test (no bad thing though). The course itself is built around the natural pine trees and with a dune running through the middle of the course there is much to be in ore of when playing your round.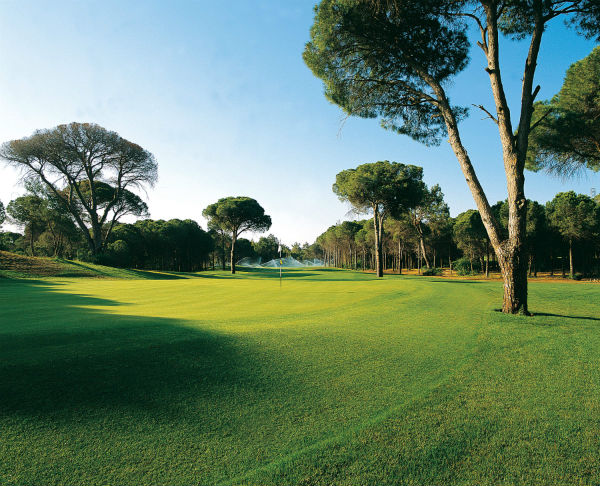 Reach your Peak at Titanic Golf Course
Another 27 hole beauty. The Titanic Golf course is designed for both beauty and pleasure with the Taurus Mountains being a feature throughout the course. The second loop of nine is said to be the most stunning as it lines the Mediterranean, gifting players with a fantastic view.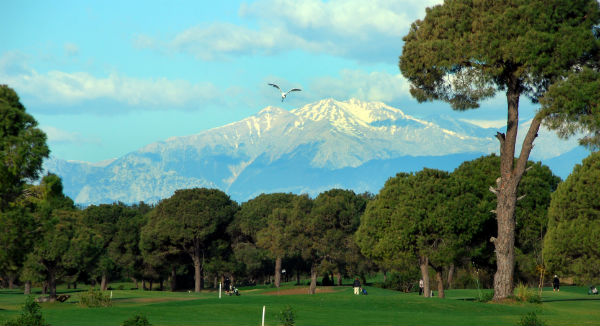 Play Night-Golf at Carya Golf Club
With over 15 golf courses to choose from in the area, the Carya Golf course provides the ideal possibility of playing 2 of these courses in one day! Carya is the 1st fully-lit golf course in Europe making night-golf possible and meaning no more need for the amateur yellow golf balls. The course itself measures at over 7000yds off Championship tees and boasts similarities to a surrey-heathland course like Sunningdale and Wentworth, with the plantation of 1 million heather plants.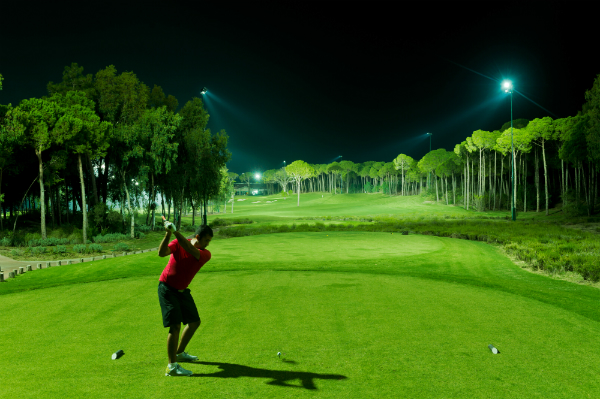 Fantastic Hotel Facilities
Maxx Royal and Voyage Belek certainly do not disappoint away from the golf course. With a luxurious range of 5 star spa facilities on offer each and every day of your trip you can be pampered like royalty in order to feel fresh and ready for your next round of golf.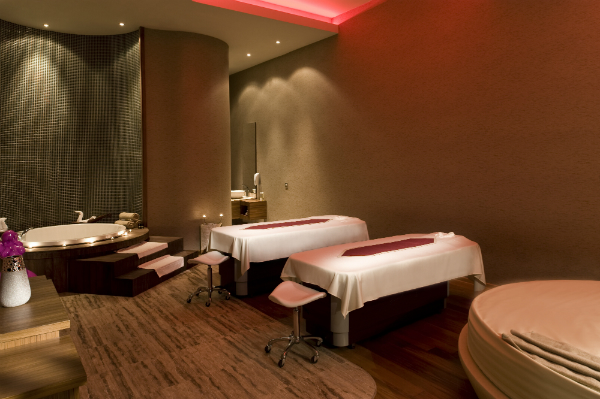 Voyage Belek is also host to ten different bars and 5 different pools allowing you to enjoy your day from 15 different locations!! Sounds excitingly different doesn't it…
And if 18 holes isn't enough for you then hone your skills even more on the double-ended driving range at both Voyage Belek or Maxx Royal. Both resorts have extensive putting greens for you to practice on as well meaning you can fully prepare before each round.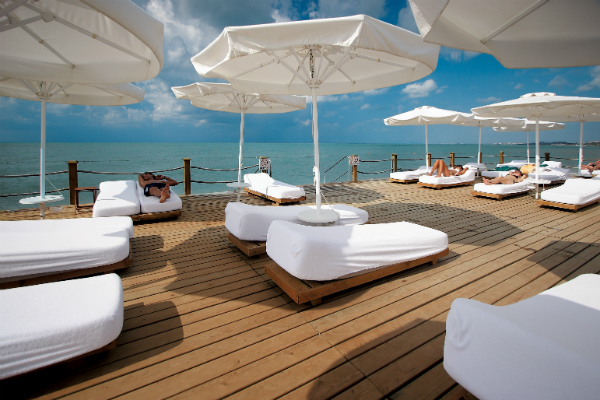 Fine dining just for you
Voyage Belek is not short of exquisite culinary experiences. Alongside the main restaurant there are 8 a la carte restaurants and a separate breakfast room. Maxx Royal is also not short of entertainment away from the course as with a late night bar and its own in house restaurant there is plenty to do in the evenings.
Maxx Royale offers – choice of the Azure Home Restaurant, 5 A La Carte Restaurants, 2 children's restaurants, 15 bars, a patisserie and even a chocolatier – 44 different types of Chocolate to try!!
Voyage Belek offers – 2 main restaurants, 8 a la carte options, 3 snack restaurants, a patisserie, coffee shop, children's restaurant & a grocery store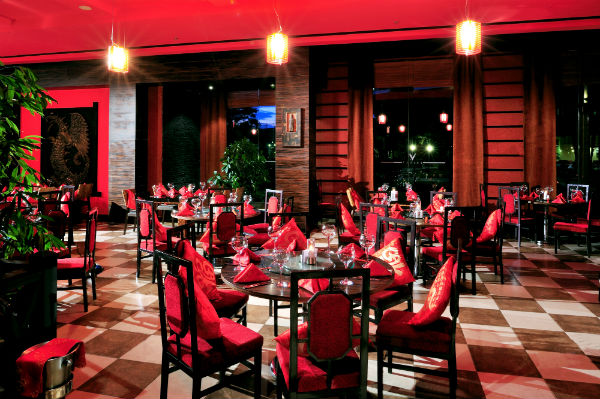 Things to do away from the course
Maxx Royal offers up numerous activities for you to fill your day with, if you simply aren't playing golf or can't play golf.
Tennis courts (4 clay courts, 5 hard courts)

Gym

Archery

Shooting

Nearby Beaches

Football – 2 Full-size football pitches and a football centre equipped with team management rooms, dressing rooms and a 50 seater stadium
Water Sports (jet-ski, snorkeling…
Water Parks – Cobra Kingdom Aquapark, Troy Aqua Park, Magic Life Water World
Explore Ancient History – See the Aspendos Amphitheatre & the remains of a Roman Aquaduct
Helicopter Tours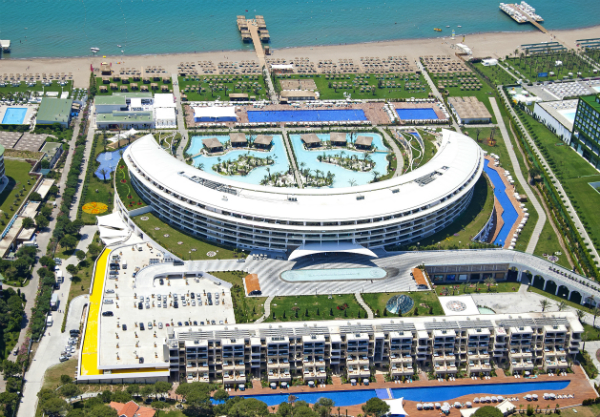 Both under 35 minutes from the airport
After a long flight, the last thing you want is a long, tiresome transfer from the airport but with the Voyage Belek and the Maxx Royal being located only 35km from the Antalya Airport you won't have to. And if taxis around aren't your style, then the Voyage Belek has an on-site car hire available to make playing all the courses and visiting the nearby tourist attractions an ease.
If you were hoping location would separate these two spectacular resorts to make your choice easier, you would be mistaken. Both of the Resorts are situated less than 1km apart and are just metres away from the beautiful Mediterranean Coast. Also at less than 10 minutes from Belek town, which has over 50 restaurants of varying cuisines to offer, the Voyage Belek and the Maxx Royal Resorts are the perfect golfing escapes in Turkey.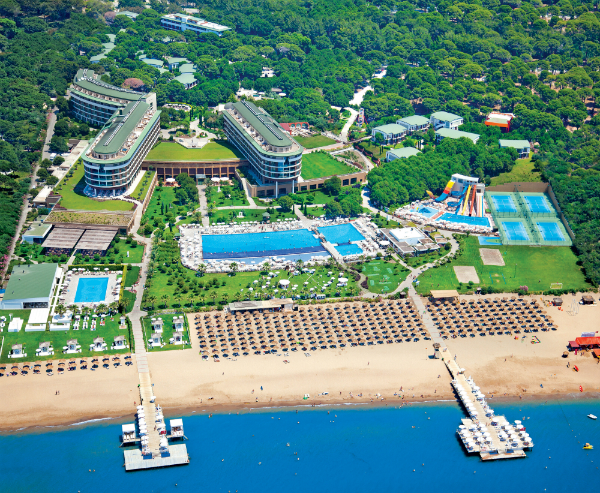 Overall, visitors really are spoilt for choice here. With over 15 golf courses, water parks, football pitches, tennis courts, a spa, gym as well as Ancient buildings, this is a MUST book destination…but be sure to book for a long enough trip to make the most of all these activities!