When you think of golf in the UAE you couldn't be blamed for your mind wandering straight to Dubai but since Abu Dhabi's neighbour got the ball rolling for golf in the UAE with ventures like The Emriates Golf Club, dubbed "the desert miracle" and high profile tournaments such as the European Tour's Dubai Desert Classic, it has been caught and even overtaken in some people's eyes as a golf holiday destination, by neighbouring Abu Dhabi.
Abu Dhabi might not yet be able to boast the same quantity of golf as its famous neighbour but what it lacks in that department it more than makes up for in quality. The three courses in Abu Dhabi – Saadiyat Beach, Yas Island Links and Abu Dhabi Golf Club – offer world class tests of golf to a great variety of players and what's more, they offer variety and stylistic diversity as well.
With no expense spared to ensure their amazing quality, these courses are now thought of by many as being among the very best in the world and when you combine world class golf courses with infinitely luxurious, five star accommodation options, amazing weather and endless attractions away from the fairways, you have a recipe for the perfect golf holiday.
The journey to Abu Dhabi is relatively painless as well. Fly direct from Manchester with Etihad or London Heathrow with British Airways and 7 hours later you'll be stepping off the plane, greeted no doubt by blue skies and warm temperatures! From May through September, the temperatures can soar so October to April are the most popular months for travel. Just a 40 minute transfer from the Airport will see you checking in at the majority of our recommended hotels.
---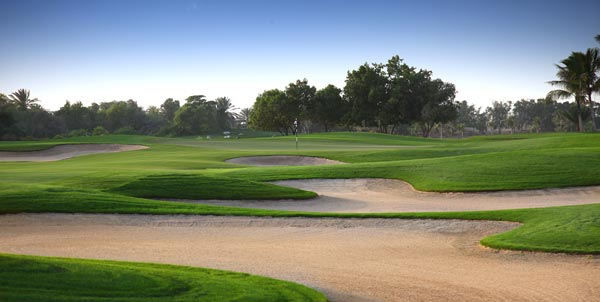 Managed by the renowned Troon Golf, Abu Dhabi Golf Club offers one of the most luxurious and memorable golfing experiences in the entire Middle East.
---
For most, the most recognisable of the three Abu Dhabi golf courses will no doubt be Abu Dhabi Golf Club which now hosts the Abu Dhabi Golf Championships at the start of each European Tour season. "An oasis of tranquility carved out of the desert" is the tagline and for once the marketing spin is right on the money. Located just a short drive from the vibrant and cosmopolitan Abu Dhabi City, this golf club boasts 27 holes, each as glorious as the last.
The National Course is the one chosen to host the world's best who regard the course as tough but fair. Measuring 7,600 yards from the tips, we'd advise you eat a slice of humble pie before teeing off and choosing some of the forward tees to play from!
Perfectly manicured fairways snake their way between boldly placed bunkers, ornamental trees and of course palms but it is the water you really need to avoid. With large saltwater lakes on no less than nine holes, keeping your balls on dry land for the entire round is a tough ask. Traveler's tip: pack plenty of golf balls!
---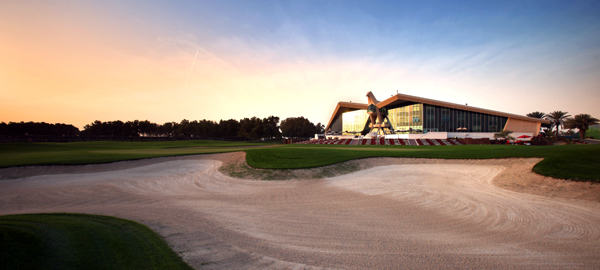 While the course at Abu Dhabi Golf Club is no doubt the main attraction, the spectacular Falcon Clubhouse is definitely a highlight of the overall experience.
---
Abu Dhabi Golf Club might be "an oasis of tranquility carved from the desert" but another course here has been crafted so masterfully that it seems as if an age old links course from the shores of Scotland has been airlifted in.
Fresh from bringing us Dundonald Links and the stunning Kingsbarns, course designer Kyle Philips was commissioned to create a traditional links in the Middle East and while traditionalists would claim that to be an impossible task, Philip's first effort is an absolute cracker!
---

Yas Links offers a test of golf unlike any other in this part of the world.
---
Where there were rolling dunes and wasteland, there's now a collection of rolling fairways, deep bunkers, wispy rough and inviting, sloping greens complete with traditional and heartbreaking run-off areas. This is the only course in the whole of the Middle East to offer a test of golf so close to the genuine article and for that reason alone it can't be missed.
Nine holes dramatically hug the coastline and all 18 boast views of the water, making a day toiling away on the fairways at Yas Links a truly special experience. In fact, less than a year after opening for play, this remarkable course was awarded with both Best Golf Course and Best Club accolades by Middle East Golfer.
---

With nine holes that hug the Yas Island coastline, the course here is chock full of drama from start to finish.
---
Last but by no means least is Saadiyat Beach which might just be the most visually spectacular of the three courses in Abu Dhabi.
Designed by the great Gary Player – the most travelled golfer ever must know a thing or two about creating courses in unique environments – Saadiyat Beach has become known as the Persian Gulf's first ever ocean front course. You might even catch a glimpse of humpback dolphins or hawksbill turtles on your way along the shore.
---

Saadiyat Beach is a spectacular course. The rippling undulations are simply mind boggling and if the great tracts of white sand contrast strongly with the lush emerald fairways to create quite a striking visual treat.
---
The course weaves in and out of numerous five-star hotels that line the beachfront, with six holes boasting panoramic Gulf views. A saltwater lagoon, rolling sand dunes, numerous lakes and endless tracts of gleaming white sand combine to offer an intriguing and eclectic golfing test.
Like we did in the case of Abu Dhabi Golf Club, we'd advise resisting the urge to take the course on from the tips. With a total yardage not too far shy of 8,000 yards, these back tees are best left to those who are gluttons for punishment!
With personalised bag tags, lockers and a real 'Member for the Day' experience, golfers simply must include Saadiyat Beach Golf Club on their next Abu Dhabi Golf Break.
---

Thought to be the only oceanfront course in the Middle East, Saadiyat Beach has become one of the most sought after courses in the region.
---
Built on the back of extraordinary oil and gas reserves, Abu Dhabi is phenomenally wealthy, and away from the golf courses – all immaculately maintained and manicured of course – there is a great wealth of attractions to keep you busy throughout your stay.
The astonishing seven-star Emirates Palace is well worth a visit, while the tax-free shopping is a big attraction for many Abu Dhabi visitors – the Marina and Abu Dhabi Malls are two of the most popular in the region. Sheikh Zayed Grand Mosque is an astonishing sight, while a sunset boat cruise is the only way to get the perfect view of the stunning Abu Dhabi landscape.
To get a taste of Abu Dhabi culture head for a souk; the traditional market scene has been altered little by the incredible developments of recent years. Head to Al Zafarana for traditional Emirati wares or the amazing Fish Souk at Mina Zayed.
Last, but by no means least, is nightlife. With a different theme almost every night, there is some serious off-course evening fun in Abu Dhabi. Sea Lounge, Blue Bar and Etoiles are among our favourites.