If you're planning a golf trip to play the best golf courses, you're also going to want to know the best restaurants in St Andrews too. Whether it's purely to fuel your round or you fancy a three-course meal, make the most out of your experience and check out these places to eat in St Andrews.
As an area filled with history and tradition, you won't find many chain eateries here. Independent family restaurants in await…
Breakfast at The Road Hole Restaurant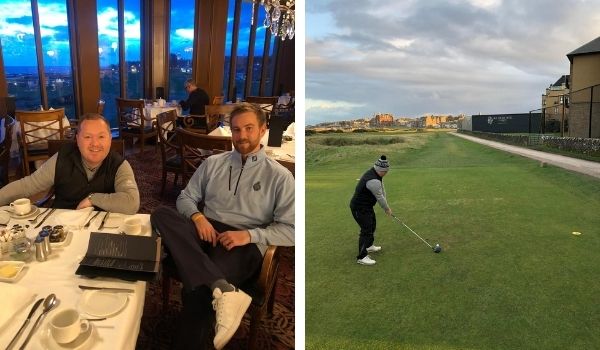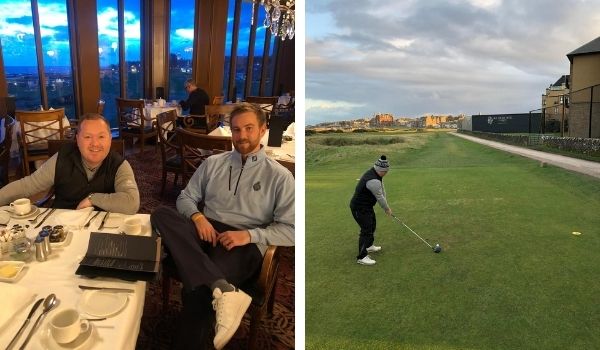 Located at The Old Course Hotel, The Road Hole Restaurant gives you the best start to the day before you tee off at The Home of Golf. It offers arguably the best view in St Andrews and if you can't get enough, you can pop back for both lunch and dinner where they serve fresh seafood (be sure to check out their 'plateau de fruits de mere') and have a cracking Sunday Lunch Menu.
The Jigger Inn
Whether you're in St Andrews to play The Old Course, Fairmont St Andrews or the likes of Kingsbarns, you need to visit The Jigger Inn. A traditional watering hole for golfers, this pub is found along from the Road Hole giving you incredible views of the 17th at the Home of Golf.
The food here is delicious too, proper pub food cooked to a high standard. Burgers, sandwiches and curry are the regular features as well as typical Scottish eats.
Forgan's St Andrews
If you are after a quality Scottish meal and a true Scottish atmosphere, Forgan's is for you. Haggis, duck, roast beef, fish and chips – this is a restaurant that suits all taste buds.
It has a quirky interior and staff who go above and beyond. The chances are, you'll visit here more than once throughout your stay.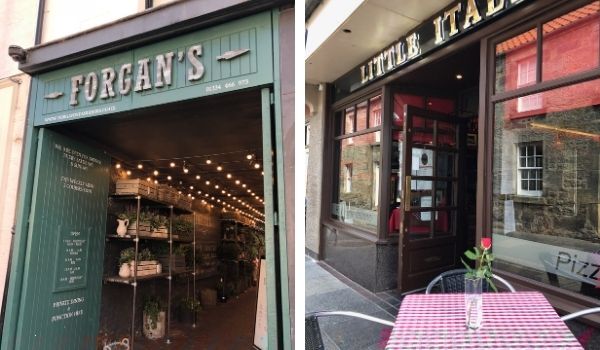 Little Italy
Sometimes, you just can't beat a good Italian meal and Little Italy sure delivers. Delicious home-cooked pizza, pasta, risotto and so much more await at this Italian restaurant in St Andrews. The friendly staff are on hand to talk you through their favourites on the menu if you can't quite decide.
Haar St Andrews
This place has the best of both worlds, a beautiful dining experience and a lively cocktail bar. Crab and lobster are a huge part of the menu on offer here and this venue is now known as the best seafood restaurant in St Andrews. It's all down to being the flagship of Masterchef finalist Dean Banks and his team. Did we mention it's vegetarian, vegan and gluten free friendly too? It is on the more pricey end of the scale so this is for anyone who likes to treat themselves whilst on holiday.
The Dunvegan Hotel
The Golfers Lounge at Dunvegan is the spot for golfers to recharge. It's friendly, full of other golfers and has a cracking atmosphere. The lounge is covered from top to bottom with photos of world-famous golfers and has really welcoming energy. For those in need of a bit more substance, be sure to check out their Claret Jug restaurant, a casual eatery serving char-grilled steaks and racks of Lamb.
The Grange, St Andrews
The Grange Inn is a cosy 17th Century converted farmhouse; family run and has an open fire. Here you'll find modern Scottish cuisine and 360 degree views of St Andrews and the bay. Wine lovers will want to do the wine pairing with the taster menu – a perfect way to spend the evening following a round of golf whether travelling as a couple or with friends.
Best Places to Eat
We're all about ensuring you have an unforgettable experience on your golf break both on and off the golf course. There's something for everyone around the Home of Golf and we hope you have fun exploring and trying out the best restaurants and places to eat in St Andrews.
If you've been to St Andrews and want to add somewhere to the list, drop us a comment below!
The Old Course, St Andrews mini vlog