Bubba Watson…The big hitting lefty doesn't exactly conform to the norm; he plays the game like no one else; he rubs some people up the wrong way; he is as interesting off the course as he is on it and following his second win at The Masters at Augusta we thought we would get to know him a little better. Here are 10 things you may not know about the big hitter from Bagdad ( the one in Florida!).
1 – WHAT'S HIS ACTUAL NAME?
Mercifully his real name isn't Bubba…it's Gerry. His father gave him the nickname Bubba after comparing a newly born Gerry with Bubba Smith formerly of the NFL.
2 – BUBBA DOESN'T DO LESSONS
He has never had a lesson and doesn't intend to. Just as well really because we are pretty sure he is the only golfer in the world who plays the game in such an unorthodox fashion…who the hell could teach him?!
3 – NOT THE ONLY PRO ATHLETE AT HOME
His wife, Angie, is a former professional basketball player and measures in at 6' 4" tall!
---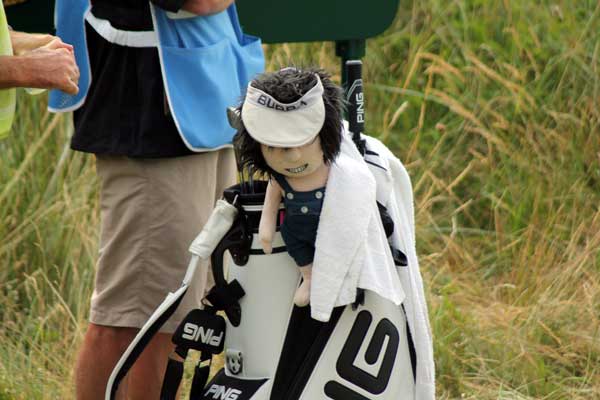 Bubba Watson's headcover for his famous pink driver…
---
4 – BUBBA OR BLUBBA?
His display of emotion on the 10th green at Augusta wasn't a one off. Bubba, or Blubba, has had the waterworks in full flow following each and every one of his professional victories.
5 – HOW MANY LAYERS?!!
Bubba's famous hot pink driver has 12 layers of tape under the bottom half of his grip and 10 at the top. It is not uncommon to use 2 or 3 layers of tape but 12 is, let's say, a little out of the ordinary! It is also pink for a reason and not just because he is a bit loopy! The driver is part of a year-long campaign sponsored by Ping meaning every time Bubba drives the ball over 300 yards, which let's face it is as many times as he hits the thing, Ping will donate $300 dollars to his charity.
---
Watch how Bubba sealed his first major championship at last week's Masters at the famed Augusta National.
---
6 – HE SEES A DIFFERENT PICTURE
He doesn't like straight shots! Bubba sees shots differently to every other tour pro out there. Huge carving slices and raking hooks are the order of the day for the two-timehov Masters champ! This leads us to believe he probably would have hit the same shot that one him The Masters playoff had he been sitting pretty in the middle of the fairway!
---
Watch Bubba go driver, driver, putt for an amazing eagle at Kapalua in Hawaii.
---
7 – HE NEEDLES TIGER WOODS
Bubba plays a lot of golf with Tiger Woods who, in terms of his on course persona, is the big lefty's polar opposite! Apparently the two like to give each other plenty of stick on the course with Bubba calling Woods a short hitter and Woods constantly reminding him of his superior major haul!
8 – TECHNIQUE ISN'T HIS FORTE
Alright this one you probably do know…Bubba is all about feel and has no concept of how the golf swing works. While technically sound players like Adam Scott, Rory McIlroy and Luke Donald understand and employ the mechanics of the swing to produce different shots Bubba simply does it. How does he hit a fade for example? "I aim right and think fade!"
9 – THE DUKES OF LATERAL WATER HAZARD
Bubba owns the General Lee from The Dukes of Hazard. Not a replica…the real thing! I for one can actually picture Bubba turning up at an event by jumping the General Lee over the gates of some swanky private club! Magnolia Lane…are you ready?!
---
The General Lee isn't the only unusual vehicle Bubba owns…
---
10 – 'MERICA!
He doesn't like playing in European Tour events. After missing the cut at this year's French Open, Watson complained that, "It's not a normal tournament…There's cameras, there's phones, there's everything. There's no security."
He then went on to ingratiate himself to European, and French golf fans in particular by referring to the Eiffel Tower as "that big tower"; the Arc de Triomphe as "an arch in the middle of the road", Versailles Palace as "that castle next to where I'm staying", and he Louvre as "this building that starts with an L".
Whatever your thoughts on Bubba one thing is clear. It seems he will be around showing off his unique brand of golf for some time to come!
---
In true Bubba style…we thought we'd include more than 10 things in our list of 10 things you might not know about him so read on to find out more!
---
11 – HE'S IN A BOYBAND
Along with Ben Crane, Hunter Mahan and Rickie Fowler, Bubba is part of a parody boyband called the Golf Boys. Check out the video below to see where the inspiration for Bubba's headcover came from…
---
---
12 – THE BEST DRIVER EVER?
Bubba's long off the tee…really, really long! OK so you probably already knew that but did you know Bubba's prowess off the tee has made him a record setter?
---
Watch Bubba hit a casual 424 yard drive at the WGC Bridgestone Invitational…
---
Since 2001 there has been an elite group of players on the PGA Tour who are part of the "300/60 Club" – players who average more than 300 yards from the tee while hitting more than 60% of fairways. Since 2001, only 38 players have achieved these driving figures and more recently, Bubba became the 1st EVER golfer to AVERAGE more than 310 yards (314.3 yards per drive hitting 60.5% of fairways for the 2013/2014 season) while hitting more than 60% of the fairways.
13 – HE HATES THE GYM
Unlike most other modern touring pros, Bubba hates the gym.
"I just like to sleep," he says. "My wife has tried a few times to get me to work out, and she yells at me about that, but I don't see myself doing that," Watson added. "There will be no yoga, you won't see me lift up any weights over 100 pounds."
Already the longest hitter on the PGA Tour, just imagine of Bubba did start pumping iron!
14 – SOCIAL MEDIA STAR
Watson was one of the first pro golfers to embrace Twitter and through tweeting funny pictures, crazy videos and the odd controversial statement; Bubba has amassed more than 1.32 million followers!
15 – HE LOVES THE MASTERS
---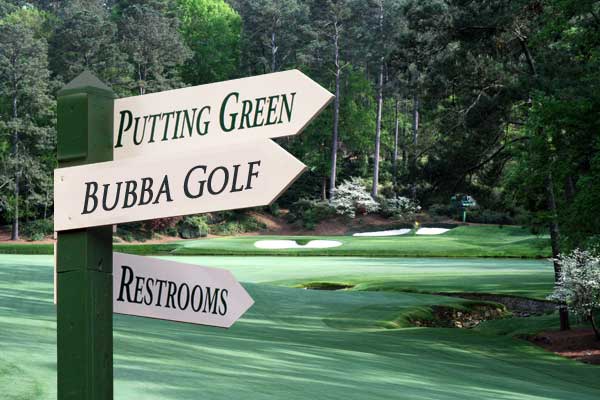 ---
Who doesn't we can hear you say…but consider this: about 30% of Bubba's PGA Tour wins have come at The Masters! For someone so talented, this two-time major champion isn't exactly a profilic winner on the PGA Tour. From his 7 wins, the last being the 2014 WGC HSBC Champions event in China, two have come at Augusta National.