Golf is predominantly a mental and personal game: Bobby Jones once described it as "a game that is played on a five inch course – the distance between your ears."
But for the weekend golfer having a round with their mates, there can be external challenges…
Like when you leave a six-footer short and hear: "I think you dropped your lipstick". 
Perhaps duff one off the tee to cries of: "Not bad out of that lie".
Or, if you really want to mess with your buddy, ask them pre-swing – "Do you breathe in or out in your backswing?"
Friendly exchanges between opponents – call it light-hearted banter, some good-natured raillery or perhaps a bit of sledging – can spice up even the slowest or dreariest of rounds.
And when the pros put their hands up for a turn, the results can be quite entertaining.
Team events like the Ryder Cup have given berth to a unique hybrid between pub banter and all-out Ashes warfare; almost like a mid pitch conversation between Paul Collingwood and Shane Warne minus the f-words and fat jokes.
Take for instance Scott Hoch – who after beating Lee Westwood and Nick Faldo in the Foursomes at the 1997 Ryder Cup, described the latter as being "as much fun as Saddam Hussein".
The great Seve Ballesteros once said of the former US captain (albeit with a touch of disdain): "The American team have 11 nice guys … and Paul Azinger."
But of course, a juicy slice of verbal pie is best enjoyed from the winning side of the ledger. Take Sandy Lyle's jibe at the boys from the other side of the Atlantic after reducing them to a third straight defeat (and their eighth in 11 years) at the K Club in 2006.
"We're going to have to start giving the Americans handicap strokes," Lyle quipped. "This is getting boring."
Even from the sidelines, sportswriter Dan Jenkins was able to fire off a red and blue tinted barb when he said of the colourful Jesper Parnevik, "The whacko from Sweden in his silly cap and skinny dancer's pants always looks like the last guy to climb out of the clown car at the circus".
Social media has given fans unprecedented access to players. By removing the glare of the cameras and microphones, we sometimes get a true taste of their locker-room banter.
In 2010, Ian Poulter invited his Twitter followers to ask him a question. Hours later, he received this reply (with the photo below) from triumphant '08 American Ryder Cup captain Paul Azinger:
"Ian, is it too late to ask a question? I was busy polishing this…"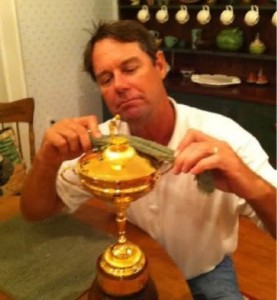 Poulter's reply? "I'm so glad you're cleaning it, we don't want to lift a dirty one in October."
When it comes to golden one-liners on the course, there are always those tales passed on over a cold beverage at the 19th green. Like urban legends, the names of the characters are interchangeable. But the punch line remains the same.
One such story involves an amateur at a Pro-Am on the US tour. After hitting a shank during the round, the amateur promptly remarked: "that's OK, I hit one of those a year so I'm not too worried".
Next shot: the same result.
As quick as a flash, the pro in the group chirped "well that takes care of next year doesn't it".
As for my favourite?
I read a story a few years back involving the great Greg Norman, who was fresh from losing the 1993 Tour Championship to American Jim Gallagher after holding a two-shot lead with three holes to play.
According to Peter Stone's article in the Sydney Morning Herald, Australian golf legends Peter Senior, Terry Gale, Peter McWhinney and Brian Jones were sitting having breakfast ahead of a tournament in Japan when 'The Shark' asked if he could join them.
Jones started flicking at the collar of Norman's shirt, saying "I just want to see how tight that collar is". The Shark was less than impressed.
The next day, after the first round of the Taiheiyo Masters, Jones had shot 77 to Norman's 67. The Shark said to Jones: "You'll be struggling to make the cut."
Jones replied: "Don't worry, if I'm within two shots of you with three to play on Sunday, I'll be alright."
What is the best sledge you have heard on a golf course? Share with us your tales (but please, keep them clean).