England football team prepare for World Cup in the Algarve
– Gerrard, Rooney and Co take on the iconic Royal Course at Vale do Lobo
– Coach Roy Hodgson "Portugal remains one of our favourite places to come to."
– Met by glorious sunshine in Vale do Lobo
Most golfers envy the lifestyle of the professional footballer…the cars, the houses and of course afternoons off to sneak in a cheeky few holes after training.
Well Wayne Rooney, Steven Gerrard and the rest of the England squad travelled from the UK to the Algarve this week in preparation for the World Cup in Brazil. Met with warm weather and great facilities, it is safe to say the stars of the Premier League had a very enjoyable trip.
Their training camp was located in the exclusive Vale do Lobo estate which is just 20 minutes from Faro airport and boasts two of the most popular courses in the Algarve, the Royal and the Ocean.
After a tough day at training some of the players took to the Royal Course (video of our Signature Hole Series at the Royal's 16th hole is below) for a few holes in glorious Portuguese sunshine.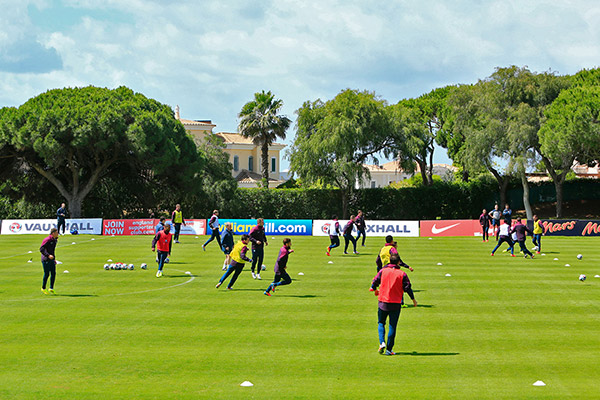 Roy Hodgson said of the trip "Since the start of the training camp there has been a tremendous feeling of energy. It has been a very good three days."
England left-back Leighton Baines was clearly pleased about the golf course setting adding "…it is great for the lads to be able to go and get a game of golf after training hard."
The Algarve is a popular choice with footballers including Rooney, Gerrard and Michael Owen all rumoured to own properties in the Vale do Lobo area.
Watch our Signature Hole Series here playing the 16th Hole at Vale do Lobo's Royal Course
[youtube width="600″ height="338″ video_id="uRdsb77st_Y"]
Fancy following in their footsteps? Click here to find out about golf at Vale do Lobo