Tired of going to the same destinations and playing the same courses every year? We were……
Looking to combine a few rounds of golf with a proper night out on the town? We were……
After 15 years of alternating between Vale de Lobo in the Algarve and La Manga in Spain, myself and my trusty group of golfing partners thought we'd go in search of a new golf holiday destination, new water hazards to lose our golf balls in, and some new watering holes to frequent in the evening! We were after a great golfing set up, something which Vale do Lobo and La Manga definitely offer, but the chance to head out to paint the town red in the evening too.
Sipping ice cold beer in the clubhouse at Vale do Lobo, one of the most impressive in the region from what I've experienced, and La Manga is all well and good but we were after something more…
On a recommendation from another keen golfer, Lumine Golf and Beach Club was proposed and we got the booking process underway.
Situated only an hour from Barcelona Airport, which has far better priced and more frequent flights than Faro and Southern Spain, we organised a 3 night break away and, not entirely sure what to expect upon arrival, a good first impression was made by the impressive, state of the art clubhouse.
Lumine's staff (who were infinitely friendly and with whom nothing was too much trouble) got our golf holiday underway in the best way possible after we arrived a little tight for time too, rearranging our tee times and thus allowing us to relax and hit some balls at our leisure rather than legging it onto the 1st tee without having had a warm up!
We were off to a good start…
GOLF
Hills Course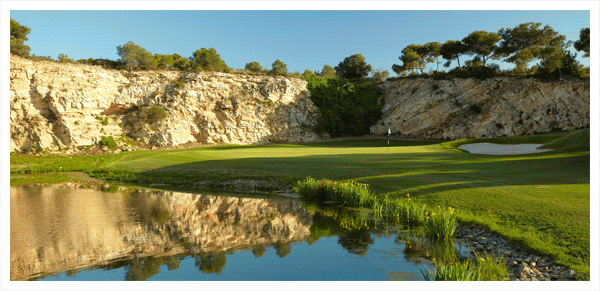 Overlooking the stunning surrounding landscape, the Hills Course boasts some epic scenery mixed in with some technically challenging golf. Don't be put off by the tight first hole; the course offers more relief than La Manga's West course and has far more risk vs. reward holes so you don't have to leave the driver in the bag too often which is something  I grew accustomed to at La Manga.
---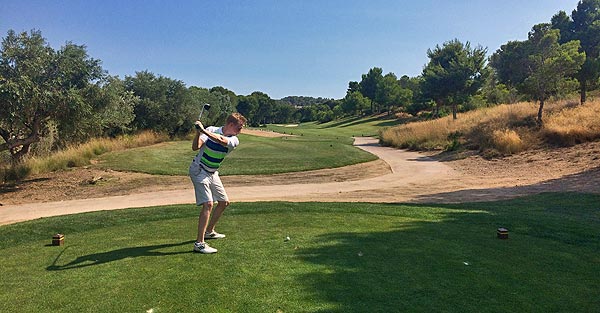 There are a few tight fairways at Lumine!
---
We opted to play the Hills Course twice (total of 3 rounds on the holiday) and it was enjoyed by all in the group which consisted of a mixture of 10/12/18/20 handicappers…needless to say it's enjoyable at most levels, although the photo below shows my frustration at putting my ball into the drink on the final hole after not having lost a ball in the water the whole way around the back nine!
---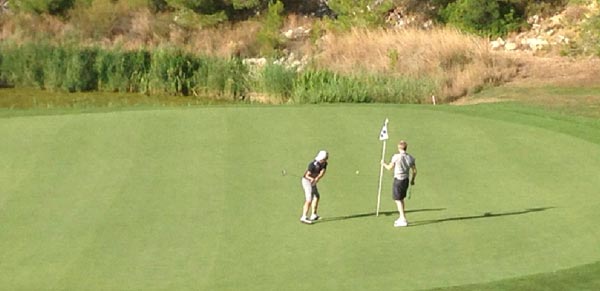 Golf can be a frustrating game!
---
Lakes Course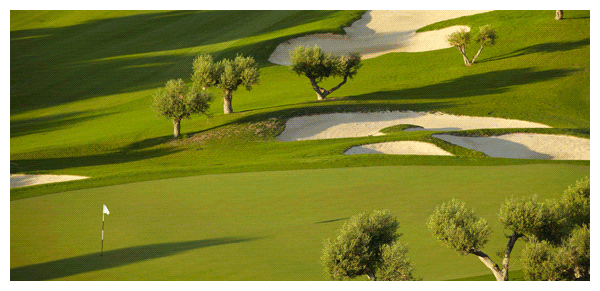 Designed by "The Shark" himself, this Greg Norman course, as the names allures to, has a decent amount of water! The course starts off gently, lulling you into a false sense of security with some straight forward holes before it really bares its teeth through the mid-section of the round, with some amazing holes skirting the lakes.
---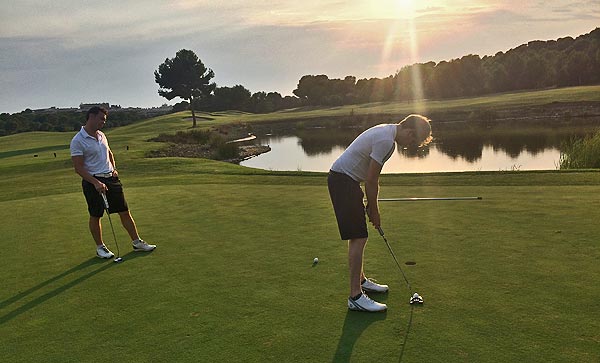 Does it get any better than putting out in the evening sun before heading for a few cold beers?
---
It's a great test for every golfer and the final hole is an exciting par 5 that finishes in front of the clubhouse with a green surrounded by water. This hole proved too much for the 10 & 12 handicappers in the group with us both losing the match on the last to the 18 & 20 handicapped pair! They didn't even have to work for it as we both deposited our tee shots into the drink! Thankfully a different variety of drink was awaiting us in the stunning clubhouse…
Now on to the fun part…
The Beach Club
Lumine's Beach Club I feel offers something completely different to other golf resorts I've visited and really provides an essential ingredient for a weekend away with your mates.
---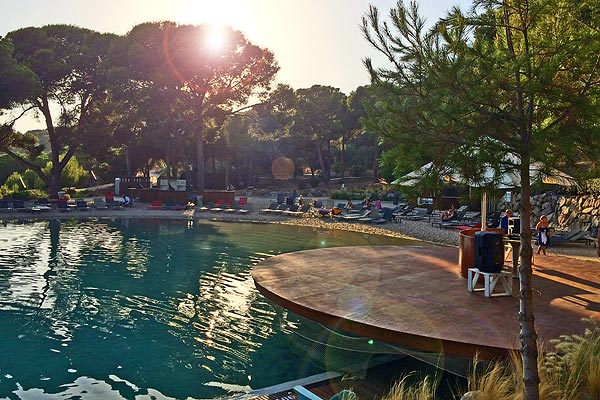 The Beach Club makes Lumine really stand out from other golf resorts we'd been to.
---
The Beach club is located a 5 minute drive from the clubhouse and the Lumine team will sort out all your transfers so you can sit back and enjoy the drinks! The Beach Club is a relaxing place, with 6 pools overlooking the beach so we could enjoy a few drinks and get some well needed sunshine to our usually pasty British skin!
---
Every now and again the Volcano Pool at Lumine sparks into life too!
---
If you've got anything left in the tank you can head into the town of Salou too. Again only a 5 minute drive/transfer away and where the Acqua Salou Hotel is based, Salou offers an array of bars and restaurants (we'd recommend La Spezia), and also multiple night clubs if you're happy to burn the candle at both ends!
Round-up
To sum up the Lumine experience as a whole, I would describe it as great golf mixed with all the aspects of a superb lad's weekend thrown in as well.
Getting there is very easy from Barcelona and if you're lucky with timings, like me, there is even Reus airport which is literally a 15 minute drive from Salou!
The 45 holes of golf are all up to a 8/10 standard and easily equivalent to the Algarve or La Manga
The Beach club is a great place to relax and has proper Nikki Beach pool parties
Array of bars and restaurants with great nightlife