[dropcap]During the 2015 Portugal Masters on the European Tour, we caught up with The 2016 Ryder Cup Captain and Your Golf Travel Ambassador Darren Clarke to pick his brains on all things golf. From Royal Portrush and equipment to favourite courses and memorable moments, here's what Captain Clarke had to say…[/dropcap]
What do you think of Royal Portrush hosting the Open?
[quote]They did an unbelievable job there before hosting tournaments and I have no doubt the Open will be no different.[/quote]
---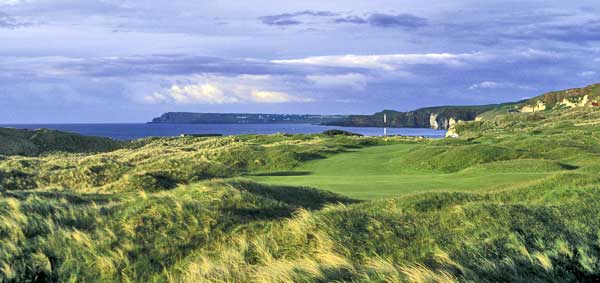 Royal Portrush has officially been announced as the host course of the 2019 Open Championship, having last hosted golf's oldest major way back in 1951.
---
[quote]Portrush will definitely be able to cope with daily crowds of 50,000… and they'll be watching out for anybody coming in off the beach![/quote]
When are you going to announce your vice captains for the 2016 Ryder Cup?
[quote]Vice Captains will probably wait till around June next year. The way we do it in Europe is that Vice Captains could be prospective future captains or experienced, previous Ryder Cup Captains. The prospective Captains are still playing on the main tours, so it's best not to ask them yet as it could cause when they're trying to make the team. I don't want to put them in a position when they think I don't think they will, so going to be waiting till next summer to make the call. I know who the five people I want with me are, but they may make the team.[/quote]
There seems to be a changing of the guard in Europe with youngsters coming through. Who do you have your eye on for potential Ryder Cup Rookies?
[quote]The likes of Tommy Fleetwood, Andy Sullivan, Eddie Pepperell…and Matthew Fitzpatrick the way he won the British Masters recently was brilliant. Thomas Pieters I've played with and has won a few times.[/quote]
---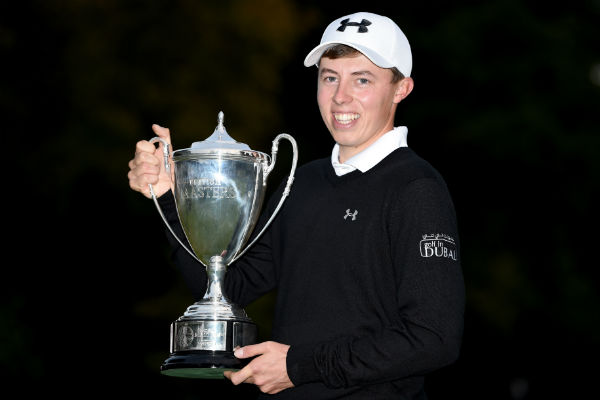 Matthew Fitzpatrick, already a winner on the European Tour, will surely be a contender to qualify outright for Captain Clarke's team.
---
[quote]There is a strength of youngsters coming through on the European Tour, not just those ones, but a few more, so we could see a few different faces in the Ryder Cup Team. It's the same in the American team, lots of youngsters coming through and potential rookies.[/quote]
How different is playing away to playing at home?
[quote]The pressure of playing away is so different to playing at home. It is more intense playing away so it could make it difficult to pick a rookie. They would have to do something special for me to pick a rookie, due to the increased pressure playing away.[/quote]
---
Members of Team Europe for The 2016 Ryder Cup will have to deal with a similarly raucous partisan crowd to that seen at Medinah in 2012.
---
Would you recommend the TaylorMade M1 Driver?
[quote]It is by far the best driver that Taylormade have ever made for a very long time. If you can get it, get yourself one!![/quote]
What's the best course you've ever played and why?
[quote]Probably home, Portrush because it's home, with the Open going there in a few years.[/quote]
---
Pine Valley is ranked as one of the best golf courses in the world and Darren counts himself lucky to be a member there, as well as at Royal Portrush.
---
[quote]Also Pine Valley in New Jersey, ranked the best golf course in the world, lucky enough to be a member there.[/quote]
Darren a lot of people laughed at me when I put a tenner on you to win the open. I just want to say Thank you!!
[quote]Very pleased to have been of assistance.[/quote]
What has been your most memorable golf moment?
[quote]There are three actually, not just one. Would have to be the K Club for the Ryder Cup 2006. Also to win the Open Championship is incomparable and to lead Europe as the Ryder Cup Captain in 2016 is a huge honour.[/quote]
---
Darren Talks about one of his most memorable moments and a special piece of memorabelia given to him by his then team mates.
---
If you were to manage the US team in the Ryder Cup, what would you do differently?
[quote]I can't tell you that. Good Question, but no Answer.[/quote]
In terms of the mental side of the game, has the sport psychologist Dr. Bob Rotella contributed to your success?
[quote]Dr Bob Rotella is a very clever man. He's tried to keep my mind focused on the golf, which is proving difficult. However, the time that I did listen to him, I managed to win the Open. He's been a good friend of mine for a long time and one of the best guys in the game at what he does and a really good man.[/quote]
Paul Mcginley used Alex Ferguson as his motivational speaker at the 2014 Ryder Cup to speak to the players, are you going to use Jose Mourinho?
[quote]I think it will be remiss of me not to talk to Sir Alex at some stage.[/quote]
---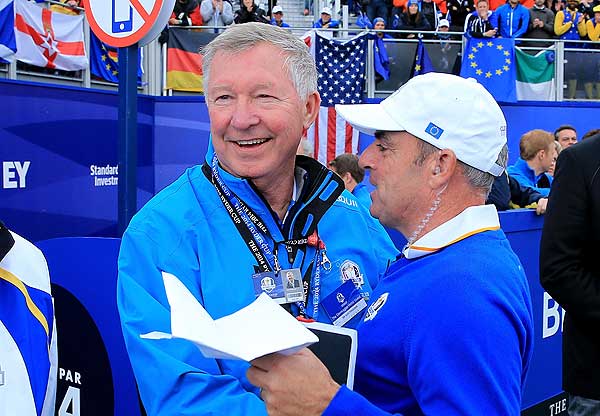 Sir Alex Ferguson is one of the most influential football managers of all time and was sought out by Paul McGinley during his tenure as Ryder Cup Captain.
---
[quote]There are some other people who I like and who I intend to speak to, people who have been in that role of managing people and managing players. It's my first time in this arena, as it is for most Ryder Cup captains, so we have to learn from people who have already been successful.[/quote]