174:
Guest-rooms at the Resort. The 5* Hotel's accommodation options range from 86 standard rooms & 71 Senior rooms to 7 Junior suites, 4 Jacuzzi suites, 4 suites and 2 Royal Suites, all of which offer a living room and a sofa. Although, don't be fooled into thinking you have to get a suite to live in luxury… All standard rooms offer a minibar, balcony, air conditioning, internet access, info and music channels and a Satellite Plasma TV, perfect for winding down after some golf in the sun!
---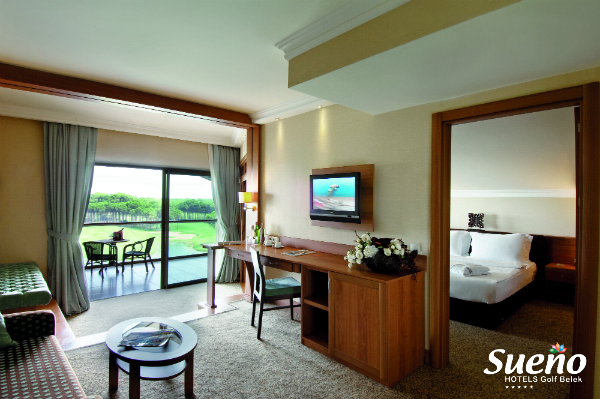 Enjoy stunning views from your balcony
---
19:
Average yearly temperature in Belek. Locals might find the temperature in winter months (around the 12 degree mark) chilly but that's positively balmy for UK residents so golf is on the cards all year round! Be warned though…in the summer months the temperature can soar. Sun cream should be the 1st thing you pack!
36:
Holes at Sueno. Comprised of the Dunes and Pines Courses, Sueno golf has something for all. Measuring over 7,000 yards from the championship tees, the Pines presents a challenge to even the best of golfers and its rugged characteristics provide the perfect dose of Links golf for us UK golfer's that just can't get away from it! The Dunes gives an excellent alternative to Pines, offering an enjoyable round of golf for all abilities. If you're looking for beauty in a course, then Sueno's two courses will not disappoint… Astounding views throughout are sure to leave you wanting more… Even if you do find yourself with a card wrecker!
---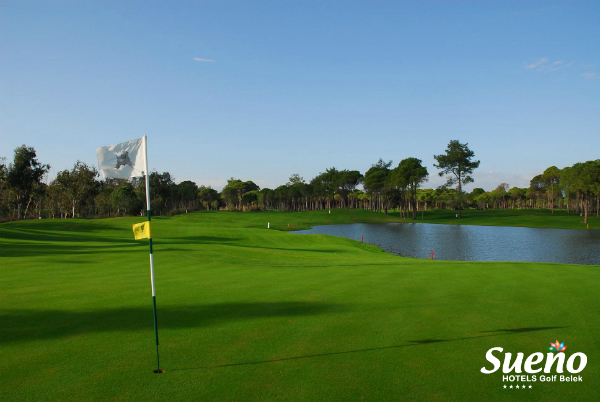 Lakes and pine trees can be seen throughout Sueno's golfing paradise
---
18.5:
Miles from Sueno Golf Resort to Antalya Airport, meaning you could be on the 1st tee after touching down in Turkey in less than an hour! With no time to waste on an All Inclusive Golf Holiday, Sueno's location falls into the prime category!
8:
Bars at Sueno. Thirsty? Good…because from the Lobby Bar and Green Bar, located in the heart of the hotel, to the Birdie Bar by the driving range, Sueno ensures that refreshments are never too far away… Why not also enjoy a drink in the sun at the Beach Bar or Vitamin & Pool Bar??? Or… Enjoy a night out at the stylish Amphi Bar or vibrant Bunker Bar… You'll take a while to get out of there once you're in!
---
---
345:
Minutes it takes from takeoff in the UK (London) to touch down in Belek…an early morning flight will see you onto the 1st tee by mid afternoon…just in time to finish your round in Turkey's gorgeous evening sunshine!
22:
Different activities on-site. Beach volleyball, football, tennis, water sports, table tennis, darts, bicycle tours, shooting, archery and fishing. These are just some of the things you could enjoy whilst at Sueno (And let's not forget the magnificent golf!)… If you're looking to improve your fitness then why not try out Boccia, Aerobics, Pilates, Nordic Walking or head to Sueno's morning and water gym! However, if none of these activities sound like your cup of tea, and after a round of golf all you really want to do is wind down and watch some TV… Well… you can do just that! Sueno has a private movie theatre for real cinema lovers, showing movies and sports twice a day. At night, there is also an outdoor movie theatre at the pier…Perfect for us Brits that struggle to sit outside for more than 5 minutes at home before we find ourselves scrambling back to the warmth of the indoors! Why not also head to the bowling alley? Or test your skills in Sueno's games room? Whatever it is you wish to do, Sueno is sure to provide!
---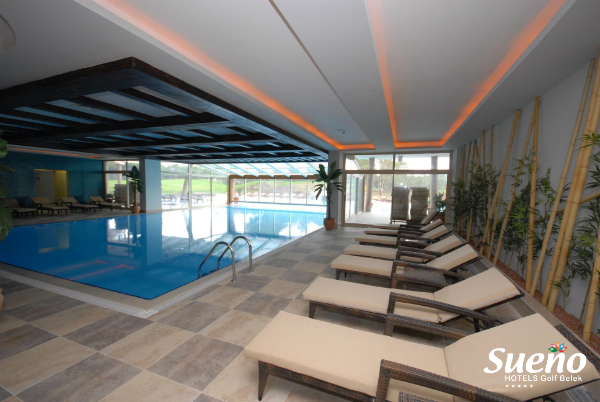 Relax at Sueno's Indoor or Outdoor Pools
---
3:
Restaurants at Sueno. While the Main Albatross Restaurant is perfect if you want a relaxing evening meal or a buffet breakfast and dinner, the Chef's Restaurant offers great fine-dining with Italian, French, Thai, Mexican, Turkish and seafood specialities. Head to the Beach Restaurant for Lunch if you're looking to enjoy the Turkish sun and Mediterranean Sea.
11:
The number of different massages you can enjoy whilst at the Sueno Spa. With different techniques used from professionals, you are certain to leave feeling rejuvenated, purified and relaxed!
---
---
315:
The price in pounds for an All Inclusive YGT golf holiday to Sueno. Type-o I hear you say! Well… Fortunately for you folks, this is no mistake… Enjoy 7 Nights and Unlimited rounds of golf at this 5 star resort for a bargain price! Click here for more info: http://www.yourgolftravel.com/sueno-golf-resort
---
---