[dropcap]W[/dropcap]hen it comes to making the pilgrimage to St Andrews to tick the Old Course off your bucketlist, there are a few "Dos" & "Don'ts" that are sure to make the experience all the more enjoyable.
Booking a Caddie is one that YGT customers commonly recommend so we thought we'd have a chat with Robert Thorpe, who is the Caddie Manager for the St Andrews Links Trust, to bring you guys the ins and outs of booking a caddie for your round on the Old Course.
1st things 1st…
On the course, the caddie will give the player detailed information about the technical aspects of the course strategy as well as locate shots, calculating exact yardage, clean the clubs and golf balls, replace divots and read putts if requested. All that will cost £50 for a fully qualified caddie, while trainee caddies will set you back just £30.
NB – Gratuities are at the player's discrection and, needless to say, should be based on the level of service received during your round. As a general guide though, tips usually start at the £15 mark.
Here's what he had to say…
How far in advance do you need to book?
[quote]"As early as possible really. As soon as you've got a confirmed tee time then you can pop a request in. The earlier the better but we can handle requests up to 2 hours previous before the tee time."[/quote]
And how do you become a caddie at St Andrews?
[quote]"In general you apply directly with the St Andrews Links Trust. We put a link on the website in January and February each year and there's a training programme to complete. We also accept applications from experienced caddies who might've caddied elsewhere. But it's all dependent on how many vacancies we have."[/quote]
We imagine there are some pretty handy golfers in amongst the caddies at St Andrews. To your knowledge, what's the lowest handicap in the caddie ranks?
[quote]"There's quite a few but probably scratch. He's called Hamish Ireland and he actually won the Gold Medal at the Local Clubs' Competition this year."[/quote]
So Hamish is the best golfer, but how long has the longest serving caddie been doing the rounds at St Andrews for?
[quote]"There's plenty of experience among the guys but one of our caddies has been here for 40 years. He knows the course like the back of his hand."[/quote]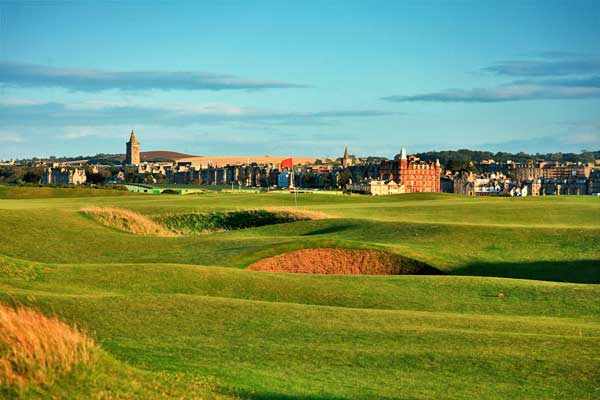 Like all classic links courses, the Old Course at St Andrews takes some getting used to so it's always a good plan to have someone on your bag who's got a wealth of experience on the links. You never know…it might be the difference between having to cough up for the winner's drinks or having one bought for you!
Your Golf Travel clients often say their best recommendation for golfers playing the Old Course for the first time is to make sure you book a caddie. What would you say a caddie brings to the St Andrews experience?
[quote]"Well we're now trying to offer a sort of full experience which includes course information and yardages, as well as some history on the way around the course. Advice on other courses is useful information too and really it's about tailoring it all to what the individual golfer's looking for rather than just giving information required for the shot. The guys are all very good at adapting their personalities to the customer so they enjoy every minute, from the 1st tee to the 18th green."[/quote]
In terms of the advice the caddies do give the players on the course, where would you say they save players the most shots during a round?
[quote]"They're very good at club selection and will usually have you pegged within a couple of holes but lines off the tees to avoid the bunkers and putting lines. I mean, the greens don't really look like they have many breaks but there are triple breaks out there sometimes."[/quote]
Obviously we watch the guys at The Open taking some aggressive lines in places such as from the 17th tee. Where would you say most handicap golfers should aim their tee shots here?
[quote]"Haha yes…maybe a little bit left of where those guys are aiming! It depends on where the tee's set up as this can vary the preferred line completely. I mean sometimes in the winter the tee are so far left none of the buildings come into play so you shouldn't be going anywhere near the writing on the shed in that case! Generally over the lion rampant is a safe line but I guess it depends on how far you hit it too!"[/quote]
Is it fair to say some golfers playing the Old Course for the first time might be a bit baffled by some of the advice they get from caddies?
[quote]"Yeh exactly yeh. I mean standing on the 12th for example; you're getting to told to miss a fairway which can seem strange to some! But they all know the course so well that if you trust them they really will save you a few shots if you're playing well."[/quote]
So we've mentioned the Road Hole but out of the many iconic spots on the Old Course, where would you say caddies act as cameraman the most on the course?
[quote]"Oh the Swilcan Bridge for sure. The Road Hole Bunker's another popular spot and the 1st tee as well. You can't really play the Old Course and not get at least one of these pictures can you?!"[/quote]
And do you get many people wanting to recreate iconic moments from St Andrews while they're playing?
[quote]"We don't get too much of that but we've had a few people do Seve's celebration on the 18th green![/quote]
[quote]I've seen a few people hitting putts like Constantino Rocca's famous one from the Valley of Sin…but not on purpose maybe and they definitely don't tend to go in like his did!"[/quote]
So obviously the Old Course has quite a unique character and well all know links golf is a very different game to golf played on parkland courses for example but what would you say is the biggest mistake 1st timers at St Andrews make while out on the course?
[quote]"Well as we've just discussed it's hard for golfers to see what the caddie knows, especially if they haven't played much links golf, so it's probably ignoring the caddie's advice!"[/quote]
So for people without much links experience, what tips would you give for their first round at St Andrews?
[quote]"Just listen to what the caddies are telling you and while it's a good idea to pack waterproofs and stuff, don't pack too much because the caddies have to carry it! Sometimes you get guys turning up with Powakaddy bags without straps and they're asking the guys to carry them! I mean we've had people with laptops, iPads, spare shoes, 3 sets of waterproofs…2 umbrellas! Obviously you'll need to bring waterproofs as you just don't know what the weather's going to do on the links!"[/quote]
We all know about Rory McIlroy's 63 at The Open a few years back but what's the lowest score you've heard reported by a caddie from an amateur coming to play the Old Course on a golf holiday?
[quote]"We did have a local golfer shoot a 63 as well but in general the course tends to come out on top."[/quote]
Do you think I'd play to my 7 handicap if I turned up for my first ever round on the Old Course?
[quote]"Well you'd hope so! Of course we'd hope so too and if you do listen to the advice it's then really just down to the player. Obviously excitement or nerves play a big part and at a place like St Andrews people's emotions can get involved and that can affect your score. We just want everyone to enjoy what we have here and the whole St Andrews experience."[/quote]
[styled_box color="blue" title="Thinking of taking a trip to The Old Course?"]There are some excellent golf breaks in St Andrews starting from just £240 including 1 night's accommodation and 2 rounds of golf (including The Old Course), your caddie is payable locally. For more information, click here[/styled_box]