[quote]"You will not find another golf course like this anywhere on the planet. Pebble Beach is renowned as the best site and I would say Thracian Cliffs is twice as good as Pebble Beach." [/quote]
~ Gary Player
Now…we know The Black Knight is sometimes prone to a bit of hyperbole (who isn't?) but when you talk to people who've been to Thracian Cliffs in Bulgaria, you NEVER hear a negative word uttered.
---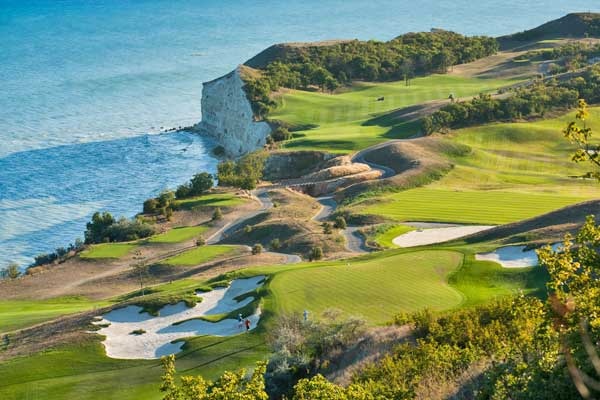 ---
The Volvo World Matchplay was staged there in 2013, and some of the world's best players (who travel the globe playing golf so you'd like to think they're an authority on the subject!) waxed lyrical about the course…
[quote]"I thought it was fantastic.  It's my first time here, and I would never have thought that Bulgaria would be this beautiful. I think it's a great destination for European holiday makers." ~ Thomas Aiken[/quote] [quote]"I don't think I have ever seen any course like this and I'm wracking my brain trying to think if I've ever played a course like this, and I just can't think of one." ~ Ian Poulter[/quote]
Your Golf Travel clients have always spoke favourably of Thracian Cliffs too. In fact, we've recently had a glowing review from one of our most loyal customers so let's have a look at what he had to say…there's some handy information in there too which should give you an idea of the ins and outs of a golf holiday to Bulgaria.
Name – Josh Apiafi
Handicap – 7
Most likely thing to be doing off the course – Spending time with family or riding up the gallops
Day Job – Co-Founder of Rewards4Racing
Favourite Course ever played – Pebble Beach…read on to see if it's still top of the list!
THE GOLF:
The whole course is cracking, with a magnificent 9 holes out along the coast and 9 back routing providing some spectacular views throughout your round. There's a long distance between tees and without a buggy even the fittest of people will come in gasping so I'd recommend getting one booked!
The condition of the course was first class and as I said the views are out of this world. The 6th hole, a par three that drops over 40 meters from tee to green, is one of the greatest par three's you'll ever get to play and is one of many highlights.
---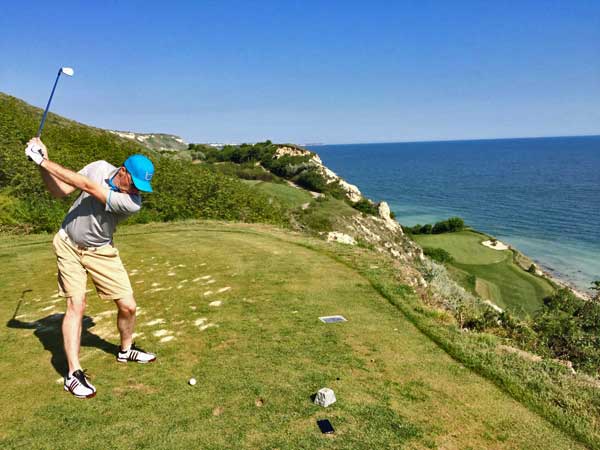 ---
A range of tee boxes that are differentiated by player ability rather than by gender / age is a novel idea and sign that golf is moving in the right direction in certain parts of the world. It's a tough track even off the forward tees so don't be too proud…select your tees wisely and just enjoy the course as much as possible because it's a special place to play. Oh…and pack plenty of balls too!
Another real plus is that the tee times are 15 minutes apart so you never feel rushed when you're on the course which really helps the enjoyment. It's especially handy when one of your group decides to award himself three mulligans off the first tee…you know who you are!
---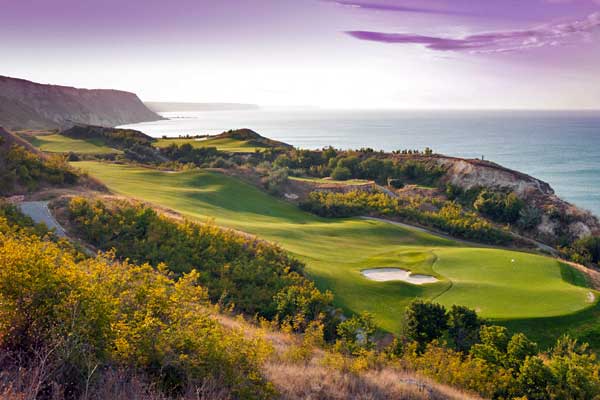 ---
The outdoor bar on the 18th green was a welcome sight by the time we'd come to the end of our rounds and from mid afternoon you can grab some great BBQ food as well. Thoroughly recommended.
THE RESORT:
The accommodation options include three or four bedroom apartments which are five star in terms of style and finish.
---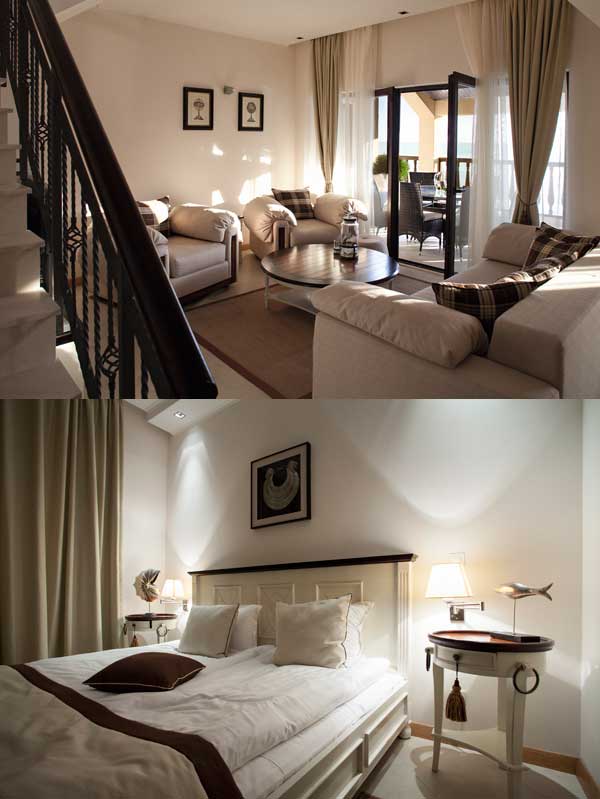 ---
Breakfast is served in one of the two restaurants on the resort and for an evening meal you can't go wrong with Geti's where the food is outstanding. The bar serves relatively cheap liquid refreshment by UK standards too and in general the service is world class…everyone spoke good English which obviously helps. Brits abroad and all that.
The beaches at the resort open in the middle of May each year and both include a beach bar. If we hadn't spent so much time on the golf course, an afternoon or two here would've been bliss!
---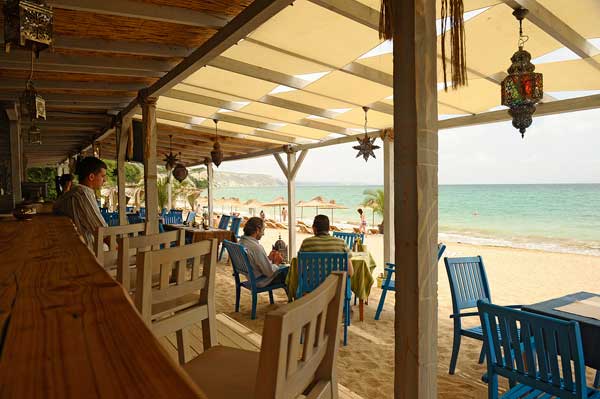 ---
There's also a night club that stays open until 2am…perfect for nightowls.
Just under an hour from Varna Airport it's a fairly easy transfer once you're there, with quiet roads and an easy location to find with a sat nav or Google Maps.
FINAL THOUGHTS:
My overall verdict for Thracian Cliffs would have to be 9.5 out of 10. Getting there is its only drawback…our flights to Varna were on Wizz Air out of Luton at 5.30am!!
Once you land though you'll see that it's totally worth it. The course is as good as Pebble Beach – yes I've been lucky to have played both – for a fifth of the cost so what's not to like. If I were recommending Bulgaria and Thracian Cliffs to a friend I'd say the best option would be a three night stay with and three rounds of golf too…you won't be disappointed.
Three couples went on this trip and the girls thought the spa was top class and couldn't believe how cheap the treatments were. I'm planning on taking a large group back next year after lots of jealous texts seeing the pictures I posted on social media!
---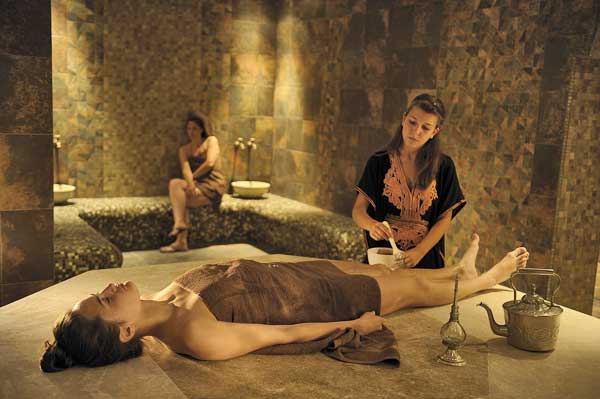 ---
So it's a great venue for couples and they are also geared up for large groups of golfers too, with a large mini bus and trailer for the clubs, plus a 40 seater available to lug golfers around. There was a group of about 30 Germans having a great time there last week!
The only negative that's not in the review is the lack of a clubhouse (it's being built next year) so for now you can either hang out at the bar on the 18th or head back to the apartment…hardly the end of the world but it'll be spot on when the clubhouse is finished.
All 40 golfers going to Portugal in September have said they're keen to make Thracian Cliffs the venue of choice for our annual trip in 2017!