Le Touquet is one of the most popular destinations in Northern France attracting tourists from all over Europe. Come summer time, over 250,000 people head to Northern France, to the town of Le Touquet. One of the many great things about Le Touquet is that it's only 45 minutes away from Calais, making it one of the most easily accessible golf destinations in Europe. In Just 90 minutes you can be in Dover about to board the Eurotunnel and then be on the first tee at Le Golf Touquet, home of two championship courses.
A game of golf does not take up the whole day and while going on a golf holiday you may well want to be golf golf golf. It is definitely worth making the most of your trip and seeing what there is too offer off the course and Le Touquet is for sure a fantastic place to be on and off the course.
Today, we take a break from golf and will give you an insight into the entertainment, food & drink that Le Touquet has to offer. Whether you are looking for a romantic meal in a Michelin Star restaurant or a sports bar to catch the latest game, Le Touquet has it all.
Le Pavillon – Hotel Barriere Westminster
Le Pavillion is one of Le Touquet finest Michelin Star Restaurants, home to award winning chef William Elliot. Chef Elliot was awarded with his first Michelin Star in 2007, after training in prestigious restaurants in Paris, Deauville, Cannes. The restaurant is set in a beautiful setting overlooking The Hotel Westminster gardens and the menu is a selection of France's most exquisite dishes.
Hotel Barriere Le Westminster, Avenue du Verger, 62520 Le Touquet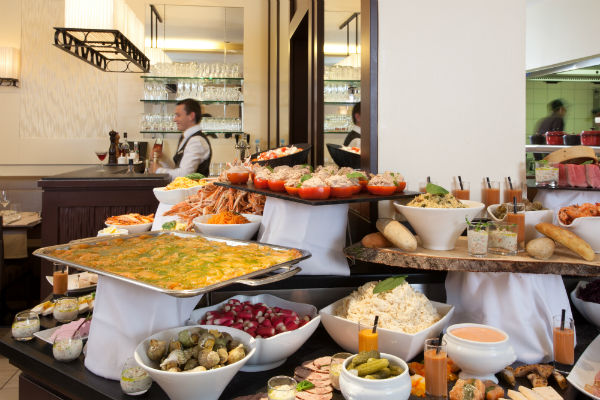 Flavio
Flavio has been serving high quality meats, salads and seafood since 1945 but is highly regarded as the place to go for fresh Lobster. The restaurant is available for breakfast, brunch and dinner and also has a boutique where visitors can purchase a selection of groceries and fine wines.
Le Club de la Foret, 1 Avenue du Verger, 62520 Le Touquet
Le Jardin
The Le Jardin restaurant which translates to 'The Garden' from French offers a traditional selection of France's finest foods including steaks, fois gras and the sweetest crepes for dessert. It is one of Le Touquet most popular restaurants and since 2012, it has awarded with Trip Advisor's certificate of excellence.
Le Jardin, Place de l'Hermitage, 62520 Le Touquet
Chez Perard
One of the most iconic restaurants in Le Touquet, known as the place where Serge Perard invented the fish soup by simply mixing small pieces of fish into a potato soup. If you are looking to try the renowened fish soup, then Perard is the place to go.
Chez Perard, 67 Rue de Metz, 62520 Le Touquet, +33 3 21 05 13 33
Aux Mignardises
Crepes are alway a popular choice for locals and tourists alike, whether it a desert or just simple a snack. At Aux Mignardises you find a grand selection of sweet and savoury crepes plus an array of waffles, ice creams and sorbet's. If you enjoy the food, you can even purchase it yourself at the adjacent family ran shop.
Burger Fermier Des Enfants Rouges
If you looking for a more lively dining experience and enjoy a Burger, then Burger Fermier Des Enfants Rouges is the place to go. The restaurant has a strong reputation for delicious burgers and reasonable prices – 10 euros for a burger and fries is not too bad.
Burger Fermier Des Enfants Rouges, 49, Rue De Calais, 62520 Le Touquet
The Casino Le Touquet
The casino at Le Touquet is one of most popular places in town, especially in the summer when over 250,000 tourists head to Le Touquet. There are over 62 slot machines, events throughout the year, a nightclub and 5 different places to eat. The casino is definitely a fantastic place to spend an evening, whether it be for a romantic meal for two or a few drinks with friends looking to unwind and relax after hard day's work on the course.
Casino Le Touquet, 26 Rue Saint Jean, 62520 Le Touquet, France +33 (0)321051699
Le Globe Trotter
Le Globe Trotter is the no. 1 sports bar in Le Touquet, the perfect to relax with friends, enjoy a drink and enjoy the live sport, or even play game of pool. This bar is even known for showing live golf – what more can you want from a golf holiday?
Le Globe Trotter, 66 Rue Metz, 62520 Le Touquet
Algys Bar
Algys Bar is the oldest and most famous bar in all of Le Touquet and is one of the most popular nightlife spots around. Owner Katie, is known for creating excellent cocktails that will make you want to go there again and again.
Algy's Bar, 20 Avenue St Jean, 62520 Le Touquet
Le Chatham
Once you've had a few drinks in the bar, and want to continue the party, head to one of the nightclub's and dance all night. Le Chatham was established over 35 years ago and is one the town's top nightclubs, open 7 days a week and closes at 5 am on the weekends. If you have enough strength, why not party all the way up until close – and then head to Golf D'Hardelot for a early morning round.
Le Chatham, Rue saint jean Le Touquet
---
They're you have it! 10 food & drink hot spots that we recommend for your golf holiday to the buzzing and lively town of Le Touquet. Checkout Your Golf Travel to view our latest deals to and around Le Touquet.