The par contest on the Wednesday of Masters week has always been a great chance for fans to see golf's best players at their most relaxed and probably for the only time during the week players can be seen laughing and joking around. Over the years it has become a tradition that players will be caddied for by their family, girlfriends or famous friends and this has lead to some of the cutest and or funniest moments to be seen Augusta National. Here is a look at our favourite 5 moments that the caddies and golfers have produced over the course of the par 3 tournament….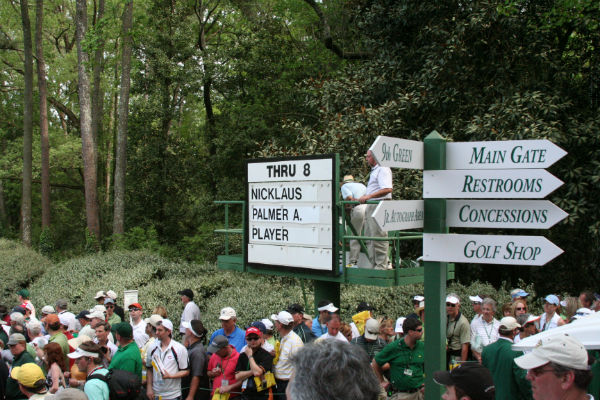 Number 1
Starting us off at Number 1 has to be one direction super star Niall Horan, often seen in some of the world's most glamorous night clubs it is very rarely that a bad photo or video will be taken of him. However, that all changed in 2015 when another of Ireland's most famous sons, Rory McIlroy asked him to be his caddy. In between holes Rory McIlroy was pulled aside for a quick interview with Sky Sports when the boy band sensation became slightly wrong footed on the famous Augusta pine needles. He then continued to fall in what seemed like slow motion flat on his back on live TV sending the world into a media frenzy of 'LOLS', even Rory and the reporter started having a little chuckle.
Number 2
In at number 2 is something that happened in the lead up to this 2017  par 3 contest. On the 20th of March, Grayson Murray the 155th ranked player in the world tweeted to former PlayBoy bunny Lindsey Pelas asking her if she would caddy for him in the Masters par 3 contest if he won the Shell Houston Open and very much to his delight, she said 'Yes'. However, before we all get excited Grayson Murray hasn't actually qualified for the Masters yet and a win this week would ensure that he qualifies. Sadly Murray didn't win in Houston and she will not be caddying for him.
Hey @LindseyPelas if I win next week in Houston will you be my caddy in the par 3 tournament at The Masters?

— Grayson Murray (@GraysonMurray) March 20, 2017
Number 3
In at number 3 is former tennis world number 1, Andy Roddick. The big serving American has become a regular feature in the PGA Tour's AT&T Pebble Beach Pro-Am and with a handicap of 5 is a very handy golfer. With this in mind, in 2011 he was on the bag for 2007 Masters Champion; Zach Johnson. As players often do they allow their caddy to hit a tee shot or 2 on the course during the competition and with his background in professional sport you would have thought that nerves would not be a problem. However, after announcing that his hands were shaking so much he could "barely put the tee in the ground" he proceeded to pull the ball into the water. A shot that as you can imagine lead to a roar of laughter from the crowd.
Number 4
The Masters par 3 competition is notorious for producing numerous hole in ones and in last years par 3 contest those following the group consisting of Justin Thomas, Rickie Fowler and Jordan Spieth would've been lucky enough to witness 2 in a row. Justin Thomas stepped up to the tee first and with the galleries roaring it on the ball eventually trickled into the hole for the groups 1st hole in one. Next on the tee was Rickie Fowler and with the pressure on him to follow up Justin Thomas's amazing shot, he pulled the rabbit out the hat and did just that sinking the group's second hole in one.
Number 5
It is not just players that can hit the ball close on the par 3 course. The 2003 Masters Champion Mike Weir allowed his caddy to take a tee shot and boy what a good one it was. The shot went straight over the pin and spinning back to within an inch of the hole. What a moment that would've been being able to say he had completed almost every golf fan's dream of making a hole in one at Augusta.