On a sunny Friday afternoon in July, the YGT Marketing Team were lucky to be heading away for a summer getaway and a well-deserved break to the highly recommended East Sussex National resort. Rory had been before and loved it so was naturally looking forward to a return trip, while the rest of us were excited as first-timers to get there and see what all the fuss was about!
While the boys were heading out for a few holes to do battle on East Sussex National's beautiful West Course, the girls were looking forward to some pampering in the Spa, after having tried their hands at golf for the first time on the impressive driving range of course!
A great time was had by all, so first and foremost, a big thanks must go to East Sussex National for having us. Here's what well all thought of the resort, along with some tips we'd give to anyone planning their first trip to East Sussex National…
First Impressions…
Driving up the hotel you really felt like you were in the countryside, despite being so close to the likes of Brighton. (OG)
I was extremely impressed at the sheer size of the facilities at East Sussex National, from the hotel through to the Spa and Golf. Simple things like having our Golf bags taken for us from the front of the clubhouse to outside of the pro shop was also a really nice touch. (SS)
I was lucky enough to have been to East Sussex National before so knew what to expect and was certainly looking forward to my return as it's one of my favourite venues in the UK. (RA)
The East Sussex National is a nice hotel with plenty of lovely and welcoming staff. The rooms were clean and the beds were really comfy. The hotel has beautiful views and the spa experience was lovely too. (MS)
From the moment we arrived, I knew I was in a very well established golf resort. The golf operations staff were extremely friendly throughout the day, making the experience a memorable one. (NM)
What is the one thing that you'd recommend that people do when visiting East Sussex National?
Buy a course planner! Whilst most of the holes are as you see them, there are plenty of strategically placed bunkers which make placement important off the tee. (OG)
Book the stay and play package that includes golf on both courses and dinner too as I'd say it's one of the best value for money packages currently going. Both courses are excellent (far better than I expected previous to my 1st visit with Mark Crossfield and Coach Lockey) and the dinner included in the package is amazing. Ordered from a 3 course set menu, or with a £25 limit from the a la carte menu, this is what really adds the value and saves you some £££s that you can spend on an extra pint or 2! (RA)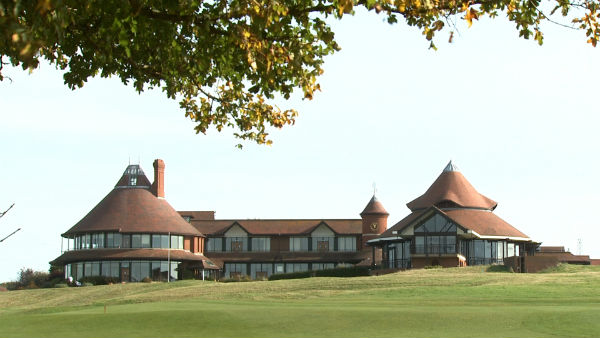 Leave yourself a bit of extra time to check out the pro-shop! It was one of the biggest and well stocked that I have ever seen. (SS)
Make sure you book a stay & play package to play both courses. I was so impressed with The West course and now I am eager to back and take on The East Course which has actually been host to previous European Tour events. (NM)
When heading to the spa, what should you do first?
Spa facilities are very good. Choice of a heated pool, hot tub, steam room and sauna available. The steam room was my favourite relaxing experience, and all in all felt very relaxed at the end of spa experience. (MS)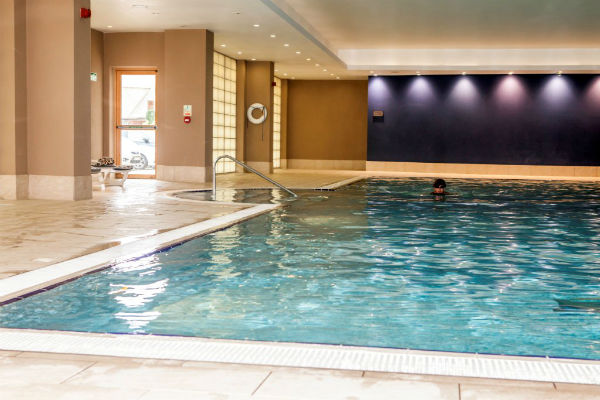 You're on the first tee, what are your thoughts?
Well my thoughts started when walking from the pro shop to the 1st tee on the West Course as I saw a group of golfers enjoying a drink on the verandah! When standing on the 1st tee you are immediately struck by the mature Sussex countryside that stands in front of you with trees lining the left hand side and a huge Oak tree in the middle of the fairway, luckily I aimed my 3-wood to the right of the tree and left myself with around 100 yards into the green where I walked off with a par, always a good start! (OG)
Don't. Miss. Right! If you stray too far off line at East Sussex National, there's some pretty heavy rough in places so driving well is pretty important. Luckily, I hardly ever miss a fairway. * lies through his teeth (RA)
The wispy rough / 'hay' down the right side stood out for me as someone who has been known to block my tee shots from time to time. It was pretty thick at this time of year and a feature throughout the course, however, I didn't feel that it made for an unfair test as on most holes there was a safer side of the fairway that you could play to. (SS)
My thoughts on the first were simply of excitement. I had heard much about East Sussex National and new both courses are fantastic. The first hole was a short par 4, but was still a nice driving hole. Wanting to get a good start, I refrained from the driver and went with an easy 3 wood down the right. All in all a very good opening hole. (NM)
What was the best hole on the West Course at East Sussex National and why?
It's a tough call as I really enjoy the 12th too but the 10th is an excellent par 4. There's plenty of room off the tee but you really have to have your shot placed in the left half of the fairway to give yourself a decent chance of hitting the green in regulation. Having said that, even a perfect drive doesn't guarantee that as the green (the best feature of the hole) is well protected by water short and right, as well as heavy rough long and left. The massive step in the green also adds to the challenge as two-putting is nigh on impossible if you find the wrong level with your approach. Walk off with a par here and you'll have done well. (RA)
There are lots of good holes on The West Course, the par-3's especially are really enjoyable and a range of lengths. I'd probably say the hole that stood out for me was the par-5 12th hole, you really need a good drive into the right-hand side of the fairway, avoiding the bunker, which then leaves a really tough decision, go for the green in two or layup. Anything right of the green is lost and anything left leaves a really tricky chip off some hills which frame the green. I opted for the layup and it didn't get easier as the green slopes from left to right and front to back. Whilst I did walk off with a par, it was a hole you really have to think your way through from shot to shot.(OG)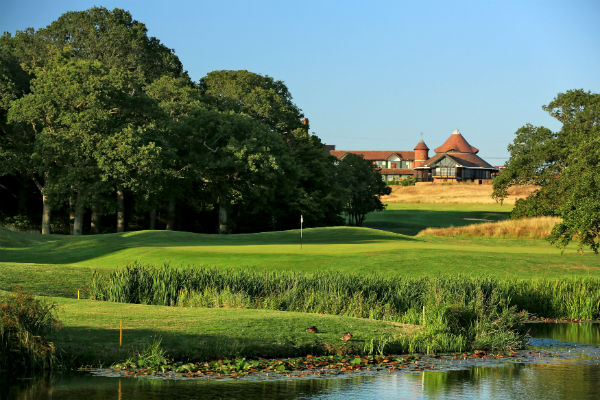 I'm a sucker for a par-3 that I can hit with a short iron, so I will go for the par 3 third. Even into wind it was only a 7 or 8 iron for our group, however water was waiting to catch anything short or right of the green. The water frames the hole really nicely and definitely makes it harder than your average short iron shot. I ended up bailing a little to the left apron of the green, but with one of our four-ball flying it straight into the drink, I was happy to have a relatively straightforward chip as my second shot! (SS)
There some fantastic standout holes on The West Course with beautiful scenery. I would say that the hole that really stands out to me and was very kind to me on the day would have to be the 11th hole.The fairway is fairly open so you have some room to work with off the tee. The approach shot for me on this hole, was probably the best shot of the day, a 160 yard 8 iron to two feet, not bad hay? (NM)
YGT Old Boys v YGT New Boys
It seemed only right that there must be a competitive edge to our round on The West Course. The new boys at YGT Nick (3) & Sam (13) teamed up to take on company veterans Oliver (1) and Rory (7) who have a combined 14 years of service to Your Golf Travel. Have a watch to see who came out on top….
What's the tip you'd give someone playing East Sussex National for the first time?
Choose your tees wisely. Both courses have plenty of tee positions and from the backs, each one can stretch to over 7,000 yards which is too tall an order for most club golfers. Just pick a set of tees that gives you a chance to enjoy the courses as they're both brilliant fun to play and always in super condition. (RA)
I'd say go for accuracy rather than distance, playing it off the fairway makes the course a lot more playable, anything off line in the rough or hay is an almost guaranteed bogey or worse. I'd also spend some time on the putting green prior as the greens are both fast and undulating. (OG)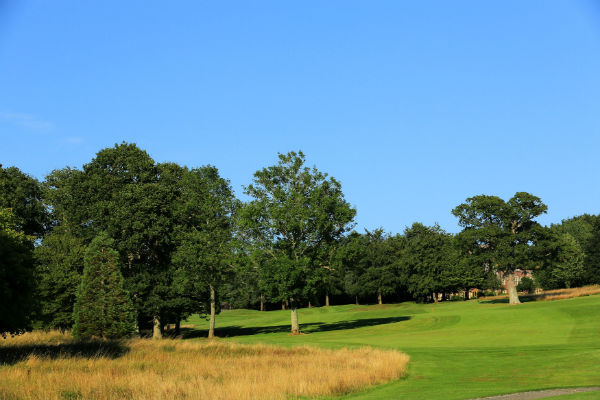 If you pick the right tees to suit your group's level of ability, you shouldn't need to be hitting it out of your boots on every tee shot – go for accuracy and keep your ball in play. The greens are fantastic here so make sure that you haven't picked up before you reach them! (SS)
There are some pretty tight driving holes, so I would say that hitting driver off the tee may not always be the best option. A 3 wood or even A long iron may be the best option to keep the ball in play. (NM)
You've finished your spa / golf, you head to the bar, what did you most like about it?
The relaxed nature of the place makes it easy to enjoy yourself. Obviously, some golf clubs have a bit of a snooty air about them but East Sussex National is in general just full of like-minded golfers who are there to unwind and just have a laugh. The Aspalls Cider hits the spot pretty well after a day of playing golf in the sun too! (RA)
The bar was really light and airy overlooking the golf course, with a cold beer in hand there isn't many better places to be! (OG)
The bar was very open and welcoming with a fantastic outlook over the surrounding area. The staff were friendly and it was nice to enjoy a bit of banter as the pints were being pulled. (SS)
Enjoying a drink on the terrace, overlooking the golf course as the sunsets wasn't too bad. The bar staff were also extremely friendly which added to the experience.
What was your favourite part about dinner in The Pavillion Restaurant?
The choice. As I mentioned above you've got the choice to either pick from the 3 course set menu or you've got £25 to spend on the a la carte menu. During my 1st visit I went for the set menu which was excellent and this time around I felt like a steak so went for that. Compared with other stay & play resorts where the inclusive dinner is quite commonly only served in the clubhouse, a full slap up meal in the proper restaurant is a real treat and really makes East Sussex National stand out from the pack. (RA)
I thought the service was excellent, the staff were very attentive and made sure that we were well looked after during our meal. I couldn't fault it and would recommend it to all visiting East Sussex National. (OG)
I'm a sucker for dessert so my favourite part was the chocolate mousse. However the whole meal was of excellent quality and the staff were very friendly and professional throughout. (SS)
The food in the East Sussex National is fantastic, including the breakfast. Staff are very attentive and helpful, they were so welcoming. (MS)
We had a great evening with the team. The food in the restaurant was great and there was a nice ambience in the bar for post-dinner drinks. Have to mention the breakfast, which was fantastic. There was so much variety, from fresh fruit to a full English Breakfast. I also thought there was a nice selection of teas and coffees to choose from. (SN)
There was a wide variety of choices for dinner. I went for the pork belly which was extremely delicious. The Breakfast was also very good with a selection of fresh food and of the course the choice of a full English breakfast. (NM)
What were your final thoughts and who would you recommend visit East Sussex National on a golf or spa break?
I've said it before and I'll say it again. If you're looking for an overnight stay with a couple of rounds of golf you really can't beat what's on offer here, especially when it comes to value for money. Both golf courses are excellent (I do prefer the West but, as they say, beauty is in the eye of the beholder!) and offer a fun and testing round for scratch golfers right the way through to the other end of the handicap spectrum. I have yet to pop into the spa but I've only heard good things and the restaurant is excellent too. What's not to like?! (RA)
You'll struggle to find a better combination of hotel, leisure facilities and golf courses in the UK than East Sussex National. Both courses are justifiably well ranked in the independent rankings and are a great test for all due to their design and choice of tees. Regardless of your handicap, you'll have a great time testing yourself at this Championship golf break venue. (OG)
There is very little to stop me recommending this venue to anyone I know who plays golf or enjoys a nice hotel with a good spa. The value for money here is almost unbeatable given the quality of the hotel and the two golf courses on site. I would be extremely confident that anyone I directed towards East Sussex National would have a great time and make a similar recommendation. With Brighton only 30 mins drive away there really is something for everyone at East Sussex National. (SS)
I was totally impressed with East Sussex National. This was my first time there and have already spoke highly about East Sussex to my friends at the golf club. The staff were friendly and warm, the hotel facilities were excellent and The West Course that we played was the ultimate championship golf course. Looking to go back ASAP! (NM)
Check out Your Golf Travel to view our latest offers to East Sussex National and you could be ready to go for your next UK golf getaway.
Your Golf Travel Contributors
OG – Oliver Gunning
SS – Sam Sperring
RA – Rory Anderson
NM – Nick Martin
MA – Marta Stochla
SN – Sheetal Naidu