[dropcap]All golfers have been there…[/dropcap]
Staring disappointingly into your back garden, there's always one though that springs to mind. "If only I had a golf hole or two out there."
Well…if you happen to play football for the likes of Real Madrid, the prospect of having your own miniature golf course in your garden is more than likely to become a reality…should you wish it to be!
That's certainly the case for Gareth Bale, a self-confessed golf nut, who, a couple of weeks ago, commissioned a new garden that will put even Tiger Woods' back "yard" to shame.
Bale, who earns a reported £300,000 per week (!!!), is scheming to turn his "little" plot of land into the greatest 3 hole course in the world, including replicas of the 11th at Augusta (surely the 12th, 13th, 16th, or 18th would've been better?), the 8th hole, A.K.A "The Postage Stamp", at Royal Troon and, of course, the famous Island-Green 17th at Sawgrass.
Not a bad collection and something that is certainly worth taking care of.
Just as well then that Gareth has enough cash to keep a team of green-keepers employed in order to keep his mini-course, nestled in the Vale of Glamorgan, up so the same standard as the turf he prowls week in week out at the Bernabeu
[quote]"I try to play as much golf as possible. In fact, I'm obsessed with it."[/quote]
Understandable Gareth.
[quote]"I've not really thought about what I'll be doing in 20 years when I'm retired from football, but, hopefully, I will be playing golf."[/quote]
Playing off a more than respectable handicap of 6 (reportedly), the star of the Welsh team, who've just qualified for Euro 2016, Bale will be able to hone his skills on holes based on three of the most iconic in the world.
Augusta National – 11th Hole – Par 4 – 505 yards
The 11th hole at Augusta National (the second half of it at least) marks the start of the infamous Amen Corner, the scene of the start of many a Sunday afternoon charge / collapse at The Masters, and is one of the toughest holes on the course, measuring over 500 yards (it's a par 4!), with an average score of 4.29…
---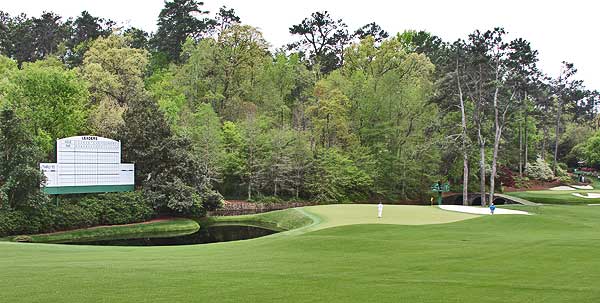 ---
I suppose playing in front of 80,000 adoring fans week in week out and being the footballing darling of your nation must go to your head at times. Playing this hole on a regular basis will bring you back down to Earth alright!
Royal Troon – 8th Hole – Par 3 -123 yards
Now…while the par 3 8th at Royal Troon, host of next year's Open Championship, measures a mere 123 yards – and that's from the Open Championship tees! – it's one of the most notoriously challenging short holes in the world.
---
---
The tiny size of the putting surface accounts for the its current name after Willie Park famously quoted:
[quote]" A pitching surface skimmed down to the size of a Postage Stamp".[/quote]
There is no safe way to play this hole and quote simply; your tee shot really has to find the green!
Easier said than done when you're enjoying a round in the "soft" conditions Royal Troon can throw at you…
We've mentioned previously that Mr Bale has supposedly employed a team of green keepers to ensure his new golf toy is well kept for use during his intermittent returns from the Spanish Capital, for his 3rd and final replica hole, he might need to be on the lookout for a diver too…or a lifeguard of some description.
TPC Sawgrass – 17th Hole – Par 3 – 121 yards
Gareth's final choice (let's be honest it was probably his first) was to have the infamous 17th at Sawgrass recreated in his garden.
---
---
The famous island-green par 3 is one of, if not THE most iconic holes in the world and an estimated 100,000+ golf balls find a watery grave there each and every year. Hence the suggestion for a diver Gareth…even you would struggle to afford losing that many ProV1s on an annual basis!
We're going to finish off this article the same way we came in. Day dreaming…
If YOU were on £300,000 a week and could afford to build a three-hole course in your back garden, which three would you go for?
Here's what would top my list based on courses I HAVE already played…
Tralee – 17th Hole – Par 4 – 361 Yards
It was until very recently that Tralee was my favourite course in the world having not-so-gently nudged Turnberry off the top spot in the summer of 2014. So choosing my favourite hole on the course was a tough task but if I were to pick one of its holes to be airlifted into my garden, I'd have to go for the par 4 17th, known as Ryan's Daughter.
Film buffs might recognise the hole's location as it was chosen for David Lean's award-winning film "Ryan's Daughter".  Below the cliffs that run up the right of the hole, a glorious beach stretches for miles, only broken by the channel leading to Poulgorm and many of the film's most memorable scenes were shot here.
---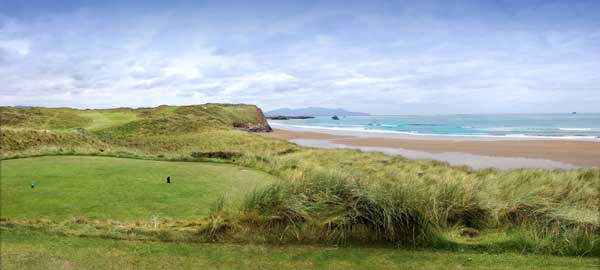 ---
The setting also inspired famous golf writer, Peter Dobereiner, to say "it is the most magnificent backdrop for a golf course I have ever encountered."
The hole's not bad either, with a tee shot played over a gorge, and the approach towards a green perched high above the level of the fairway, nestled among dramatic dunes with a truly spectacular backdrop.
Pinnacle Point – 9th Hole – Par 3 – 200 Yards
There are countless stunning holes at Pinnacle Point, my new favourite course in the world, but the par 3s are particularly good fun, with almost all of them featuring forced carries over dramatic gorges in the cliffs, or severe elevation changes from tee to green.
---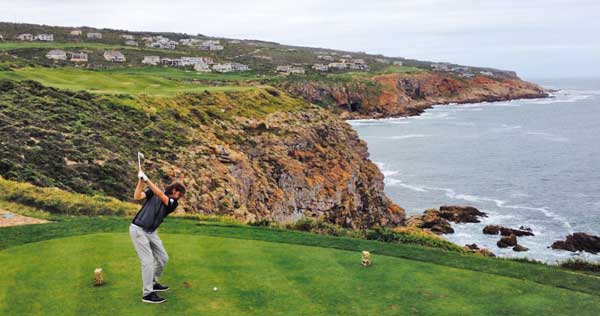 ---
The pick of the bunch is the 9th, with a tee shot that has to clear a gaping chasm in the rocky cliffs to safely make the green. OK so this means I'd need my back garden to be perched on the edge of the cliffs in some picture-perfect location…but we're fantasizing here so let's do it right!
The fact that the halfway house is at the other end of the hole is a bonus too…ice cold beer anyone?
Extreme 19th – Legend Golf & Safari Resort – South Africa – Par 3 – 440 yards
Yes, yes…I know the prospect of building a 430 meter mountain in my back garden and then buying a helicopter to take me to the tee and back…as well as hiring a pilot to fly the damned thing it unrealistic at best.
But so is me earning £300,000 per week playing for Real Madrid…and this is a fantasy based article…so leave me alone!
---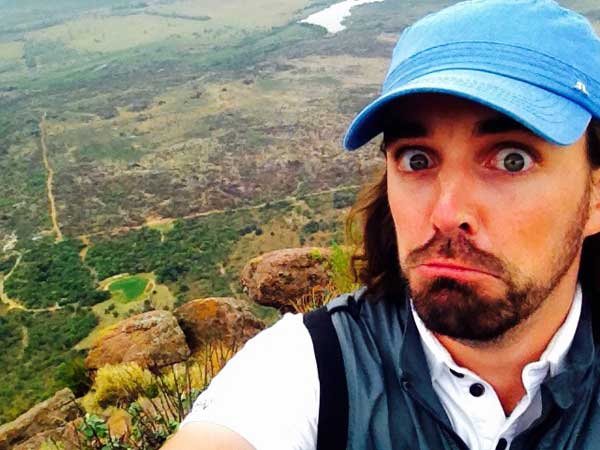 ---
I recently was lucky enough to play the famous Extreme 19th in Africa and can officially say it's the best thing, golf wise, that I've ever done. The chance to do it whenever you felt like it might make it a little less exciting but I'd wager the helicopter ride and sailing golf balls off a precipice for their 23 second descent to the green (that's a rough fact by the way) would still be a whole heap of fun!