Golf in Qatar has been on the rise in recent years, namely due to its hosting of The Qatar Masters which has formed part of The European Tour's Desert Swing for decades. The diverse landscape of sand dunes, sea and of course guaranteed sunshine make Qatar a great option for a golf trip, either as a stand alone or as part of a multi-centre trip using Qatar Airways extensive flight network to experience many other golf destinations.
Whilst it is Doha Golf Club and Education City Golf Club which draw the attention currently, additional golf courses are planned for Doha and beyond so it is sure to be only a matter of time before the lush green fairways of this region are trodden by many more players.
With a host of luxury hotels on offer, year-round sunshine and a wide-variety of investments courtesy of it hosting The World Cup, Qatar is quickly becoming a great option for anyone seeking a luxury golf holiday playing championship golf courses.
The first golf course in Qatar to obtain international acclaim was Doha Golf Club. Designed by Peter Harradine, who has extensive experience in the region including designing Abu Dhabi Golf Club, Jebel Ali and The Track, is located just north of Doha itself and has seen a host of golfers play here in The Qatar Masters since 1998.
Past champions at Doha Golf Club include Sergio Garcia, Paul Lawrie, Adam Scott and Ernie Els showing that as a championship course, Doha is one that test the very best. At 7,373 yards with a par of 72, the winning scores of the tournament reflects the test on show here which is sure to be one of the toughest you'll have played if the wind starts to pick up.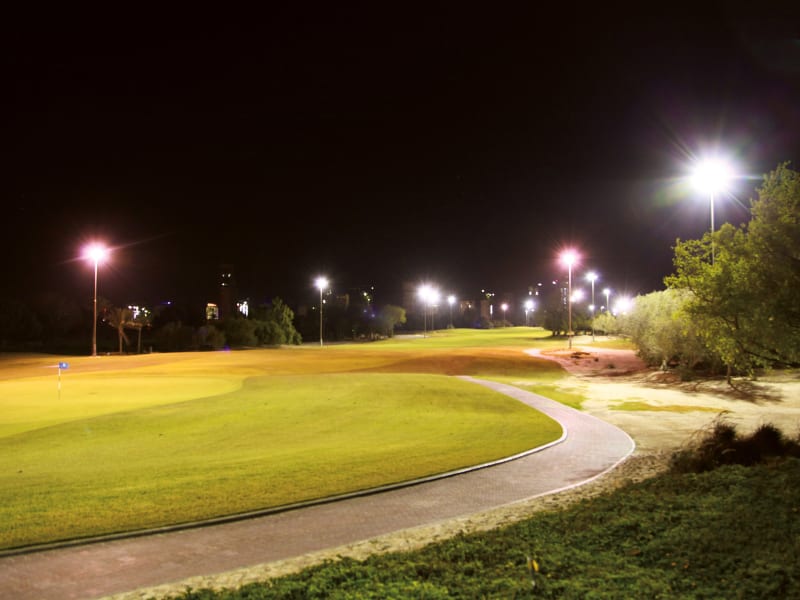 In additional to the 18 hole championship course, Doha Golf Club has a 9 hole academy course which is perfect for both the novice golfer and seasoned golfer looking to play some golf on offer that matches the same high standard putting greens which are in good condition year round. The course is also home to numerous limestone rock formations which frame the green fairways and tee box to create impressive contrasts as you make your way round this desert course.
In 2020, The European Tour moved to Education City which has quickly become one of the most enjoyable golf courses to play in the region. Designed by past Masters Champion, Jose Maria Olazabal, the course measures an impressive 7,300 yards off the championship markers against a par of 72. Both Jorge Campillo and Antoine Rozner will testify to the golf course at Education City being the one to play in the region with both managing to win The Qatar Masters in March 2020 and 2021 respectively.
With stunning facilities in abundance, the challenges golfers face playing on this site are an interesting one with Olazabal's design being sure to examine golfers of all handicaps with sloping lies, demanding tee-shots and USGA greens which are equal of any.
The 18 hole championship course is matched with a 9 hole academy course which is floodlit as well as a 6-hole course which is perfect for a quick tune up regardless if you are a seasoned professional or beginner.
Play Education City Golf Club
Getting to the Golf Course
So, the region is excellent for tourists with infrastructure all focussed around Doha. Those looking to be on the course can do so in moments from their hotel. Both Doha Golf and Education City Golf are less than 20 minutes from the city centre meaning you could be enjoying your luxury hotel facilities in a short period of time after your round has finished.
With further golf courses planned for Qatar it is certainly one to take note of. With a golf season which runs from January to December it is sure to appeal to a range of different holiday makers. With natural beauty courtesy of it's startling contrast on display throughout, Doha offers everything you'd want and more from your next trip.
Additionally for golfers just passing through and want to experience this world class golf, Qatar also has the 'World's Best Value Stopover' programme. Just ask one of our sales team for more information.
Frequently Asked Questions
There are currently 4 golf courses in Qatar with many more planned for completion over the coming years. The 2 golf courses that capture the majority of attention are Education City Golf Club which is the current host of The Qatar Masters and Doha Golf Club which was the previous host. Others include Mesaieed Golf Club which was created in around 1951 with greens made by oil and shots from the "fairway" being played off mats. Dukhan Golf Club is the 4th golf club in Qatar and is played off "browns" which make up the greens.
Golf holidays in Qatar are considered great value for money when considering the quality of accommodation and golf courses on offer. With year-round sunshine, a day on the course is guaranteed to be a warm one. Packages including flights, 4 nights accommodation at 2 rounds of golf (Doha Golf Club and Education City Golf Club) starts from £1329 per person.