We recently had a discussion in the Your Golf Travel offices as to which 18 holes would make up the ultimate "Fantasy Irish Golf Course" and, needless to say, with so many opinions being offered we couldn't settle on a definitive list…the phrase "too many chefs spoil the soup" sprang to mind. With the question unanswered we decided to call in the cavalry and who better to come up with the 18 best holes in Ireland than Kevin Markham; the man who has played every single 18 hole golf course in the country…yes you read that right…all 350 of them!
Here's what Kevin, author of Hooked, An Amateur's Guide to the Golf Courses of Ireland, had to say about Ireland's Fantasy 18 Holes…
Remember the James Bond movie, when Pierce Brosnan runs through Waterloo Station, and the next second he's running on the Embankment? Even Usain Bolt wouldn't have managed that! Playing Ireland's 'Fantasy 18 Holes' will feel a bit like that. You'll walk off the 12th green at Waterville in Co Kerry, and then magically appear on the next tee at Macreddin GC, in Co Wicklow, 220 miles away.
Choosing the definitive 18 proved an almost impossible task and there will undoubtedly be the "But what about…?" comments, but this course combines links, parkland and seaside golf to create an entertaining and challenging Par 70. It combines the modern, the old, the quirky and the classic and it would make one hell of a round of golf.
---
Hole 1 – Carne (Kilmore) Golf Links – 1st Hole – Par 5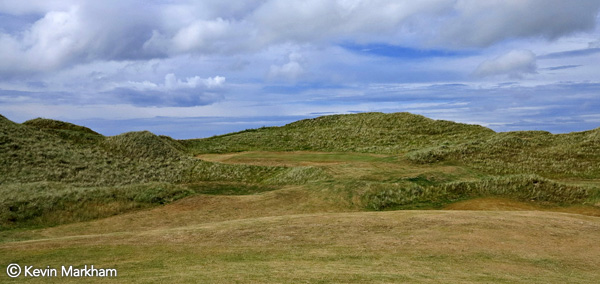 One of Ireland's newest holes (opened 2013) this is a wolf in sheep's clothing. You drive towards enormous dunes and then face a tricky second shot that is so hard to gauge… and it all looks so easy from the tee.
---
Hole 2 – Scrabo Golf Club – 1st Hole – Par 4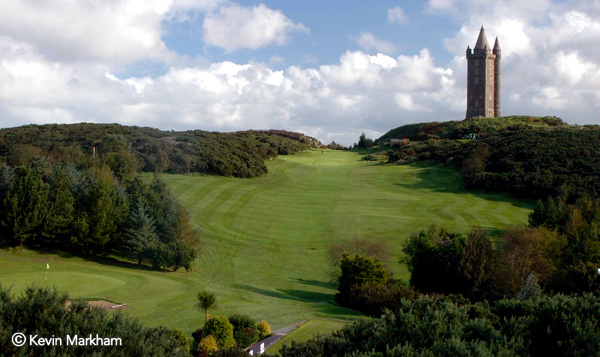 An unsung hero, Scrabo hits you with its toughest hole at the very start. 400 yards straight uphill, between banks of razor sharp gorse and Scrabo Tower beckoning to you from the top. Play off the back tees for the full experience.
---
Hole 3 – Portsalon Golf Club – 2nd Hole – Par 4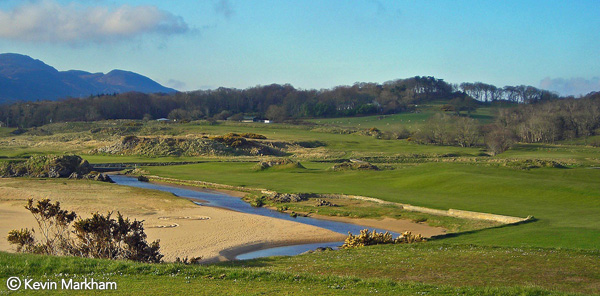 Tucked away in Donegal and all its glory, is a golf hole (and course) of remarkable beauty. From the tee box you drive down to a fairway that doglegs around the beach and a river. A real risk vs. reward shot and then water fronts the green.
---
Hole 4 – Cairndhu Golf Club – 2nd Hole – Par 3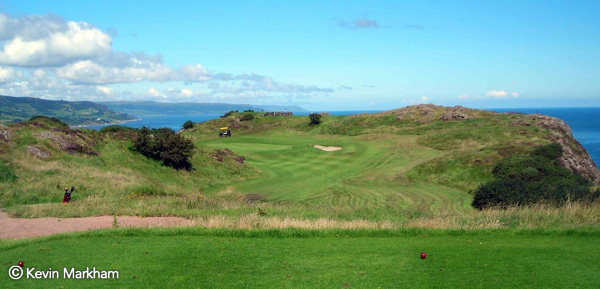 Perched on a turret of County Antrim rock high above the ocean, Cairndhu's 2nd plays from one rocky edge to the other. It's a full 360 degree experience with Scotland hovering on the horizon and the Irish Sea lapping below.
---
Hole 5 – Old Head Golf Links – 4th Hole – Par 4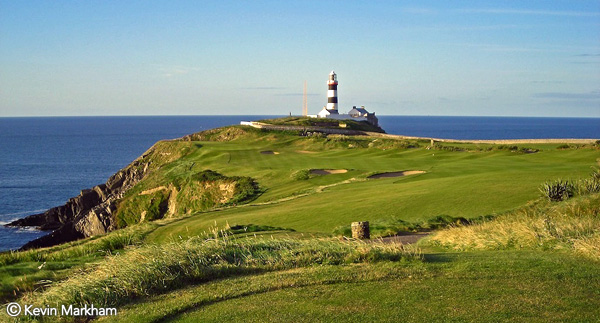 A golf experience like no other, Old Head slides along the top of 300 foot cliffs. Nowhere is this demonstrated better than the 4th, a dogleg that clings to the cliff tops for dear life as it sweeps towards the peninsula's lighthouse.
---
Hole 6 – Concra Wood Golf Club 4th Hole – Par 5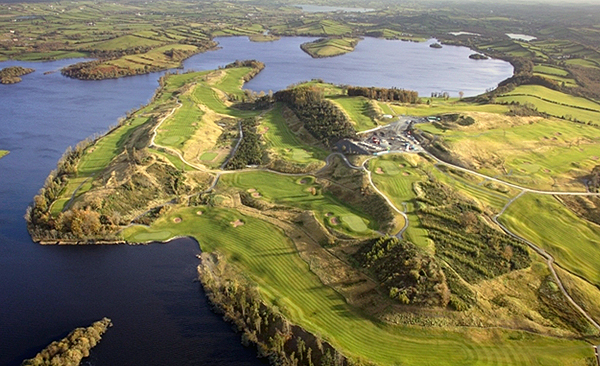 A double dogleg par five along the shores of Lake Muckno, this hole takes you out to the dark waters and lures you in. The green, resting above the lake, calls for a perfectly executed approach.
---
Hole 7 – Narin & Portnoo Golf Club – 8th Hole – Par 4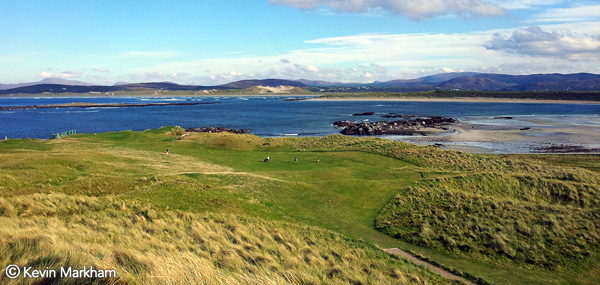 One of Ireland's most picturesque spots and an easy looking, short downhill hole. Only one problem: the green sits right on the Atlantic and a 50 yard pitch becomes the most terrifying shot imaginable.
---
Hole 8 – Royal County Down – 9th Hole – Par 4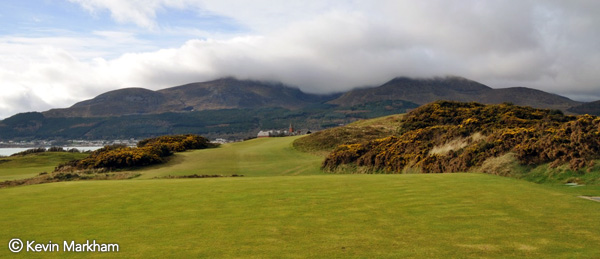 Jack Nicklaus is not a fan of RCD's blind holes but one man's ying is another man's yang and for me, this is the pick of the bunch. It's so blind it is brutal. You drive over gorse towards the bruised hues of the Mourne Mountains, hoping you find the fairway far below.
When you crest the dune it is the day's most beautiful sight.
---
Hole 9 – Ballybunion Old Course – 11th Hole – Par 4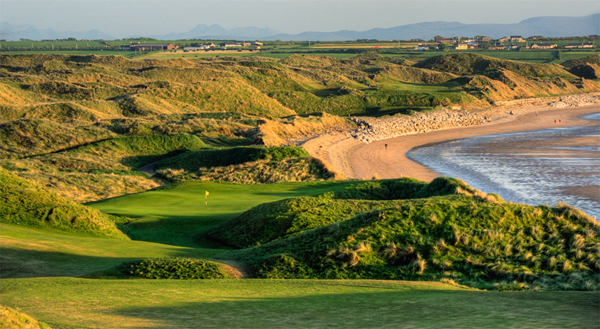 A beautiful hole above the beach and ocean, Ballybunion's 11th often makes 'best hole in the world' ratings… Tom Watson certainly thinks so. The hole drops down almost like the waves of the ocean alongside to a green protected by the shoulders of two dunes.
---
Hole 10 – Waterville Golf Links – 12th Hole – Par 3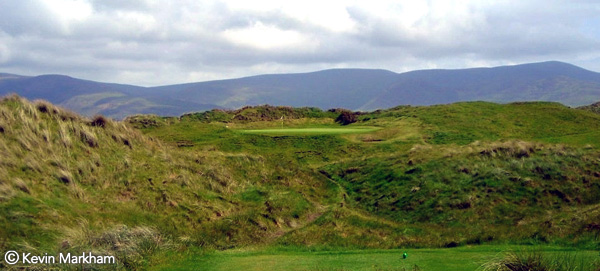 Rich in folklore, this par three 12th is known as the 'Mass Hole'. The green sits perfectly on top of the dune, with mountains rippling along the skyline beyond. Don't be long; don't be short.
---
Hole 11 – Macreddin Golf Club – 12th Hole – Par 4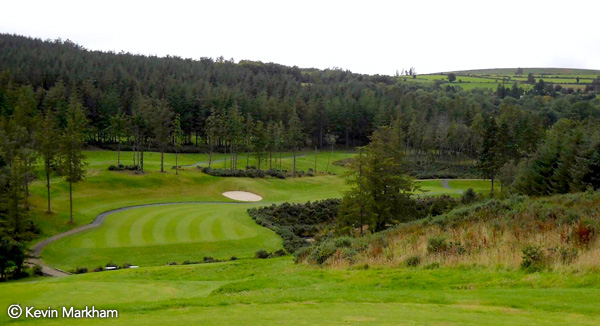 Paul McGinley's Irish creation weaves through the Wicklow valleys above the village of Aughrim. The 12th is a sharp dogleg right, and crosses over Ballycreen Brook, twice. Two laser-accurate shots required.
---
Hole 12 – Tralee Golf Club – 12th Hole – Par 4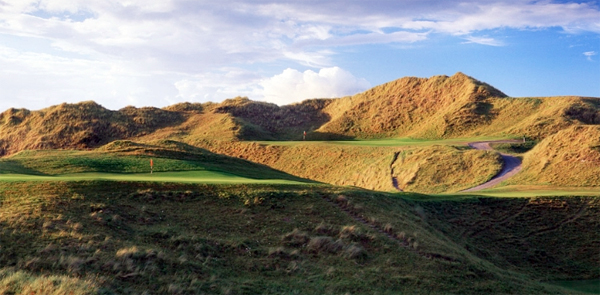 Arnold Palmer took credit for Tralee's front nine, "but surely God designed the back nine," he quipped. The thrill and the fear factor of the 12th hole support that assertion – with a brutal chasm awaiting errant approach shots.
---
Hole 13 – Enniscrone Golf Club – 13th Hole – Par 4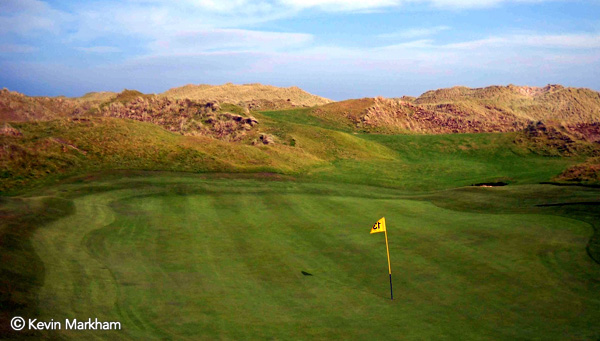 A twisting, short, downhill links hole that teases you with choices. The hole veers left but winds around a dune, down to a hidden green. Get it wrong and your ball may be gone forever.
---
Hole 14 – Strandhill Golf Club – 13th Hole – Par 4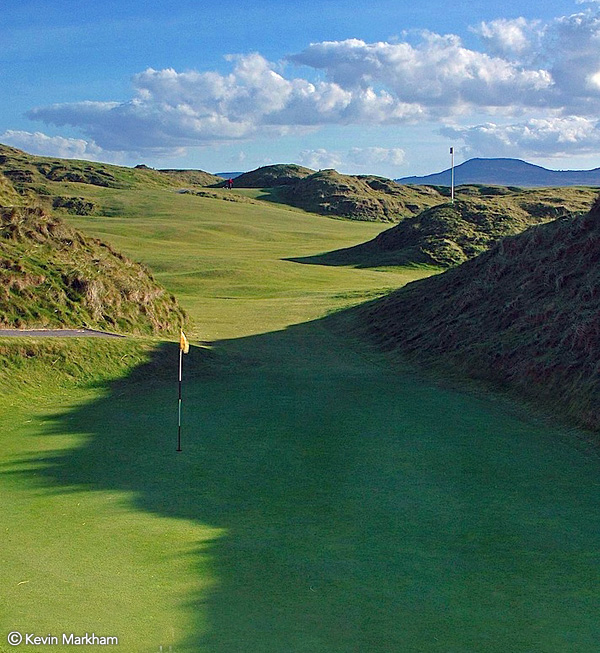 Famous for being designed by its members, Strandhill has novelty and quirks aplenty, and some superb holes – none more than this. A blind tee shot down into the dunes is followed by an arrow-like approach between tight, sentry dunes.
---
Hole 15 – Druid's Glen – 13th Hole – Par 4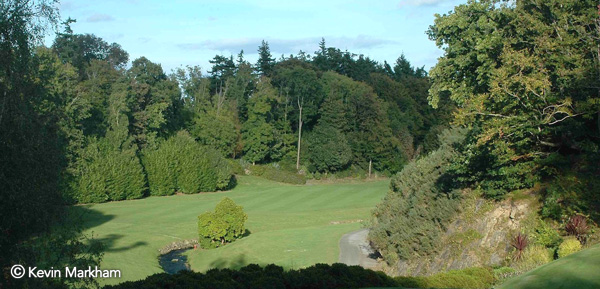 One of Ireland's best holes and one of her most difficult. This big par four fades around a blasted rock face to a fairway and stream below, leaving a second over water and swans to the distant green. A par is victory.
---
Hole 16 – Royal Portrush – 14th Hole – Par 3

'Calamity' is a world-famous par three, with a green clinging to the dune's edge and nothing but angst below. There are two ways to play this hole: hit; and hope.
---
Hole 17 – Carlow Golf Club 16th Hole – Par 4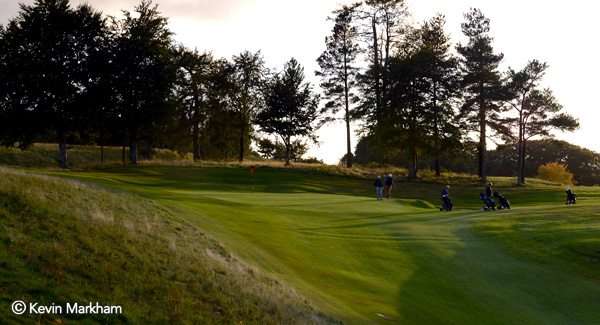 A natural hole if ever there was one, the 16th glides ever upwards between banks of fern and thick grass, the fairway narrowing at every step to a slick, lethal green. Sheer old-school (Tom Simpson) class.
---
Hole 18 – Killarney Golf & Fishing Club, Mahony's Point – 18th Hole – Par 3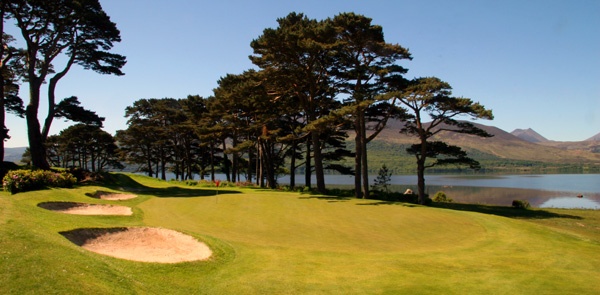 Ending with a par three may not be to everyone's taste, but with Lough Leane shimmering alongside, the mountains almost close enough to touch and golden pine trunks snaking up around the green, this is a mesmerising finish.
---
Too see more of Kevin's photography and content on Irish golf courses, take a peek at his blog, "Hooked: Ireland's Golf Courses"
---