Have you ever played night golf? If you're a fan of the game during daylight hours, you're gonna love playing under the floodlights. But can you imagine playing a Tour event at night? The Ladies European Tour are playing the Emirates Golf Course in Dubai for the Dubai Moonlight Classic this November. Moonlight being the operative word.
"The Faldo Course can be played by day or by night, but there is something special about playing golf after the sun sets that most certainly cannot be experienced everywhere."
Simon Aiken
Product Team
Ladies European Tour
Many tournaments on the Ladies European Tour being cancelled or postponed because of COVID-19, so the OMEGA Dubai Moonlight Classic is the first event back in Dubai. Formerly known as the OMEGA Dubai Ladies Masters, the tournament was first played in 2006 on the Faldo Course at Emirates Golf Club but introduced the night time twist in 2019. The event gained global recognition as the world's first professional day-night tour event!
Nick Faldo's golf course was re-designed by the man himself with night golf in mind. Floodlights were insisted upon and are an important part of the championship course setup.
Emirates Golf Club
Emirates Golf Club (formerly The Wadi Course before Sir Nick Faldo's re-design) was established in 1988 and was the first all-grass championship course in the Gulf region. It is now home to two outstanding championship courses and a 9 hole par 3 course. Emirates Golf Club Majlis Course was host to The European Tour's Dubai Desert Classic tournament for many years too. If the golf resorts in Dubai are good enough to host golf tournaments for the Pros, they're good enough for us.
Find out more about Golf in Dubai
Emirates Golf Club by day
TopGolf Dubai
One of the most exciting options available after a round of golf in Dubai is to venture to TopGolf Dubai. Located within Emirates Golf Club, TopGolf is a perfect option for night golf with views across the Dubai skyline. TopGolf is a popular option for golfers staying in Jumeriah Beach Residences as it is just 15 minutes drive away or just 30 minutes from Dubai International Airport.
Whilst golf is a big draw to visiting TopGolf there are a whole host of different things to enjoy whilst there with top-rated bars and restaurants to a host of things to do in the evening. TopGolf is a place where golfers and non-golfers can have fun under the bright lights, regardless of ability or experience.
Perfect for groups and couples alike, TopGolf Dubai has quickly become a must-visit destination for those on golf holidays and regular vacations alike.
Once you've finished your TopGolf be sure to head to The Loft for a great place to relax and enjoy a drink whilst looking out over the Dubai Marina skyline. As 19th hole vistas go, this is pretty hard to beat.
TopGolf Dubai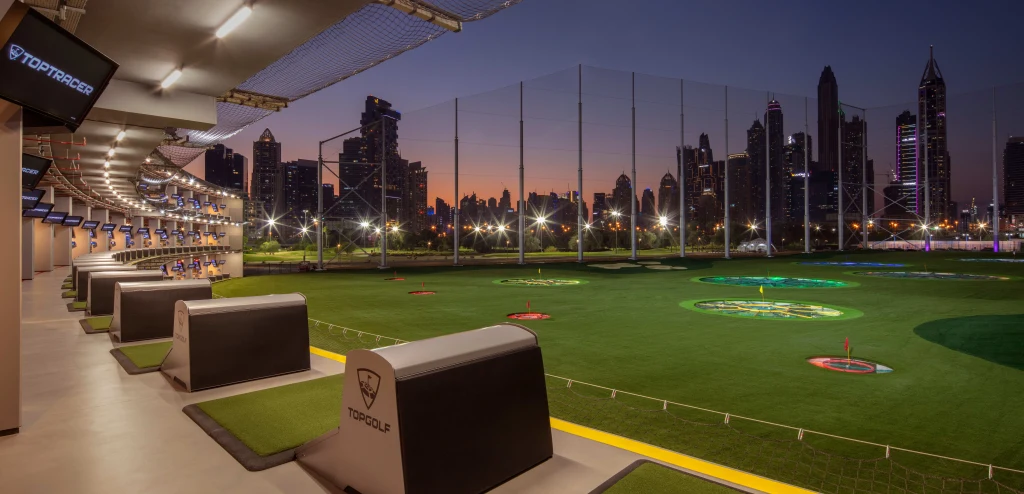 Where else can you play night golf?
If you love the idea of heading to the UAE for an adventure on your next golf holiday, you can also tee it up at night at Abu Dhabi Golf Club. Turkey is another fantastic holiday destination and Montgomerie Maxx Royal is another resort where you can play Night Golf. Check out the vlog with YGT Rory below.
Have you played golf at night on your golf holiday? Drop us a comment below and tell us where!