Things to do while the golfers are golfing that'll make them wish they'd skipped the golf
Tavira Edition
Today, I am a golf widow to four (colleagues), all of whom are off playing Quinta de Cima Golf Course. A hardship for them, I'm sure. I'm also sure that, like any other golfer in the world, they felt really terrible ditching me for a round. Lucky for me, I've got the Eastern Algarve as my playground, the weather is beautiful, and my determination to overwhelm future dinner conversation with fun anecdotes is so strong; I'm ready for anything. In Omnia Paratus.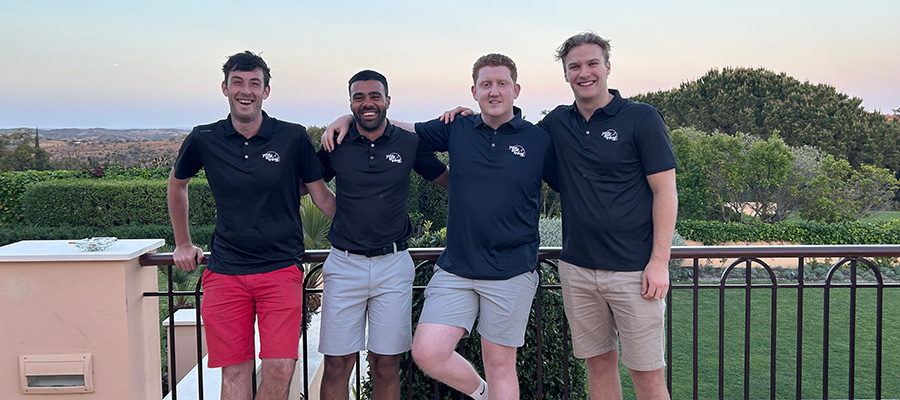 So, what to do to drown out the "shanking/iron/slow four ball/quick greens" chat at the dinner table later? Head to Tavira.
A large town on the Gilão River, which runs down into the Atlantic. Tavira rose to prominence in the 15th and 16th century and has a rich naval, military and mercantile history. And, it is beautiful.
As someone who grew up in Dublin, I got used to the idea of there being a 'North Side' and a 'South Side', where a river-divided town or city is concerned; with water division demanding area-preference for visitors and inhabitants. Think Buda and Pest, think staying in Trastevere versus Campo de' Fiori, living north of the Thames versus south of the Thames. Not so, in little Tavira! Both sides are beautiful, historical, quaint, and gorgeous. There are the same number of restaurants on the west side as the east (which is to say that every third doorway leads into one), and equally beautiful little squares on either side.
With so much to do before the boys got back to bore me, I had to be strategic in my touristic choices. First on my list?
Trust me when I say, correctly pronouncing the name is going to win you some seriously-impressed points at dinner. Because how hard is it to say 'Quinta de Cima'? Not hard. How hard is it to say 'Igreja da Misericórdia' without garbling it and making it sound like you just hit the rosé all afternoon? Not easy (as I found out). This little church is a hidden gem; I would have completely missed it had there not been an Insta-worthy tabby cat sleeping in its doorway. But goodness am I glad I didn't.
Built in 1541, it features eighteen panels of the most exquisitely detailed eighteenth century blue and white tiles depicting the Works of Mercy. If Portugal has converted you to tiling, if you like interiors, or like me (Catholic) you just like churches, this is not one to miss. Also included in your €3 entrance fee is access to the church tower. The climb is not for the faint hearted, not because it's very far or steep, but because tower-access makes a mere nod to health and safety in the form of a little gate at the bottom. There are no ropes to cling onto as you navigate the well-worn stone steps to the top. But if you make it, you're afforded a lovely little view of Tavira (better than what the golfers could boast later).
Tavira Castle (or 'Castelo de Tavira' if we're still working that angle)
The castle dates back to the eleventh century (the time of the Moorish rule of Portugal), and defended the town against pirates and North African raiders. All that's left of this magnificent structure are its thick walls, giant gateway and a tower. It's still something to visit, as the tall walls are accessible and the views are the best in town. Another word to the wise, for the steps up to the walls: they're very deep and it can get windy up there. If, say, you're thinking of wearing a billowy dress that day; don't. Picture one of those children's tents in gale force winds at the top of the Cairngorms. Of course, I'm just speculating… That didn't actually happen to me.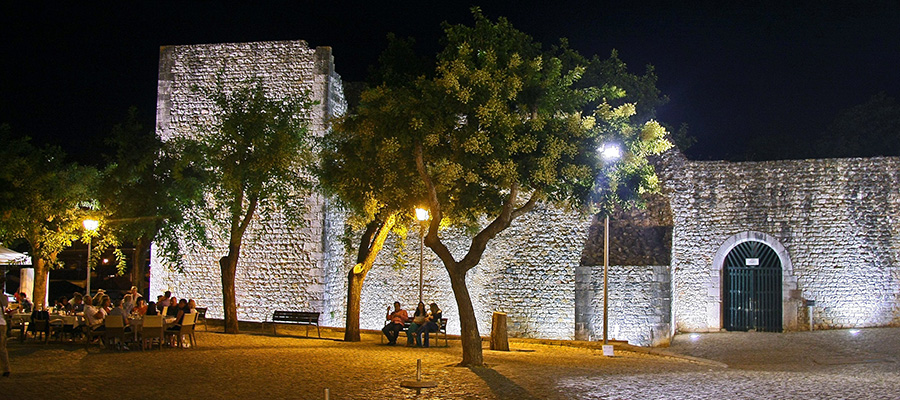 Post summit and descent, relax in the gardens those walls surround. They too are the stuff Insta-moments are made of. If you're not into that, just bring a book, sit out. It's quiet and it smells divine.
Delizia (the best gelato outside Italy)
I've called it, you can come for me. Delizia is all natural, all delicious and the best gelato I've had outside of Italy. Don't believe me? Go, and before you choose, have a peek at the wall covered in similar testimonials. I went for a scoop of walnut and carob with orange (on recommendation of the lovely lady who worked there). I presently swooned. This cone was the Monte Rei Golf Club of gelatos. The flavour was off-the-charts, and it didn't do that hideously annoying thing some gelato does where it disappears down your arms within point-one-of-a-second. Or perhaps that was because I guzzled it so fast.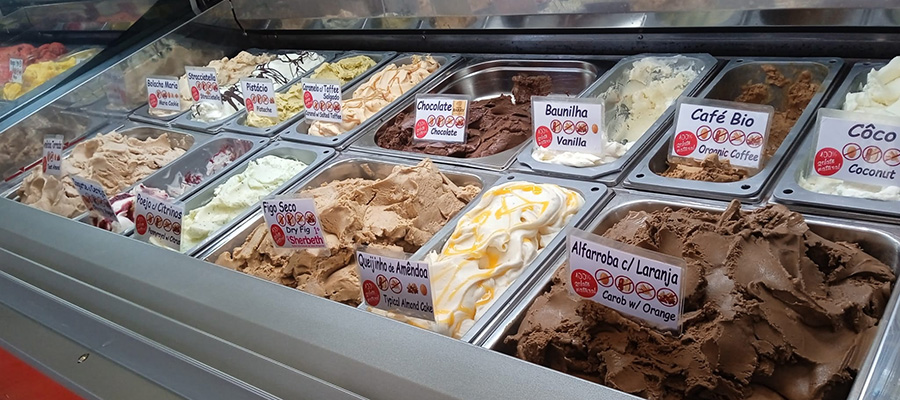 This was a 10/10 for me. I even texted one of the golfers to inform him. He was annoyed. Rosanna 1, Golfer 0. You see? Swing while you're winning, widows and widowers.
Shopping at O Arco, Kozi and a million other amazing independents
We say 'refined retail elegance', you think of Paris. We say 'simplicity', you think Scandi. We marry the two? You get the Portuguese retail market. It's woven bags, and leather shoes, it's ornately dyed rugs and scarves, and semi-precious-stone encrusted metals. If what you can buy in the likes of Kozii (Rua Dr. Augusto da Silva Carvalho) and O Arco (Rua António Cabreira 2) was a person, they'd be who you aspire to be. Elegant and minimal without being boring, earthen without being dirty, and rustic without that being an insult.
Head to either one of these shops, and you'll come out looking and smelling like someone who takes an antique bike into the countryside to pick chamomile, before heading back into town for a big glass of spicy red with your trillion best and beautiful friends. Portuguese retail is 'cool girl or boy chic' but totally unaware of it.
Can you tell I worked in fashion before golf? I hope so. Get shopping, widow-y people. And then show off your buys, because you know what you can't buy at the Pro Shop? Anything *not* relating to golf/taste.
"The Eastern Algarve has fantastic beaches with great options for both All inclusive & bed and breakfast stays with multiple courses to play within a 35 mins drive."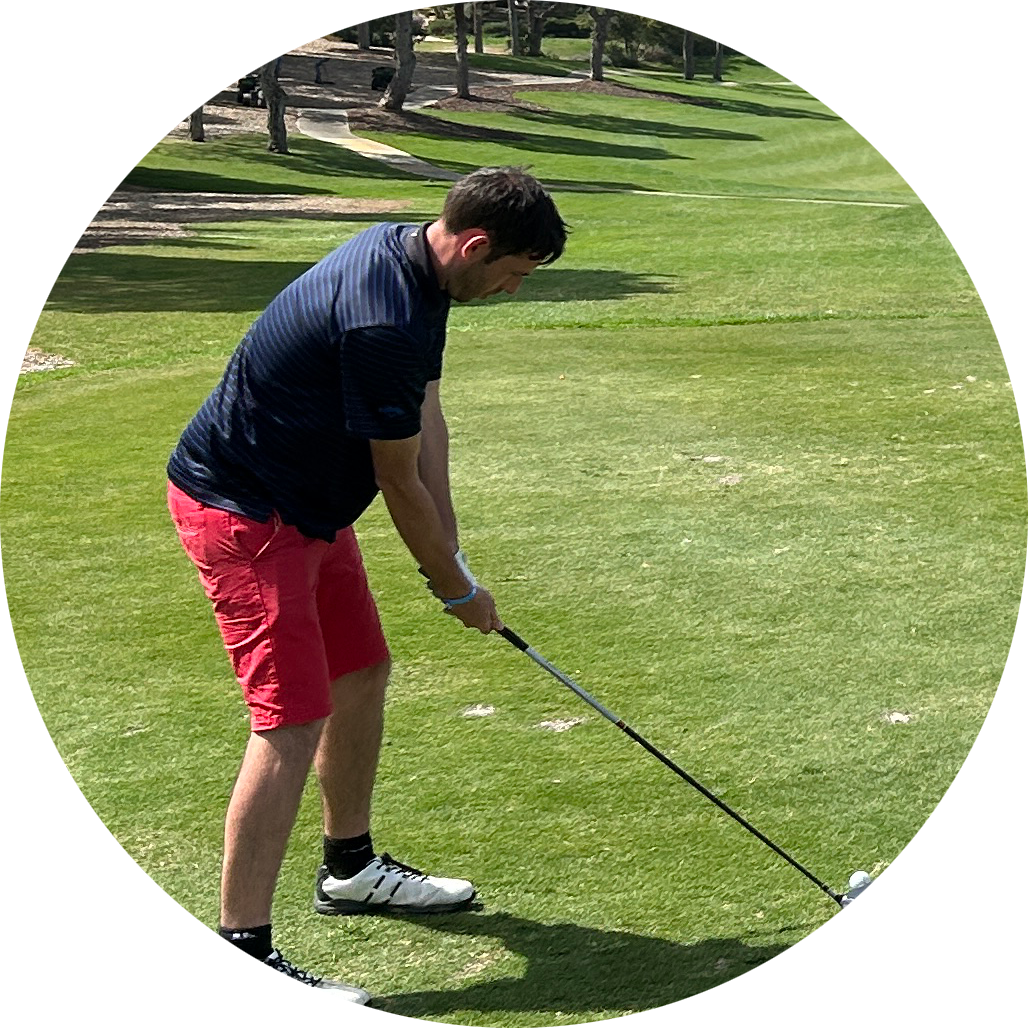 Tom Hyde
Golf Travel Specialist​

Eat, drink, eat again, and then drink some more.
But not so much that you can't pronounce Igreja da Misericórdia (remember this is crucial)
The Taviran Challenge (I've made this up – it's not real) is finding somewhere to eat when all of the options available to you are so fantastic. My top choices are Mira (R. Dr. Marcelino Franco 27) which does classic Portuguese tapas (that is a thing) and big glasses of wine, Avant-Garde Bistro (R. Jacques Pessoa) because it does €1 pints at happy hour (best save this one 'til the end), Arcada Cocktail Club (Praça da República 8) which does what it says on the gin (wheyyy), and anywhere on Praça Dr. António Padinha.
It's a gorgeous little square, with a garden in the middle, and restaurants all around it. Expect to pitch up for a cold one and nibbles, and hear buskers play relaxing Bossa Nova sounds for you. Incidentally, I note with pleasure that these are not the breed of buskers one might find on the Piccadilly Line, accosting your eardrums with 'Hit the Road Jack' and 'When the Saints Go Marching In'. If you want to wander over to them and tip, you'll get a smile and a 'boa tarde'. If you can't extricate yourself from happy, beery, sun-slumber, just enjoy.
The Golf Courses in Eastern Algarve
Golf Hotels in the East Algarve
When to Travel to the East Algarve, Portugal
The Eastern Algarve region of Portugal has a similar climate to the rest of the Algarve, so year-round travel for a golf holiday here is highly recommended.
High season months for golf in the area are between March to May then September to November, during this time of year the climate is perfect.
That being said, outside of these periods, the weather is still great for golf holidays. Although you might just swap the outdoor pool for an indoor one between November & March.

The main route to the East Algarve from the UK & Europe is to fly direct into Faro Airport and drive along the main East-West motorway that seamlessly connects the whole of the Algarve. An alternative is to fly into Seville which is around 2 hours from Tavira.
"One thing to note is that the motorways in Portugal have tolls so if you wish to avoid the extra cost you could take the old N125 coast road for a slightly slower, but perhaps more scenic drive along the Eastern Algarve coastline."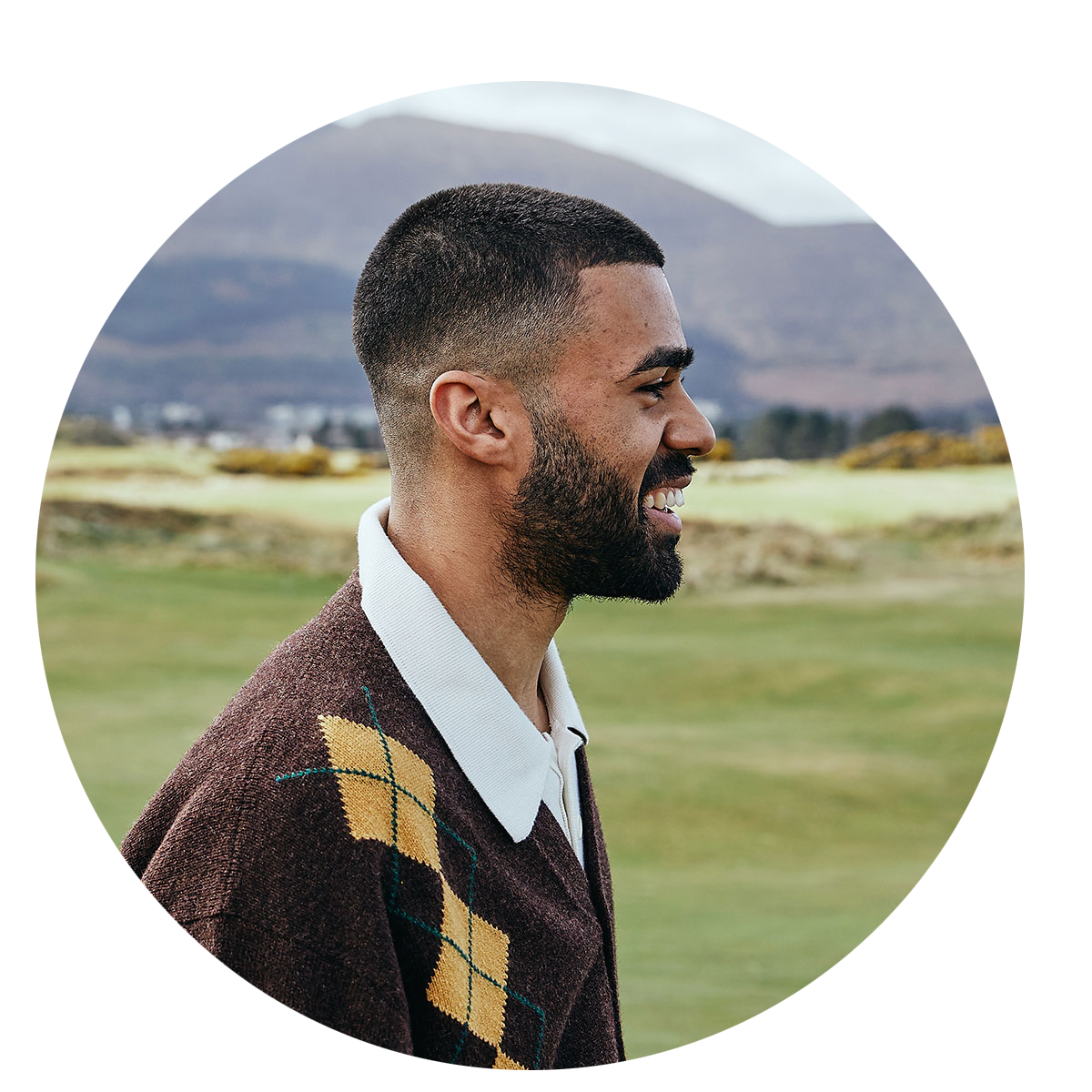 Kareem Smith
Golf Travel Specialist​

Right, off to go talk the hind legs off a golfer, about how great the gelato was, how happy I am not to be playing golf, and to enquire as to whether they meant for their neck to be quite that rouge…
Frequently Asked Questions
The East region of the Algarve contains a number of well known attractions for visitors. The Ria Formosa Natural Park, historic towns like Tavira, Castro Marim and Vila Real de Santo Antonio, scenic beaches, delicious seafood and of course great golf courses!
Faro Airport is the easiest way to access the East but Seville Airport in Spain is also a possibility.
The Algarve region of Portugal is along the southern Atlantic coastline of the country and as the name would suggest the East Algarve is in the eastern edge of this coastline running up to the Spanish border.