The AT&T Pebble Beach Pro-Am is one of most popular tournaments on the PGA Tour attracting huge spectator crowds. 156 Professionals along with 156 amateurs make up the field including an array of celebrities, which have previously included Justin Timberlake, Bill Murray and NFL Star Tom Brady.
The tournament is contested over three breathtaking courses in the Monterey Peninsula, on the central California Coast; Spyglass Hill Golf Course, Monterey Peninsula Country Club Shore and the no.1 golf course in the world that is open to the public, Pebble Beach Golf Links. Pebble Beach has been home to the US Open countless times in the years 1972, 1982, 1992, 2000, 2010 and in the year 2019, the US Open will return to the Pebble Beach Golf Links.
Previous winners of the AT&T Pro-Am include Dustin Johnson, Phil Mickelson and 5 time winner Mark O'Meara. The 2016 event see's a high profile field including the likes of Rickie Fowler, Dustin Johnson and 2015 two time major winner Jordan Spieth. Check out the YGT predictions of who they think will come out on top in California this week.
Quick Facts about the AT & T Pebble Beach Pro-Am
[list type="arrow_right"]
2016 Prize Fund – $7,000,000
2015 Champion – Brandt Snedeker
Field – 156 Professionals, 156 Amateurs
Lowest Winning Score – 265 (-22) Brandt Snedeker in 2015
Tournament established in – 1937
[/list]
The Defending Champion
[quote]Horses for courses and Brandt Snedeker is clearly at home in California. Having claimed the title in 2015, 2013 and already started the season in fine form with a win at Torrey Pines in the Farmers Insurance Open it won't be a huge surprise if he claims his 3rd AT&T in 4 years. I'd expect slightly less impressive scoring than 2015 (Snedeker won with a record -22) though with a winning mark closer to -15 due to cooler weather expected in Monterey this week.[/quote] Oliver, YGT Marketing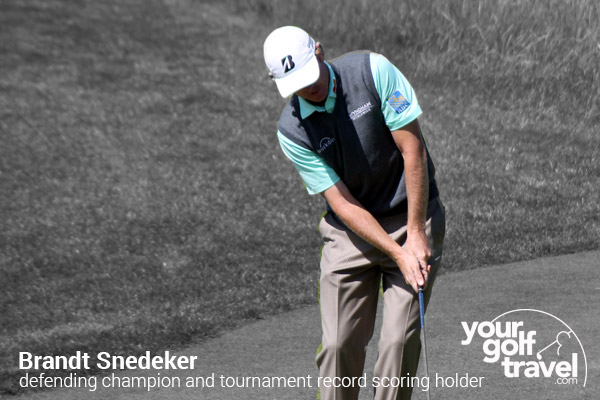 The Long Bomber Dustin Johnson
[quote]I'm going with Dustin Johnson for the AT&T. Although Brandt Snedeker has had a lot of success here recently and is flying in the FeDex Standings, Dustin likes the course as well with his victory here back in 2009 and 2010. Dustin hits the ball a long way and hits it low which will be very useful in the inevitable winds. Dustin's game is close to it's best as he has 2 top 10 finishes in only 3 starts this year so he is also well rested. [/quote] Chris, YGT Product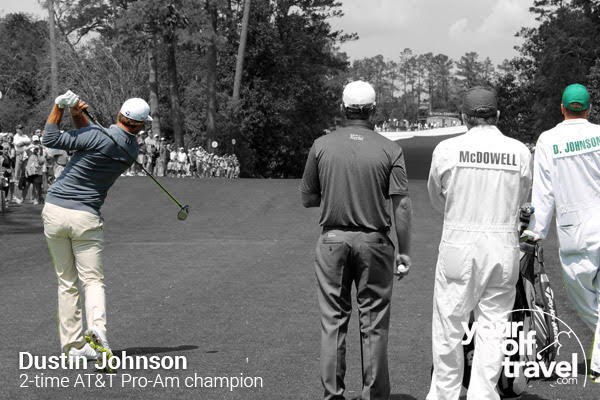 Johnson again..
[quote]While Brandt Snedeker is the obvious choice for this week's AT&T Pebble Beach Pro-Am, my colleague Oliver has beaten me to the punch…so I'm going to go with someone else and that man is Dustin Johnson. Johnson has previous form at Pebble Beach having twice won the AT&T Pebble Beach Pro-Am, as well as having lead the 2010 US Open by three shots going into the final round. His form is good too. DJ was there or there abouts at the Farmers Insurance Open at Torrey Pines until a final round of 80 in ridiculously bad weather put paid to his chances…his eventual T18 finish is his worst of the season too. If DJ can avoid an 82 like the one he shot at Pebble Beach in the final round of the 2010 US Open, or an 80 like the one at Torrey Pines last time out, expect him to be at the business end of the leaderboard come Sunday evening.[/quote] Rory, YGT Marketing
And again….
[quote]Twice a winner and with a temperament that should suit the Pro-Am circus atmosphere, Dustin has the game to bring Pebble to its knees. If he gets it going, he could win at a canter.[/quote] Euan, YGT Marketing
Mr 2015 – Jordan Spieth
[quote]Dustin Johnson seems to be a popular choice, but I'm going for the two time major champion of 2015; Jordan Spieth who was also the PGA Player of the year and Fedex Cup Champion in 2015. 2016 plans out to be a huge year for Jordan and I'm sure we can look forward to some intense battles throughout the year between himself and Rory Mcilroy. Watch out this week for Jordan, could be his first Pebble Beach Victory.[/quote] Nick, YGT Marketing
The Short Game Wizard – Big Phil
[quote]Big Phil is slowly playing himself into some great form with some superb stats in the recent Phoenix Open despite the scoreboard not correlating to his performance. After a near miss with Ricky last week I'm going for someone who knows how to win at AT&T and is the the all time leading money earner at the event so knows his way round and what club to take at crucial moments……[/quote] Aaron, YGT Marketing
The clear YGT Favorite – DJ
[quote]Two Top 20 performances already in January shows that Dustin has his game close to where he wants it to be as the top players start gearing towards building their form to peak at Augusta in April. I expect him to break Top 10 around Pebble Beach and as a previous winner at the rain shortened event in 2009, he'll be keen to win again over the full 4 rounds.[/quote] Craig, YGT Product
Thinking about a 2016 golf holiday to Pebble Beach, Check out Your Golf Travel to view our latest offers and experiences to the California Coast.