If you have even the most fleeting of interests in golf, you can't help but have caught wind of a certain Tiger Woods' return to competitive action after a lengthy, injury-enforced layoff.
Back issues and the resulting corrective surgeries had many including Tiger himself wondering if his playing days were done, with the former world number one even intimating that not too long ago, things had gotten so bad he was barely able to walk.
With fitness issues becoming less of a concern in more recent weeks, he had been scheduled to play in October's Safeway Open on the PGA Tour, as well as the European Tour's Turkish Open at Regnum Carya in Belek, pictured below.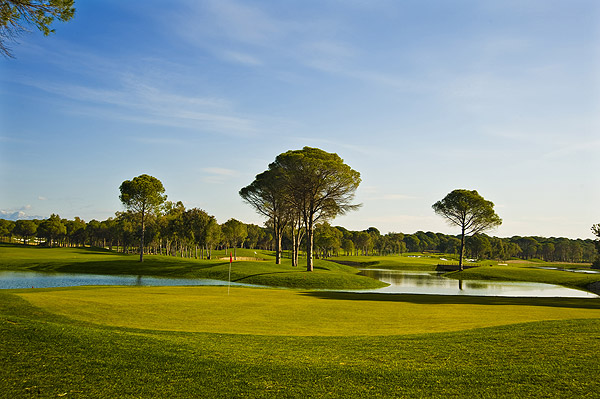 He pulled out of both.
This raised new concerns, not because of health issues, but because of Woods' admission that his game was not yet up to snuff.
"After a lot of soul searching, and honest reflection, I know that I am not yet ready to play on the PGA TOUR or compete in Turkey. My health is good and I feel strong, but my game is vulnerable and not where it needs to be. It's not up to my standards, and I don't think it would be up to yours."
The 14-time major champion was however confident enough of his game to tee it up at his own event this week past. Played at a course at which Tiger is a member, away from the massive galleries he would've no doubt attracted at a regular PGA Tour event, and with just a limited field of 18 golfers with no cut; this was the perfect place for this comeback, and the world was watching.
So what did we learn?
THE POSITIVES FAR OUTWEIGHED THE NEGATIVES
It's little secret that Tiger made plenty of costly errors in the Bahamas last week.
6 double bogies in total, as well as his fair share of bogies on par 5s (holes which he used to dominate with regularity in his prime) certainly can't be ignored, but neither can the length of his layoff from tournament golf.
16 months is an awfully long time to be out of action in any sport and so there's an understandable amount of ring rust in Tiger's game right now. But there's still enough in the tank to fire in rounds like his 65 on day two as well…
Leading the field in birdies for the week with 24 (winner Hideki Matsuyama made 22) is proof enough though, that with a sustained run of fitness and a bit more time inside the ropes, there could well be enough life left in Tiger to progress and eventually make it back to the business ends of PGA Tour leaderboards.
As Matsuyama himself suggested: "Only Tiger could take a year-and-a-half off and put up the numbers he's putting up this week. I don't care how many strokes I'm leading over him, I still worry about him, fear him."
TIGER 2.0 HAS MELLOWED
When Tiger Woods was playing well, his detractors, of which there are many, revert to highlighting his frosty on course demeanour and his reluctance to interact with his fans.
If they'd been on TV at the age of 2 and had their entire adolescent and adult life broadcast around the world with every Tom, Dick and Harry wanting "a piece", they might just be a little guarded and tetchy too.
One thing is for sure though: the Tiger we saw at Albany last week was a very relaxed and much more personable one that we've seen in years gone by.
He's probably mellowed with age.
He's probably found the last 6 or 7 years of his life to be quite a humbling experience.
He's probably just breathing a HUGE sigh of relief at being able to play golf again…or even just be fit enough to have a quality of life away from the fairways.
"The pain issues that I had, it was rough. To battle back, to battle through it, to have the friends I've had who have supported me, helped me through it. Quite frankly there were some pretty dire times where I just couldn't move," said Woods.
"Big picture? It feels good. It feels good to be back out here playing again, competing and trying to beat the best players in the world. I missed it. I love it."
In the was infinitely more approachable, relatable and upbeat, not to mention appearing to have really enjoyed being back on the course, even with a final score that in years gone past would've disgusted him.
We're sure if Tiger does eventually get back into contention down the stretch we'll see the frosty stare and steely focus that helped him vanquish all and sundry from 1997-2009 and again in 2012 and 2013, but off the course; keep it up Tiger…we like the new you!
THE SCOTTY IS BACK IN THE BAG
Tiger won 13 of his 14 majors using his trusty Scotty Cameron Newport 2 putter.
He didn't win one after switching to the Nike Method putter in 2010.
How long did it take Tiger to revert to his old Scotty for his latest comeback?
"The day that we (Nike) were no longer a part of the hard-goods side," revealed Woods.
So in a week where we saw Woods gaming Taylormade woods and a new Bridgestone golf ball, the reintroduction of his trusty old putter with which he was seemingly automatic in clutch moments throughout his most dominant years was the most notable club change in the bag.
And the results were pretty good too.
26 putts in round one were followed by 29 in round two, 26 in round three and 29 again on Sunday. I know putting stats can be a little skewed at times but in rounds where Tiger hit an acceptable number of greens in regulation, this was a decent return. There were some clutch putts in there too, especially evident on the 16th in round two, where Woods rolled in a par putt from 25 feet to keep his momentum going en route to an impressive 65.
A fist pump followed that putt too…and it's been a while since we've seen one of those too.
HIS OVERALL GAME HASN'T CHANGED ALL THAT MUCH
While there were the aforementioned rusty patches throughout the week, as well as a slightly reengineered swing seemingly geared to place less stress on his lower back, you could argue that the patterns evident in his old game, even when he was at the peak of his unrivalled powers, were still there for all to see, albeit at an understandably lower standard across the board…for now at least!
He was long enough off the tee to outdrive all three of the playing partners he played with during the week and they weren't slouches either, with Patrick Reed, Rickie Fowler and Louis Oosthuizen all capable of hitting the long ball.
Still plenty of pop in Tiger's swing then.
His irons remain one of his main strengths, with 68% of greens in regulation hit for the week, as well as plenty of stellar shots fired right down the banner, leading to birdie chances galore.
And apart from one iffy chip on the 9th in round one, his short game seemed to be back on point too, with plenty to suggest there was nothing to worry about when he was suffering with a suspected case of the chipping yips a couple of years ago. There was even the odd Tiger highlight which he used to treat us to on a weekly basis…
The only thing noticeably different about his game was the club twirl. He ALWAYS used to nail that…work to be done!
When your club twirl game is super rusty pic.twitter.com/0E6eTIqrtx

— Skratch (@Skratch) December 1, 2016
HE'S STILL THE BIGGEST STORY IN GOLF
Love him or loathe him, unless you're a Jedi Master level detractor, there's no doubting Tiger is still the biggest story in the game.
He might not be the force he once was and he might not every mount a sustained final charge on Jack Nicklaus' major championship record. He might not even ever win a regular tour event again.
But he's still relevant.
The generation of golfing superstars we are treated to watching on a weekly basis in this modern of era of golf were inspired by Tiger. Without Tiger we'd have no Rory McIlroy. No Jason Day, Jordan Spieth or Rickie Fowler. No Dustin Johnson.
They'd be there, but there's plenty to suggest they wouldn't have hit the standards they have without Tiger's example to follow as youngsters. They all say as much whenever asked about who inspired them to play as kids.
So in the Bahamas we saw club twirls and fist pumps, wayward drives and the old Tiger magic sprinkled around in fits and starts. The red polo was back in action on Sunday and the electricity was undoutedly back in the air…and that's in a relatively insignificant (when compared to regular tour events and major championships at the very least) 18 man exhibition event.
Should Woods progress to the point where he gets a full season under his belt injury free and manages to iron out the creases in his game, there's nothing to say he can't compete with the guys at the top of the game again.
Imagine the excitment then…