As any golf enthusiast will know, Ireland is home to some of the world's best links courses. The likes of Royal County Down, the top ranked course on the planet according to some, Ballybunion, a favourite of Tom Watson amongst others, and the spectacular Old Head of Kinsale have golfers from all four corners of the Earth flocking over to the Emerald Isle to take to the fairways.
And while a links golf tour in Ireland should be at the business end of any golfer's bucketlist, seaside classics aren't all this amazing country has to offer. Ireland is also home to some of the very best stay & play golf resorts in the world. Places where everything is taken care of for you. Where everything is on-site and right at your finger tips. Where you can really learn the meaning of the word "relax"!
Where should you head on your next Ireland golf holiday? Here are our five picks for the best stay & play resorts…
Druids Glen Resort

The Druids Glen Resort is tucked away between the Wicklow Mountains and the Irish Sea in the beautiful Irish countryside that has in fact been named the 'Garden of Ireland'.  Whilst situated 60.5km from Dublin Airport and a 30 minute drive from Dublin City, Druids Glen provides the perfect getaway from a busy city life to enjoy sensational picturesque scenery.
The 'Augusta of Ireland'
Two 18-hole Courses
Driving Range (grass bays), Putting and Chipping Green
Designed by Pat Ruddy
Hosted the Irish Open (1996-99)
Hosted the Seve Trophy (2002)
Hosted the Irish PGA Championship (2006)
Druids Glen Course:
Par 71
7,046yds off the back tees, 6547yds off Whites, 5590yds Reds
Whilst the views at the Resort are sensational, the Golf at Druids Glen is the real stand out attraction with a perfect blend of tree-lined fairways and floral surroundings that in fact hosts similarities to the August National!
Yes, that's right, there's a course similar to the Augusta National in Ireland! In particular, holes 12-14 are named 'Ireland's Amen Corner', with hole 12 deserving a specific mention as one of the most picturesque holes that is sure to remain in your memory.
The iconic par 3 is characterised by an elevated tee box overlooking a sensational floral display in the shape of a Celtic cross as well as a lake running short of the green with a beautifully designed walk bridge so as to provide a similar feel to the famous 12th hole at Augusta.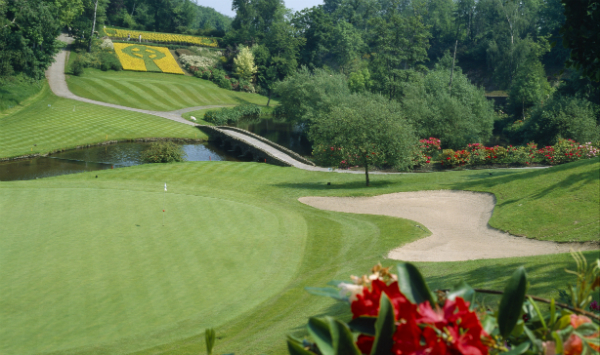 Whilst Ireland's Amen Corner will certainly be memorable, there are also plenty of eye-catching holes with floral displays and water features all over the course. Most noticeably are the finishing two holes that provide a real test to those golfers prone to water hazards! The 17th is a 203yard Par 3 to an Island Green that really tests your ball striking late on in the round. No tired swings will work here!
This is then followed up by a long par 4 closing hole that has water in play off the tee as well as the approach so you'll need to save a few of your Sunday Bests for the end of the round.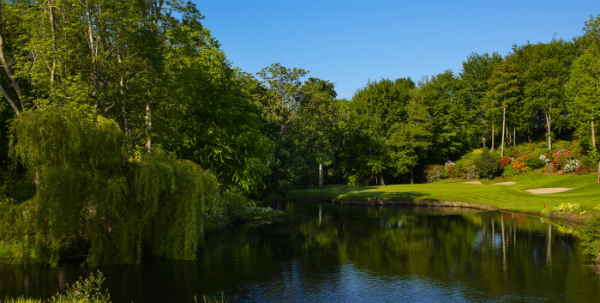 Druids Heath Course:
Par 71
7434 Yards off the back tees, 6,629yards off Whites, 5423yards off Reds
The Druids Glen Resort not only has 1 championship course, but in fact 2! There is also the Druids Heath course which has previously hosted the Irish PGA Championship and is known as 'Nature's gift to Golf'.
Don't be thinking the Druids Heath is any easier than Druids Glen however, as at 100 yards longer off White tees it offers a different test that mixes both parkland and heathland elements.
There are fewer water hazards however, on the Druids Heath course so for those that want to pack light and save some golf balls then this could be the course of choice for you.
But in the words of the course designer, Pat Ruddy:
"Dull would he be of soul who would allow a few stray shots spoil a day in such a blessed spot".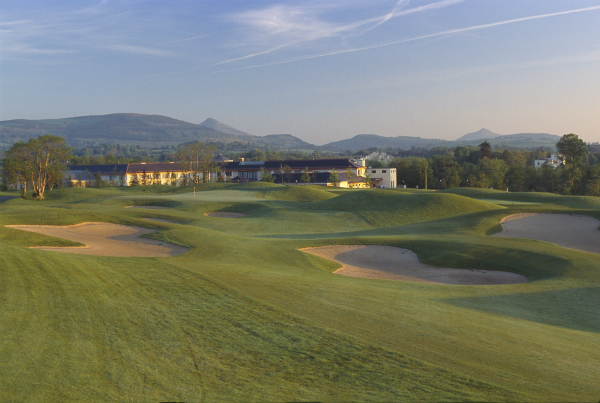 For a Soothing Guinness after a tough day on the course head to…
After teeing it up around some of the most elegant golf holes in Ireland, the Clubhouse…also known as Woodstock House…is the perfect follow up to your round. You can enjoy a relaxing and comfortable atmosphere…assuming Gary isn't still talking you through his one Par of the round…whilst tucking in to a meaty steak and a Guinness after all your hard work on the course.
For those not playing golf, however, but still want to take in the spectacular scenery on the Druids Glen, then head to the Thirteenth Bar and enjoy a relaxing and tranquil lunch that overlooks the famous 13th hole. Or for those who have just got off the course I hear the 13th Beef Burger is a tasteful way to finish your round.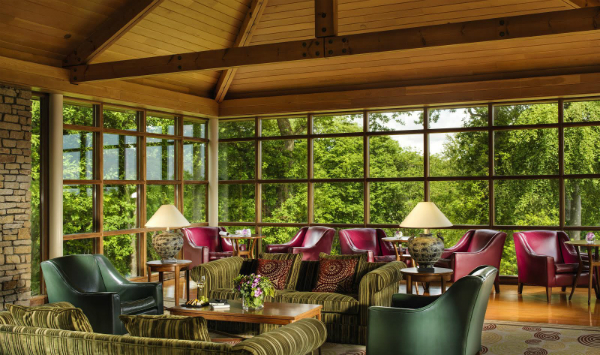 For a more luxurious evening that takes golf off the mind, then Hugo's Restaurant is the place to be. Here you can enjoy some delicious dishes made from fresh Irish produce and seasonal ingredients that create a flavourful palate. Holding two AA Rosettes for Culinary Excellence as well as an experienced Head Chef with an eye for creative flair, Hugo's provides the most luxurious dining option to ensure your stay has ticked the boxes both on and off the course.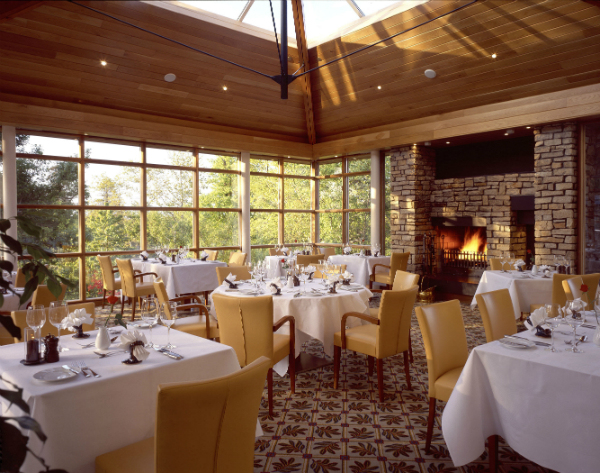 Luxury Spa & Relaxation
If on your stay, you fancied treating yourself and enjoying a day off the course then the Druids Glen Resort has a health club fully fitted with a 18m pool, Sauna, Jacuzzi, Plunge Pool, Gym, Steam Room as well as Luxury Spa Treatments with brands such as Elemis, Mama Mio and Jessica.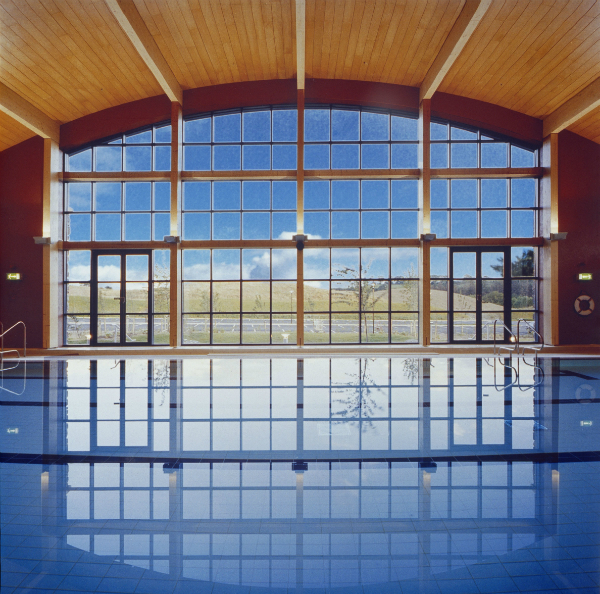 Overall, with the choice of 2 Championship Courses mixed with the Scottish landscape and the Irish Sea, this makes the Druid Glen Resort a perfect stay & play resort for those who like teeing up on different courses per day and enjoying colourful scenery.
The K Club
If the Druids Glen didn't take your fancy, then number 2 on our list is the famous K Club.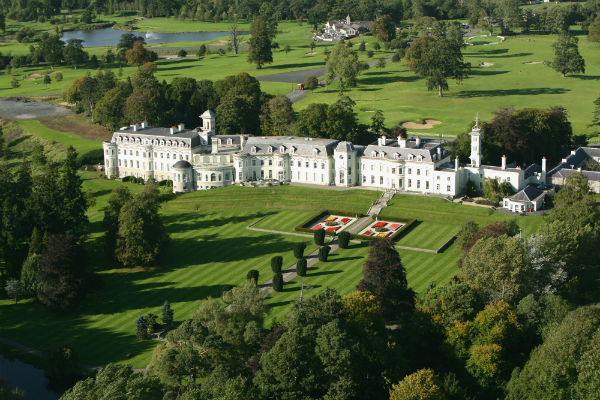 The K Club Golf Resort is situated within 550 acres of Kildare countryside and at only 27km from Dublin City and 37km from Dublin Airport (30mins) the Resort is easily accessible whilst still providing a tranquil experience.
Designed by 'The King' Arnold Palmer
Two 18-Hole Courses
Driving Range, Putting and Chipping Green
Top 3 Parkland Courses in Ireland
Hosted the Ryder Cup 2006
Hosted 11 European Opens
Voted on the Top 10 Golf Resorts worldwide by CNN
The K Club is ranked among the Top 3 Parkland Courses in Ireland and is a definite MUST play for all golfers. Who wouldn't want to play a challenging golf course designed by Arnold Palmer himself, whilst reliving some of the dramatic 2006 Ryder Cup memories.
Palmer Ryder Cup Course:
Par 72
7,350yds off the back tees, 6,815yds Whites, 5131yds Reds
The Palmer Ryder Cup course provides a difficult set-up for all standards of golfers as it requires both length and accuracy to your game. The course is 6,815 yards off the White Tees and has a deserving SSS of 76, which is 4 over the Par of 72! Truly showcasing the difficulties players have in eluding the water hazards that just seem to be all over the course, especially with the River Liffey running throughout the holes.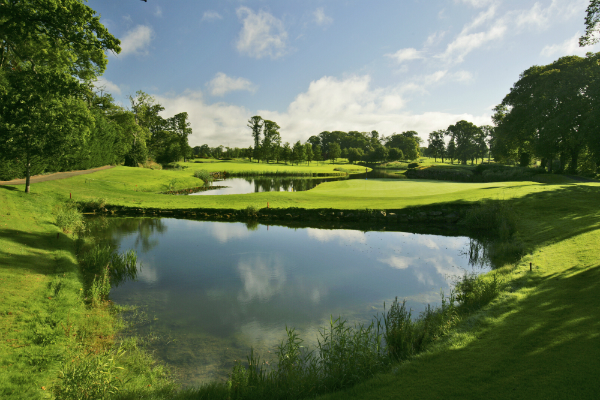 The 16th hole in particular demonstrates the accuracy requirements, as a 530 yard Par 5 off White Tees that double doglegs means not just finding the fairways will do but you have to be in the right places of the fairway. Added to this, the green is well-protected by bunkers and the River Liffey to ensure it is well-deserving of a Stroke Index 2 and thus requires honed in approach shots to find the putting surface.
Not all of the Par 5's on the course are this hard to score well however, as Arnold Palmer's favourite hole, the 4th, is a reachable par 5 in two that really entices the long hitters.
Added to this, the 18th hole is sure to provide some fireworks to any match play rounds reaching the close. It is a classic risk-reward hole, depending on a well-hit drive that could result in a 3 or 6 on the scorecard, so try and win 2&1 and avoid any heartbreak if possible.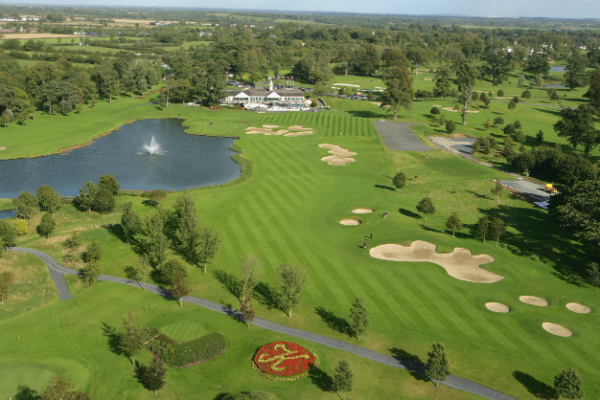 Smurfit Course:
Par 72
7,277 off the back tees, 6,824yds Whites, 5443yds Reds
Added to the Palmer Ryder Cup Course, there is also the choice of the Smurfit Course, which was designed to play as different as possible to the Palmer Course. This is certainly true as the Smurfit Course has an Inland Links feel that really tests a golfer's course management. With large bunkers, natural gorse bushes and magnetising water hazards, it requires accurate drives, approaches and lay-up shots to ensure you are in the right positions to score well.
This is most evident from the moment you tee up as the 1st hole provides a challenging into wind drive that must also miss the bunkers aligning the left-side of the fairway. Once golfers have alleviated this trouble, the next task is to position the approach below the hole on a severely contoured green. Get this wrong and a hugely disappointing 3 putt will ensue to start the round.
Golfers can make up for this, however, on the finishing hole as according to the Resident Golf Pro, Michael Dixon, the Par 5 18th becomes reachable in two for long-hitters with a good tee shot. The approach is then to an island green situated in full view of the clubhouse so a close approach here will be sure to get the galleries rocking.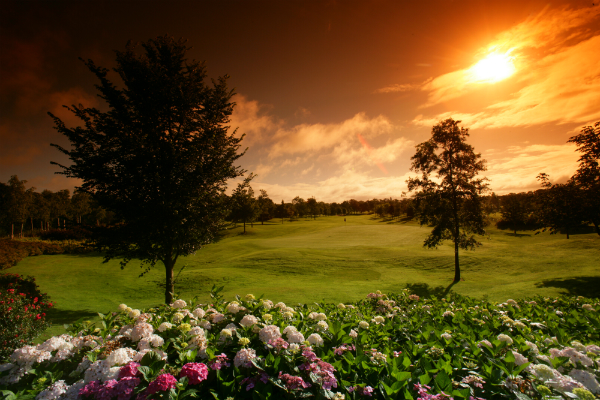 Chilled Beer in The Legends
After playing a world famous course, the K Club Resort then offers 5 Star Dining to match. Visitors have a wealth of choice that varies from traditional relaxed dining to a delightful afternoon tea in the Chinese Drawing Room.
To debrief your round, there is the Arnold Palmer Clubhouse rightly named 'The Legends' that is perfect for a chilled beer and a burger whilst enjoying some panoramic golf course views.
But if you feel you've seen enough of the golf course for one day, then there is the Media Puzzle Lounge named after Dr. Smurfit's Melbourne Cup winning horse, to provide some views of the gardens whilst having a pint of Guinness.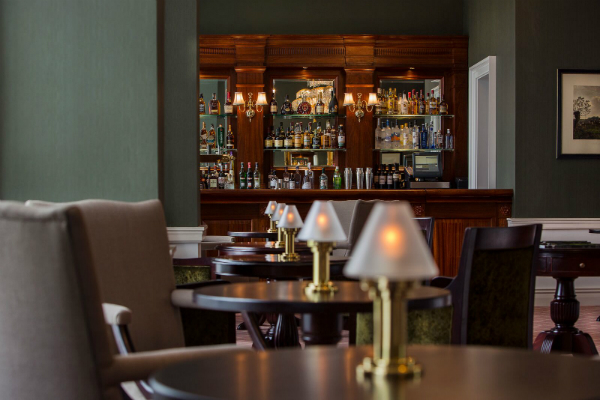 And if your golf was so bad that you can't look at another golf club then the Vintage Crop is the place to go. This is a Cocktail bar named after Dr. Smurfit's million-pound winning horse and features racing memorabilia across the walls that is sure to take your mind off golf. Visitors here can look out over tremendously cut lawns whilst refreshing themselves with spirits, wines, premium champagne as well as Cuban Cigars.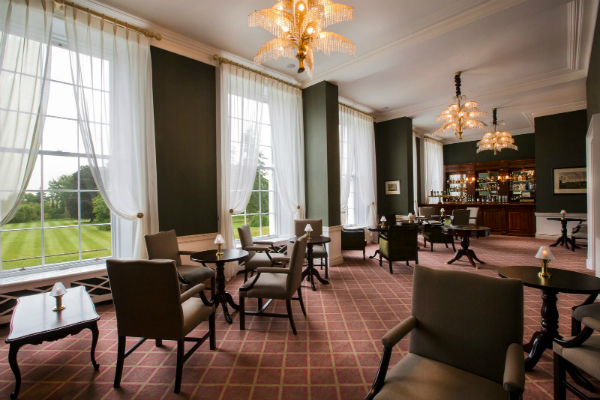 While a relaxing and refreshing beverage might fill you up a little, head to the River Room Restaurant for a relaxed fine dining experience overlooking the stunning gardens. A traditional menu is on offer that utilises some resort-grown ingredients to create a tasteful palate.
For those that fancy a fusion of Asian spices then there is also the K Thai in the Smurfit Clubhouse. Head Chefs with 17 years experience cooking Thai dishes and an open seating plan make the K Thai a perfect place to enjoy a blend of Scottish countryside with Asian spices.
If you've got an early tee time and wanted some light bites before dinner, then the Resort also offers the elegant Chinese Drawing Room for Afternoon Tea. Be sure to book in advance however as this is a popular destination for all visitors.
Art Tours, Spas and All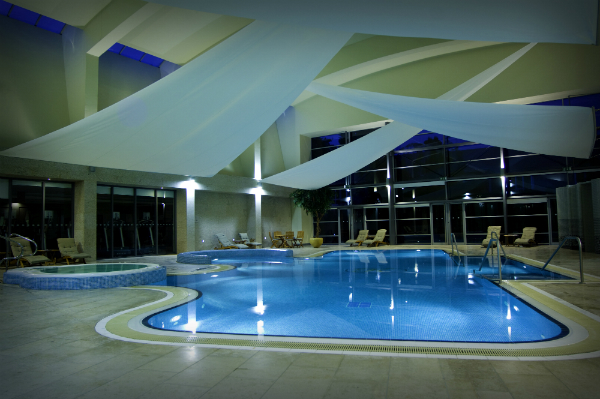 As well as golf, the K Club Resort offers a relaxing spa as well as art tours of the extensive K Club art collection which features the Yeats Room dedicated to J.B. Yeats paintings.
This choice of 5 star golf course, 5 star dining experiences, 5 star spa experiences and art tours of an Irish Expressionist make the K Club a dream destination for any stay & play golfers.
Killarney Golf & Fishing Club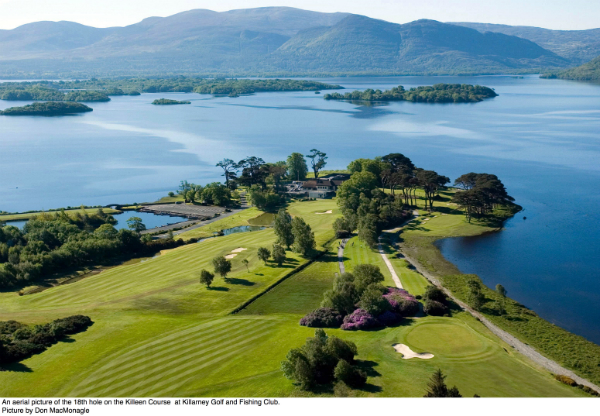 The Killarney Golf and Fishing Club is located just 1 Mile from the popular town of Killarney, which features bars, restaurants and a MUST take carriage ride in the centre of town.
Whilst also situated within Ireland's largest National Park, the Killarney Golf & Fishing Club is sure to leave you stunned with eye-catching views. From, looking over the peaceful Lough Learne Lake to views of Ireland's highest mountain ranges – The McGillicuddy Reeks; the Killarney Golf & Fishing Club is most definitely a place to remember the camera!
Hosted the Irish Open 4 Times
The Killarney Golf and Fishing Club has two 18-hole courses and a 9 hole course to choose from, with the most noticeable being the Killeen course which has hosted the 1991, 1992, 2010 and 2011 Irish Opens. All of which have been won by English golfers (Nick Faldo, Ross Fisher & Simon Dyson) so be sure to pick a trusty Englishmen in your match play pairs!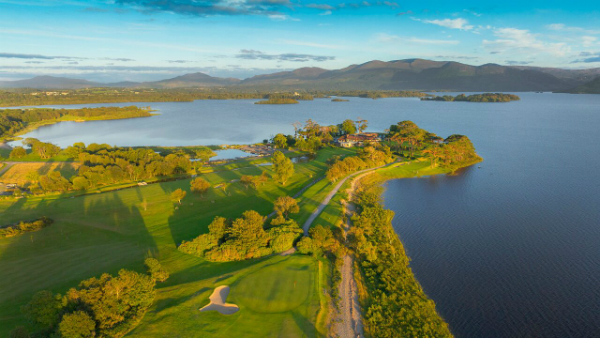 Killeen Course
Par 72
7207 yards off the Back Tees, 6,652 yds Whites
Par 74, 5512 yds Reds
The Killeen course is most known for its stunning lake views and the occasional spotting of Red Deer on a number of holes. A trademark lake hole can be seen on the 4th which sets a tee box out on the lake to then hit towards a narrow fairway. Measuring at only 338yds off Whites the 4th hole is both enjoyable to play and look at.
The signature hole on the course is the par 3 10th which features water hazards short, left and long so there are minimal bailout shots. It is sure to be a hole which the proud owners of range finders will be talking about after the round and explaining how it helped them choose the perfect club, whilst you took a gamble with a 7-iron and ended up in the drink.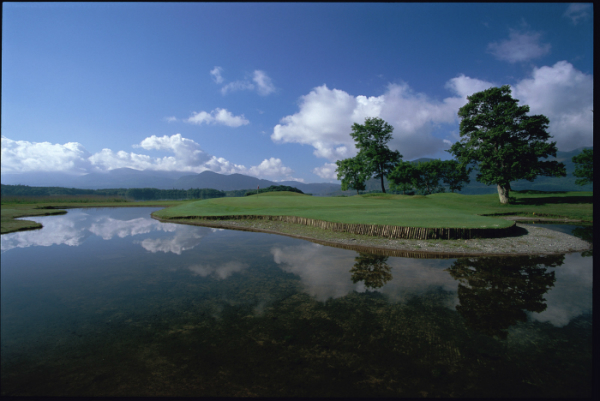 Following the turn, golfers will reach Gary Player's favourite hole on the 13th which is a 450 yard par 4 off Whites that requires a monster drive to make approaching the narrow green any easier. The golfers that didn't quite catch their finest strike will be left with a decision to make as to whether to carry the stream and small brick wall short of the green or to lay-up short. 4 is a very good score here.
After a whirlwind of a round, the 18th provides a challenge to all levels of golfers and can be known to ruin scorecards. Measuring at 426 yards off white tees, with water all down the left-hand side and bunkers on the right-side off the tee shot, your drive of the day will be handy here. Then hitting towards a tiered green be sure to get on the right level to avoid everyone in the clubhouse watching you 3 putt.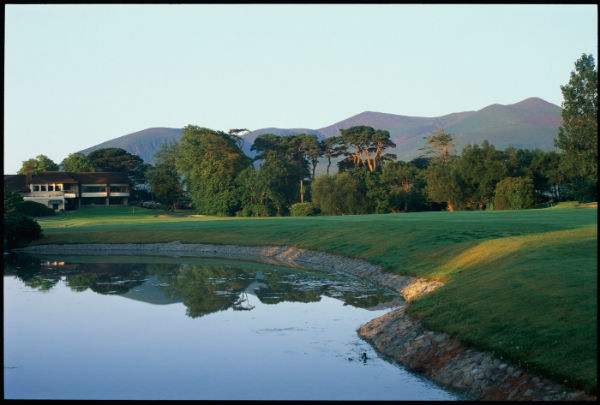 Mahony's Point Course
Par 72
6780yds off the Back Tees, 6371 yards Whites
Par 74, 5394 Reds
Added to the Championship Killeen course, there is also the Mahony's Point course at the Killarney Golf & Fishing Club which has previously hosted the Irish Ladies Open Championship in 2003, the Ryder Cup Challenge Tour Event in 2005 and the Irish Ryder Cup Challenge in 2006. So I'm sure this will also be on the golfer's mind to play.
The Mahony's Point offers a similar challenge to the Killeen course, however a different layout provides some of the hardest par 4s as well as one of the most memorable holes in golf.
If you were hoping these tough par 4s would come late in the round after you've found a rhythm you would be mistaken. Holes 2 and 3 pose some of the biggest challenges for any golfer and can make for an ugly viewing scorecard early on. Par 4s measuring at 422 yards and 432 yards, these holes require some Rory McIlroy long high-draw drives to really put you in position to even think about a 4.
Hopefully this start doesn't leave you too worn out by the end, however, as the finishing 3 holes are widely admired and regarded as breathtaking, so you wouldn't want any tired swings to ruin this experience. The 16th hole is a 476yard Par 5 off white tees and certainly reachable in two with some solid hits. Be careful of a small stream running 100 yards short of the green, however, as no low runners will work here.
Then to finish there is the iconic 18th which is one of the most memorable holes in golf, earning itself the name 'Heaven's Reflex'. The characteristics of this picturesque hole is a par 3 at nearly 200 yards, which is almost all carry over the Lough Learne Lake to an elevated green that has a beautiful backdrop of tall pine trees and the McGillicuddy Reeks mountains.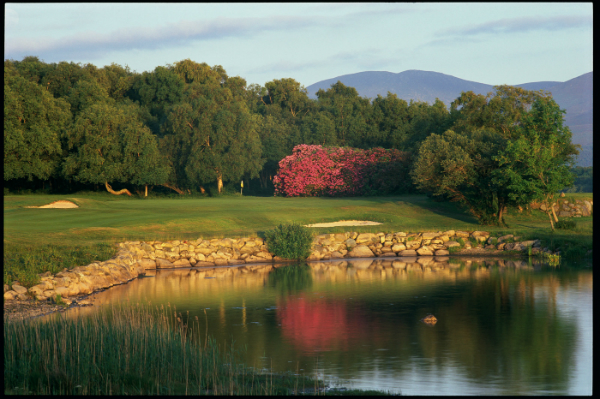 Lackabane 9 Hole Course
The Killarney Golf & Fishing Club also has another 9 holes called the Lackabane for visitors to play and could be the ideal practice before playing the other 2 courses. The Lackabane provides a similar layout to the Killeen and Mahony's Point with lakes providing the main danger as well as contoured greens.
The 1st hole is a very exciting 250yd par 4 that begs to be hit in 1. It's the perfect starting hole for those 'killing it' in the range. However, as all golfers know that if a hole is short there will be other defences to prevent good scoring. This is true with the 1st hole as there are water hazards running through the hole and a large pond by the green so even if you can reach the green you may find yourself taking a drop.
These 9 holes as well as the driving range and short game area make for well-equipped practice facilities so that you really can enjoy one of the best courses in Ireland. Added to this, the Killarney Golf & Fishing Club has caddies on hand to complete your luxurious experience and make you feel like a pro coming down the 18th of the Killeen.
See Rory McIlroy, Padraig Harrington & Graeme McDowell talk through the finishing 3 holes of Killeen.
The Clubhouse walk of Shame after a 3 Putt
On completion of your round, you'll have to face the looks of the people in the Horseshoe bar after they witnessed you miss a 1ft putt on the 18th of the Killeen, but have no fear it is always a friendly atmosphere. Here you can enjoy your classic post-round debrief whilst enjoying a pint and judging the following golfers playing out the 18th.
For a more special dining experience head to the Grillrooms Restaurant which offers a bistro-menu whilst looking out on some of the natural lakes and mountains within the National Park. With a modern furnished balcony to make sure you truly see the spectacular views.
Walk the Killarney National Park
If golfing is not all you want on your trip to Ireland, then lucky the Killarney Golf & Fishing club also have a Sauna, a Gym and of course fishing on offer. As well as this, you can take walks around the Lakes and admire some of the fantastic scenery in the Killarney National Park such as the Torc Waterfall and see the 15th Century Ross Castle. Overall, the Killarney Golf & Fishing Club provides championship courses as well as a picturesque landscape that offers views which are truly relaxing to make your stay & play a memorable one.
Adare Manor Hotel & Golf Resort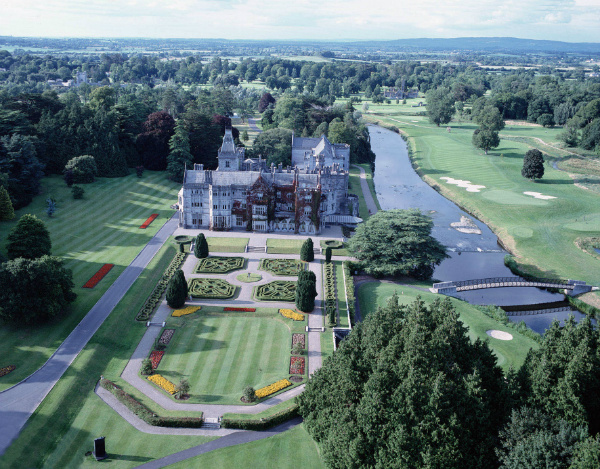 Also making it into our top 5 Stay & Play courses in Ireland, is the Adare Manor Hotel & Golf Resort in Limerick County. Located within the traditional Limerick County there is plenty of heritage around this Resort. Visitors can see the medieval Bunratty Castle & Folk Park as well as the beautiful Thatched Cottages in the Adare Village.
Situated only 18.4km from the Shannon Airport and just off the N21, the Adare Manor Golf Resort is easily accessible by both air and car to make your travel as pain free as possible.
'No.1 Parkland Course in Ireland'
Designed by Robert Trent Jones Snr.
Voted No.1 Parkland Course in Ireland in 2006-2012 by Golf Digest Ireland Magazine.
Hosted the 2003 PGA Irish Championship
Hosted the Irish Open 2007, 2008, 2009
2010 JP McManus Invitational Pro Am – Tiger Woods played & Darren Clarke Won
Buggies, Club Hire, Caddies, Driving Range, Putting and Chipping Green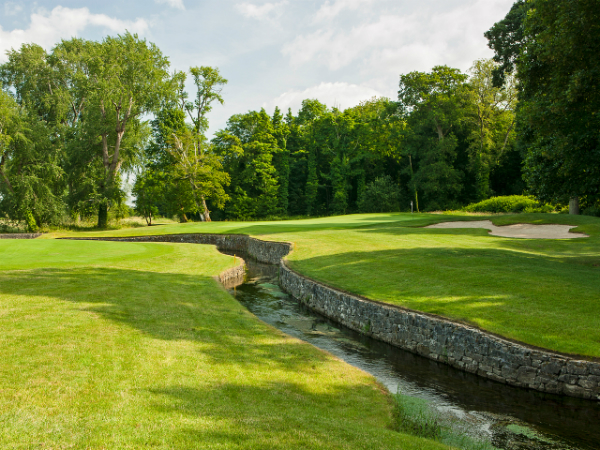 Par 72
7450yds off the Back Tees, 6590yds off Whites, 5419yards Reds
From the moment you arrive at Adare Manor you feel like a pro, walking in the same footsteps as Tiger Woods, Rory McIlroy and Ernie Els onto the first tee. You'll need to be hitting it like a pro, however, off the first tee if you hope to get off to a good start. The 1st hole is a tough opening Par 4 that requires some precise approach play. The green is severely contoured and guarded by a creek short. You can't afford to go longer either, however as this will leave you a troublesome pitch, according to the local Pro's tips.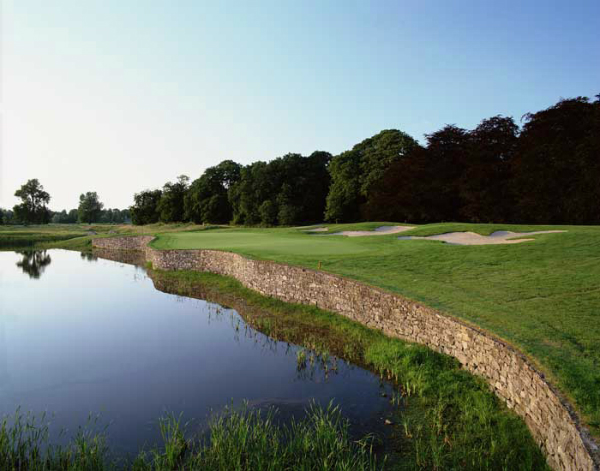 After filling in the inevitable 5+ on the scorecard for this hole, there won't be any let up with a mixture of tricky par 3s and 4s, with the Stroke Index 1 hole coming at the 5th. This is all uphill with a lake in play right off the tee; so long accurate driving is required here.
If you can manage this, however, then the 7th hole could be a potential scoring hole for those striking it well. A 502 yard Par 5 off white tees awaits, that is reachable in 2 with some Sunday best hits…but be weary as the only way to find the putting surface here is to carry it all the way!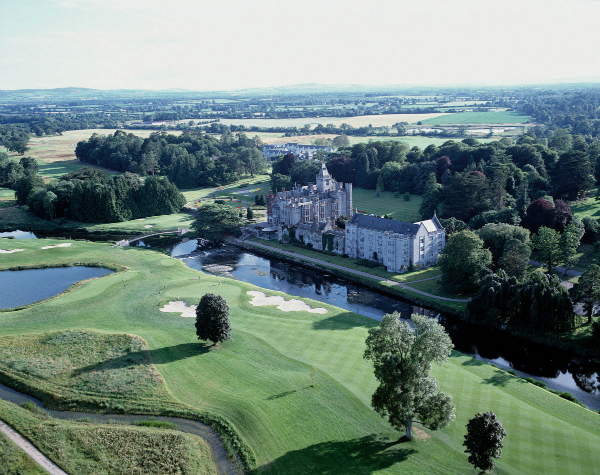 Save the Best Till Last!
The Signature Hole on the course is the 511 yards Par 5 18th. The picturesque River Maigue runs along the left-hand side of this Par 5 and trees fill up the right, so an accurate drive is required here. If you are thinking of hitting this in 2 then a long-drive down the left-side provides the shortest option and most ideal angle, however too far left and you'll be in the hazard! A perfect finishing hole that can only leave you with a smile on your face whether you make birdie or triple as the views of the River Maigue and the elegant clubhouse make for a dream hole.
'Best Hotel Restaurant in Ireland'
Now to refuel your energy after a tough 18 holes, there is of course the Clubhouse for a nice chilled pint of the black stuff but also the Carriage House Restaurant which adjoins the Clubhouse. Here you can enjoy a more relaxed, informal atmosphere in a very open Conservatory-like setting, which will make for perfect views of blue skies in the Summer.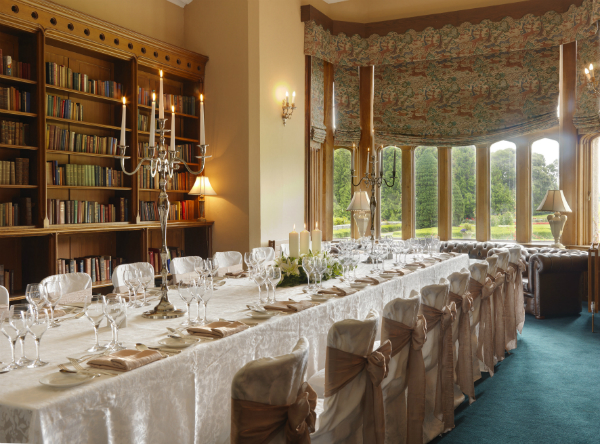 For a more luxurious dining experience that is fit for Royalty, then the Adare Hotel has the Oakroom Restaurant which was named the 'Best Hotel Restaurant in Ireland 2015', so be sure to indulge in some tasteful dishes from their award-winning chefs! It is lit only by candles and overlooks the River Maigue which creates the perfect ambience for your evening.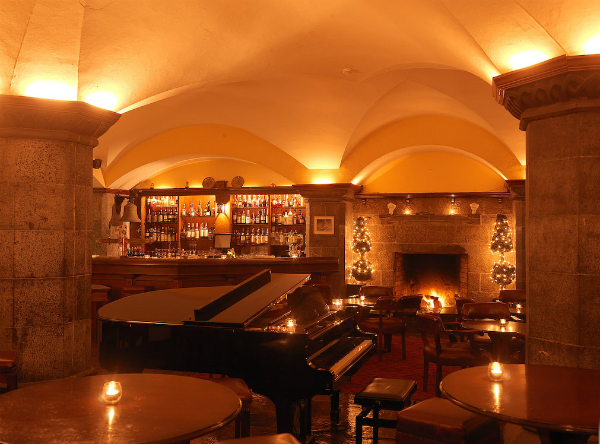 And if you don't want this evening to stop, head to the Tack Room! This is a cellar-like downstairs bar which creates the ideal night atmosphere with a live piano in the background to enjoy your beverages.
Closed until Autumn 2017
Although, the Adare Manor Hotel & Golf Resort is closed until Autumn 2017 as it undergoes refurbishment it is still surely within the top 5 stay & play courses in Ireland, and can only improve with these redecoration's. New inclusions such as a state-of-the-ark Spa, a cinema as well as a new bedroom wing will certainly make this a MUST visit in autumn 2017.
Lough Erne
Our final, but certainly not least, Stay & Play resort is the Lough Erne located on the Island Town Enniskillen in North West Ireland. If Lakes are your thing then this is most definitely the place to go! A 600 acre piece of land surrounded by the Fermanagh Lakelands as well as all year playing conditions, this 5 Star Resort is surely the perfect picturesque vacation.

Situated within 2 hours drive from Belfast International Airport, Dublin International Airport and Belfast City Airport, the 5 Star Resort is slightly longer away but it's definitely worth it!
But for those that can afford to shorten the wait, there are 5 Heli pads for Helicopter arrivals, a closer St Angelo Airport for private jets and a possibility of arriving by Seaplane on Castle Hume Lough. This will be sure to kick-start your luxurious stay in the best way possible.

The Golf:
Two 18-hole Courses
Flood-lit Range, Putting and Chipping Greens
Golf Academy
The Golf at Lough Erne is simply sensational. It hosts 2 Championship Courses – the Faldo Course and the Castle Hume Golf course.
I've played golf on every continent in the world and I can honestly say I am overwhelmed by the location and beauty of Lough Erne Resort"
Sir Nick Faldo
The Faldo Course
Par 72, 7167yds off Back Tees, 6,241yards off Whites, 5,015yards off Reds
Designed by Nick Faldo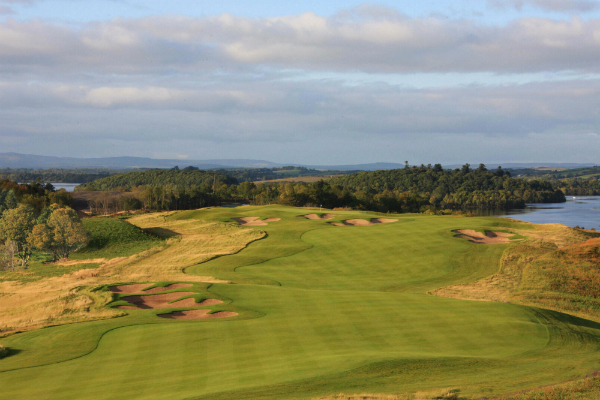 The Faldo Course provides a complete mixture of terrain which features both woodland and wetland areas as well as a contoured landscape to make it even harder to stay on the fairways and greens. It is a 6,241yard Par 72 off White Tees, but don't let this distance fool you into thinking it's a short, easy course as with the Lough being a key feature of the design, there are water hazards dotted everywhere.

But if length is what you are looking for then you can try the Black Tees measuring at 7167 yards with a 637 yard Par 5! This is a true 3 shot Par 5, that challenges all parts of the golfer's game. For once the long hitters can't just smash it past the trouble but in fact have to play this hole with an eye for course management, as trees line the right side of the hole and a stream running short of the green means picking the right lay-up club is crucial. The approach from here then doesn't get any easier as there is a lake on the right of the green so laying up to your perfect yardage has never been more needed.
Added to this challenging par 5, there is also 5 Par 3s on the course which really tests your iron play. Varying from 185 to 127 yards, these Par 3's mean you need to be striking it well with all your irons in order to get the Green-in-regulations.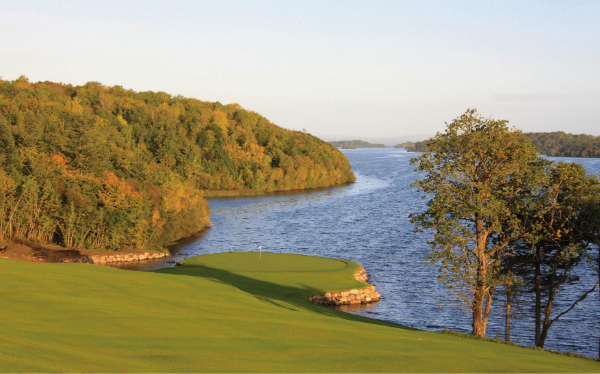 With a Par 72 and a course record of only 68, held by Rory McIlroy, the Faldo Course is clearly a great location to test your game and one where shooting 3 over your handicap can be seen as a good day.
Castle Hume Course
Par 72, 6800yds
10 Ulster PGA Championships
If you want to mix up the courses during your stay then the Lough Erne Resort also offers golfers the challenging parkland Castle Hume Course. The Castle Hume Course has hosted a record 10 Ulster PGA Championships and features troublesome woodland, large bunkers and contoured greens. With over 7000 trees and 100 bunkers on the course, this is a real struggle to find the fairway and is perhaps the ideal course to bring a left-handed club you've always wanted to get you out of tree-trouble.
The Signature Hole on the course is the Par 3 named the 'Ely Island', which suggests exactly how the hole plays. A 150 yard approach to an island green that requires precise accuracy if you're to find the putting surface. The job is not done here; however, as the green is well-contoured to test your ability to read putts but considering the greens are in-perfect condition this should give you your best chance.

On top of these two championship courses, the Practice facilities provided at the Lough Erne Resort are ones to really get excited about with a fully flood-lit range that makes practice possible at any hour as well as perfect condition putting and chipping greens. There is also a state of the art Golf Academy with PGA Pro Lynn McCool on hand to provide some of the best coaching for any level of golfer, whilst fully utilising V1 Camera capture and flightscope technology. With facilities like these, you could come back from your holiday hitting it better than ever before!
3 AA Restaurant
After enjoying a delightful round taking in the Lough Erne scenery, you can continue this at dinner in the Catalina Restaurant. The Catalina is a 3 AA Restaurant that offers a relaxed dining feel whilst looking out on the Fermanagh Lakelands, making it the perfect spot to tuck into Chef Noel McMeel's signature Lough Erne Lamb.

Also for meat lovers out there, the Lough Erne Resort has the Loughside Bar & Grill on hand to provide a mixture of delicious Irish meats as well as the choice of local seafood. With a designated 'Steak Corner' and 'Burger Bar' on the menu, this place is sure to leave you well-fed.

However, if you're in the mood for some smaller snacks and drinks then there is the Blaney Bar located in the heart of the resort. This hotel bar provides a real luxurious feel with armchairs, sofas, tall chairs and a baby grand piano to make sure all your relaxing needs are met, whilst observing the sensational Castle Hume Lough and Faldo Course.
Thai Spa
Added to these 5 star dining options, the Lough Erne Resort has 5 star accommodation and leisure to match. With 120 spacious rooms and suits available, as well as a Thai Spa using award winning ESPA products your stay is sure to be as comfortable and chilled-back as you like. With all these included in the Resort, the Lough Erne has got to be on the list for a stay & play holiday.

I don't know how you will decide between these 5 top-class Resorts, but choose any of them and your stay is sure to be a memorable one.
Check out our Golf Holidays to Ireland Now!