Now we all know about the great wonders of the Euro Tunnel. From UK terminals, the train offers up to 3 departures per hour and allows you to arrive at Calais in just 35 minutes. From there, you could peacefully drive to your golfing destination without having to worry about any additional transport costs. Additionally, you'd almost always be able to find a return trip under £150, unless travelling at peak weekend times. Sometimes you may even walk away with a bargain under £70. Seems like the only way to go right? Well, if you're taking a golfing break to a destination near Calais then this is certainly the sensible option. However, if you're a golfer looking to play some of France's top courses, many of which are situated in Normandy and Brittany, then travelling by car from Calais may be considered a slightly lengthy option…
---

The Eurostar is a great way to travel when playing golf in Northern France
---
From Calais to Normandy, it takes 4hrs 30mins to travel to Cherbourg, 3hrs 20mins to Caen and 2hrs 45 mins to Le Havre. Now you may think this isn't too bad, but driving to Brittany is a different proposition altogether… It takes roughly 5 hours to drive to St Malo, and 6hrs 30min to Roscoff which, even for a golfing fanatic like me, is pushing it. Moreover, when you consider the prospect of a return journey after having just played a round of golf, then this is a long stretch to go by anyone's standards.
It is for this reason, that travelling to France by either the EuroStar or Brittany Ferries should be considered. Both these choices provide a much shorter driving distance from their respective stations and ports, and in turn allow a much easier journey on the driver. On top of this, food is available at a moment's notice, saving you the trouble of having to spot a service station on the motorway…
The Case for Ferries
Going to France by ferry is certainly a relaxing way of travel, with accommodation, dining, bars and entertainment facilities all on offer. It also presents the traveller with some beautiful views overlooking the sea, which can be enjoyed with a cold drink in hand.  Moreover, after arriving at the respective French ports, golf courses within the area can be reached in just under an hour. Because the courses are so close, it may not even be necessary to take a car, and public transport or taxi services are easily obtainable. A lot of money is saved using this method as well, with ferry prices for a car being around 4x as much as travelling on foot.
---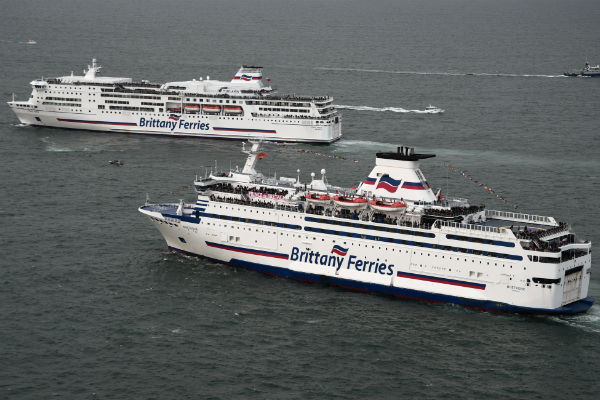 Travelling by ferry is a cheap, yet enjoyable way of getting to France
---
Brittany ferries offer three departure points on the South Coast. Travelling from Plymouth, Poole & Portsmouth is possible 7 days a week. Fast crossings, day cruises and overnight options are all available, catering for your every requirement. Travelling by foot costs only £30-35 one way, so is certainly an affordable means on travel.
Portsmouth
Portsmouth can easily be reached from the Midlands and the South. It takes just under one hour from Wimbledon, London down the A3, 1 hour from Reading and 1 hour and 20 minutes from Oxford. Ferries from Portsmouth go to Caen, St. Malo, Cherbourg and Le Havre.
Poole
Poole is easy to reach from the West of England, Wales and the South. The port is just 2 hours from Bristol and is well connected by good A-roads.  Ferries from Poole to Cherbourg take as little as 4½ hours.
Plymouth
Plymouth is ideal for travel from the South West, Wales and the Midlands and takes just 2 ¼ hours from Bristol via the M5 motorway. Journeys from Plymouth to Roscoff range from 6-8 hours and to get to St. Malo it takes 8 hours.
The Case for the Eurostar
Journeys on the Eurostar take roughly the same amount of time when travelling by ferry. For example, a trip to Caen takes 5hr 15min, compared to a 5hr 45min ferry journey. However, the Eurostar is perhaps more useful for journeys towards the West of France, with a trip to Rennes taking 5hrs 50min compared to a 8 hour journey to St Malo by ferry. Although, this option is more expensive too, with the prices of Eurostar normally being slightly more expensive than taking the £60-70 return ferry.
All Eurostar journeys travel from London. Stops in Brittany include Rennes, Vannes, Lorient, Quimper and Brest with return prices from £109. Normandy stops include Caen, Le Mans and Rouen with return prices from £89.
---
---
3 nights, 2 rounds from £209
2 nights, 2 rounds from £175


Brittany offers a fantastic variety of golf. Situated along the longest coastline in Europe, the courses provide an excellent mix of both seaside links and parkland golf
Saint-Malo Hotel, Golf & Country Club
---
---
3 nights, 2 rounds from £179
3 nights, 3 rounds from £235

Whilst also being historic, the coastline of Normandy offers a fantastic array of courses with beautiful scenery throughout. If you fancy your chances in Normandy's famous casinos further inland,  look no further than Deaville and Trouville.
---
---