The 43rd host of the Ryder Cup, the Straits course at Whistling Straits is one of the most picturesque courses in America.
Here at Your Golf Travel, we give golfers the chance to be at these events live and experience all the drama of a Ryder Cup unfold right in front of their eyes.
The Straits course is no stranger to the limelight having played host to the US PGA Championship on 3 separate occasions with Jason Day reigning supreme last time round in 2015.
Regarded by many as one of the toughest courses in America, every facet of the players' games will be tested with many holes setting up perfectly for matchplay golf.
Day 1 at The 2021 Ryder Cup
After day 1 of The Ryder Cup, Team USA assumed a 6-2 lead over Team Europe in a scintillating day at Whistling Straits in Wisconsin.
While there were many memorable moments, Bryson deChambeau's drive on the par-5 5th hole in the afternoon fourballs was the one that stood out for the home crowd of 40,000 and millions watching on tv. His drive of 417 yards was enough to turn the par-5 into a simple proposition with Bryson left with just 75 yards for his approach which he then converted into an eagle to set up a half against Tyrell Hatton and John Rahm.
The morning started well for Team Europe with the Spanish pairing of John Rahm and Sergio Garcia claiming the 1st point of the Friday foursomes. Their 3&1 win over Justin Thomas and Jordan Spieth was the only blue point of the morning.
Paul Casey and Viktor Hovland losing 3&2 to Dustin Johnson and 2021 Open Championship winner, Collin Morikawa. The all-English duo of Lee Westwood and Matt Fitzpatrick then took on Brooks Koepka and Daniel Berger in the 3rd match. The birdies by the Americans on 10 and 11 were enough to separate the sides as they won 2&1.
Europe's marquee pairing of Rory McIlroy and Ian Poulter found themselves 5 down after 5 holes, eventually losing by this margin 5&3, against Patrick Cantlay and Olympic Gold Medallist Xander Schauffele.
The afternoon fourballs ended in a similar result, 3 points to the USA with 1 point to Europe but with two of the matches being halved, Europe will feel like the result could've been very different.
The opening match was won by Dustin Johnson and Xander Schauffele against Paul Casey and Bernd Weisberger. The 10th and 11th proved to be the difference with birdies for the Americans resulting in a 2&1 win.
John Rahm and Tyrell Hatton halved against Bryson deChambeau and Scottie Scheffler. Hatton's birdie on the 510 yards par-4 18th hole was enough to secure Europe's first-half point of the afternoon.
Rory McIlroy paired up with Shane Lowry in the 3rd match. Winning of 3 holes on the spin at 8, 9 and 10 by Harris English and Tony Finau was enough to set up a 4 and 3 victory.
The final match saw Tommy Fleetwood and Viktor Hovland take on Justin Thomas and Patrick Cantlay. Despite finding themselves 3 up with 10 to play, Fleetwood and Hovland weren't able to hold on with Justin Thomas' eagle on the par-5 16th hole enough to draw the match level before pars on 17 and 18 ended up in a half.
Day 2 at The 2021 Ryder Cup
Team USA opened an 11-5 day lead over Team Europe. A great performance in both the foursomes and fourballs saw them require just 3.5 points to regain The Ryder Cup.
The Saturday morning foursomes started well for Team Europe once more with the Spanish pair of Sergio Garcia and John Rahm leading the team out to a victory and claim the 1st point for Europe. This was the last point of the morning for Europe with Team USA winning the remaining 3 matches.
Yet more promise was evident in the afternoon fourballs for Team Europe as the matches swung in their favour. The opening 3 matches looked like they'd all go to Team Europe in the early stages but eventually, it saw just the first 2 matches go Europe's way.
Rahm and Garcia continued their winning ways with Rahm's birdies on 15 and 16 proving decisive in setting up a 2&1 win over Brooks Koepka and Jordan Spieth.
Shane Lowry and Tyrell Hatton won 1 up against Tony Finau and Harris English with Lowry's opening 10 holes being played in 5 under providing the platform to set up another European point.
Scottie Scheffler and Bryson deChambeau claimed 3 birdies on 15, 16 and 17 to take a 3&1 victory over Tommy Fleetwood and Viktor Hovland.
Rory McIlroy and Ian Poulter were defeated 4&3 by Dustin Johnson and Collin Morikawa. McIlroy was unable to register a birdie in the fourballs with Poulter only able to add two to leave Europe with a 6 point deficit ahead of the Sunday singles.
Day 3 at The 2021 Ryder Cup
Team USA won The 2021 Ryder Cup in emphatic style, claiming 19 points to Team Europe's 9. This record victory was set up by wins across the foursome and fourball sessions and extended further at the Sunday singles.
Just Lee Westwood, Rory McIlroy and Ian Poulter managed to win their singles matches. Tommy Fleetwood and Viktor Hovland also added to the total in securing half points.
McIlroy led the team out as number 1 in the singles, this despite some questionable form in the days prior but was able to defeat Olympic Gold Medallist Xander Schauffele. Losses quickly followed for Lowry, Rahm and Garcia meaning the tropy was just a half-point away for the American's which Collin Morikawa secured against Hovland.
Further victories Dustin Johson and Brooks Keopka before the Postman delivered once more with Ian Poulter defeating Tony Finau. Justin Thomas won against Tyrell Hatton before Lee Westwood, making his 11th Ryder Cup appearance won against Harris English, courtesy of a fine birdie on the 18th hole.
Jordan Spieth and Tommy Fleetwood halved their match before Daniel Berger won the final point of The Ryder Cup, winning two out of the last three for a 1 up victory over Matt Fitzpatrick.
With this victory, Team USA now defend The Ryder Cup in Italy and will no doubt be confident of another memorable win.
The Straits course by the Numbers
Designer: Pete Dye
Course Record: Iwata Hiroshi (63)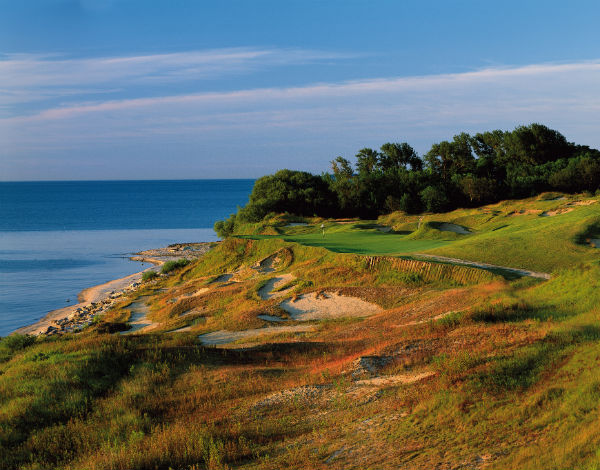 PADRAIG HARRINTON
Captain
MARTIN KAYMER
Vice Captain
GRAEME MCDOWELL
Vice Captain
ROBERT KARLSSON
Vice Captain
HENRIK STENSON
Vice Captain
FRED COUPLES
Vice Captain
DAVIS LOVE III
Vice Captain
ZACH JOHNSON
Vice Captain
PHIL MICKELSON
Vice Captain
Whistling Straits Location
Whistling Straits is located just a 15 minute drive from the tourist hotspot of Kohler where there is plenty to do away from the course. In addition to this, the town is on the banks of the beautiful Lake Michigan and with temperatures topping 70°F (22°C) September it is a wonderful spot to soak up some sunshine.
With Milwaukee airport just an hour away transport time is kept to a minimal and this is the same for the hotels we offer too.
2021 Ryder Cup Guide to Whistling Straits
Whistling Straits is located in the heart of the world-famous North American Kohler Resort, Wisconsin. The nearest major city to the course is Milwaukee which is renowned for its role in the world's beer industry and is home to a number of fantastic breweries. There are also a number of incredible restaurants that showcase the very best of American cuisine and are a great place to enjoy your evening after a great day at the golf.
The 43rd Ryder Cup will not be one to miss for any golf fan as Europe look to right the wrongs from their last trip across the pond when they lost 17-11 at Hazeltine in 2016.
A trip stateside to the game's biggest team event is on every golfer's bucket list and in 2021 Kohler and Whistling Straits have everything you could want to have the trip of a lifetime. The region lives and breathes golf with the Straits Course having played host to no fewer than 3 PGA Championships, 2 US Women's Opens, US Senior Open and of course now the Ryder Cup.
With a number of America's best golf courses in such close proximity, golfers are advised to take their clubs with them as your Ryder Cup adventure can include some fantastic memories outside of the actual event as well.
The Straits Course is at the forefront of golf at Destination Kohler and is one of the most iconic courses in America. Having been designed by one of the greatest modern day architects, it comes as no surprise that it is not only one of the most aesthetically pleasing courses in the world but also one of the best golfing layouts. Pete Dye is renowned for carving glorious golf courses out of incredible natural landscapes with his Teeth of the Dog course at Casa De Campo being another feather in his cap.
The rugged and exposed nature of the banks of Lake Michigan give the course a distinctive links accents. With long wispy rough and vast areas of sandy wasteland, the course is reminiscent of some of the UK's best links tracks such as St Andrews and Royal Portrush.
Similar to its Scottish and Irish counterparts, the Straits Course has an illustrious history of hosting a number of major golf tournaments. Most recently, the world's best battled it out for the 2015 US PGA Championship which saw Australian Jason Day eventually reign victorious having held off current world number Dustin Johnson. Day's maiden major victory was emphatic to say the least as he set a 72 hole record for a major championship with a winning score of 20 under par.
Many view the Straits Course as one of the finest in America with its undulating fairways, abundance of water and punishing rough. The pros will need to be on the game in order to get the all important point out of their match.
Golf Courses near Whistling Straits
Establish: 2006
Length: 7,731 yards
Designed by: Dr. Michael Hurdzan, Dana Fry, Ron Whitten
Play Erin Hills
River Course
Established: 1988
Length: 7,404 yards
Meadow Valleys Course
Established: 1988
Length: 7,250 yards
Play Blackwolf Run
Course No.1
Established: 1927
Length: 6,318
Designed by: Robert McIntosh, Dick Wilson
Course No.2 (Ravines)
Established: 1929
Length: 6,893
Designed by: David McIntosh, Bert Coghill
Course No.3
Established: 1963
Length: 6,424
Course No.4 (Dubsdread)
Established: 1964
Length: 7,554
Designed by: Dick Wilson, Joe Lee, Rees Jones
Play Cog Hill
Milwaukee is renowned for being particularly simple with the public transport systems being excellent with Buses and Trains running regularly. The city's compact downtown centre means that exploring the city via walking or using one of the bicycles is an option.
Golf in Milwaukee and surrounding areas
The Kohler Resort has 3 other courses further adding to its credential as one of the best golf tour destinations in America. In total the Irish Course, Blackwolf Run – River Course and Blackwolf Run – Meadows Course have hosted 4 US Women's Open, 1 Palmer Cup and 3 World Golf Championships and despite not being the resort's main attraction they still hold similar accolades to the Straits making all of them fantastic options for round on a golf tour.
America is home to 45% of the world's golf courses with a number of these being ranked inside the very best across the globe. Whether you are looking to play in and around Wisconsin or wish to travel to other states, a chance to play golf in America is something every golf fanatic dreams of. From the glorious links of Pebble Beach in California to the monster resort courses in Florida the USA has something for every type of golfer.
Milwaukee and Chicago attractions
Milwaukee Art Museum
Harley-Davidson Museum
Milwaukee County Zoo
Oak Leaf Trail
Lakefront Brewery
Milwaukee Brewing Company
360 Chicago Observation Deck
Millennium Park
Chicago Bears NFL
A look back on recent Ryder Cup history
2010 Ryder Cup: Celtic Manor Revisited
A Ryder Cup rarely goes on until Monday, but at The Celtic Manor, the South Wales autumn left organisers no chance that year.
Read more
2012 Ryder Cup: Medinah Revisited
Sport has a wonderful ability to defy logic. Underdogs beating favourites and seemingly impossible comebacks all add to the reason we love the drama of sport.
Read more
2014 Ryder Cup: Gleneagles Revisited
It is hard to find a better stage for the Ryder Cup than Gleneagles and in the heart of the home of golf, The PGA Centenary was purpose-built for this event.
Read more
2016 Ryder Cup: Hazeltine Revisited
As the fans and teams gathered for the 2016 Ryder Cup, the pressure was firmly on Team USA. They had last won in 2008 at Valhalla, they needed a win.
Read more