[dropcap]As you all know, Your Golf Travel Ambassador Darren Clarke is Team Europe Captain for The 2016 Ryder Cup and with a year to go efforts are being stepped up, as both he and Team USA Captain Davis Love spent time this week in Minnesota attending the
"A Year to Go"
celebrations, where both captains talked about
"behind-the-scenes stuff and the reality of both of us preparing our teams and making some bigger decisions other than just clothes and bags and things like that."
(~ Davis Love III)
[/dropcap]
Ryder Cup Qualification for Team Europe kicked off on September 3rd and with points being gathered by players hoping to make the team for 2016, Captain Clarke will no doubt be keeping a much closer eye on proceedings both on the European Tour and the PGA Tour too, where many of his best prospective players spend most of their seasons plying their trade.
One player in particular who Darren has his eye on just so happens to be another Your Golf Travel Ambassador, his long-time friend and former Ryder Cup partner, Lee Westwood.
---
Some of Lee's Ryder Cup Highlights on his way to a record of 16 wins, 11 losses and 6 halves and 57.57% points won through 33 matches!
---
In a recent interview with Sky Sports News HQ, Clarke admitted that he is determined to have Lee on his side at Hazeltine in 2016, but is holding out hope that the former World #1 will qualify on points, rather than relying on a Captain's pick.
Considering Darren and Lee's well documented friendship, giving Lee a Wild Card would obviously put Darren in an awkward situation but Clarke insists he won't be handing out any Captain's picks out of sentimentality.

[quote]"We know each other inside out, and I know what I can expect from in in the Ryder Cup, and I think he'll have a great chance of qualifying for the team next year. I hope he does, but if he doesn't, it won't be a pick for an old pal situation – that's not the way it works.[/quote]
[quote]"But with someone like Lee who has vast experience, I'd be foolish to not want him on my team. As a friend I'd like him on the team, and as his prospective captain, I'd like him to make the team."[/quote]
(Source: Sky Sports News)
As mentioned above, Darren and Lee enjoyed one of the most successful Ryder Cup partnerships in the tournament's history, so it's more than understandable that Darren would want Lee on the team.
---
Quickfire Ryder Cup Questions with Lee…
---
Should Westy make the cut for the 2016 matches, the dynamic between the two will obviously be very different than it was when both were playing participants, but surely having such experience and team spirit stemming from the Team Captain and his relationship with one of Europe's most experienced and respected players, can only be a good thing for Team Europe?
Just how good was the pair's record? Let's have a look…
---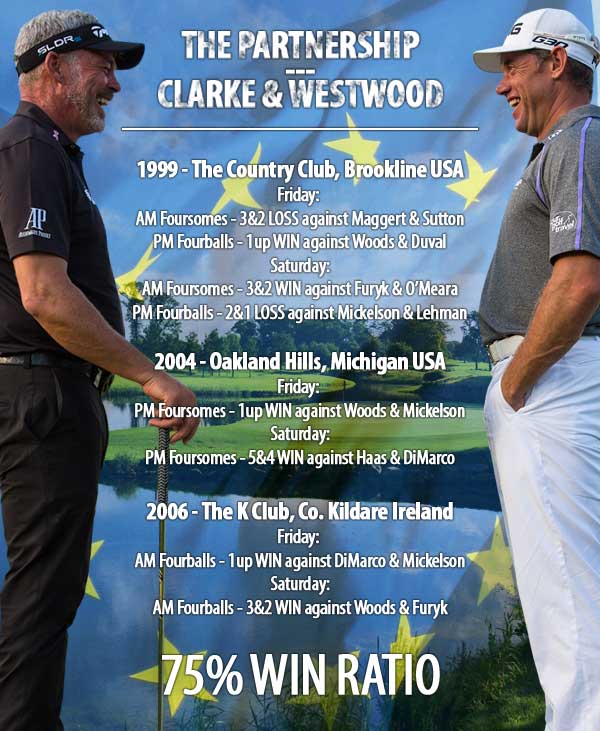 ---
Darren & Lee enjoyed one of the most successful Ryder Cup pairings ever and from a European standpoint, their win ratio of 75% has been bettered only by Seve Ballesteros and Jose Maria Olazabal whose 84.6% win ration through a total of 13 matches will likely never be bettered.
It wasn't just how many points Clarke and Westwood won though, it was about who they were won against too.
Beating pairs such as Tiger Woods & David Duval, comfortable the best two players in the world in 1999, as well as Hal Sutton's "dream team" of Woods and Phil Mickelson in 2004, doesn't come easy.
In fact with another win against Tiger at The K Club in 2006, Darren and Lee are partly responsible for Tiger's paltry Ryder Cup record which, as well all know, pales in insignificance in comparison with his individual on-course achievements which have already cemented his place as the greatest player of his generation and perhaps even the best of all time.
You can't have it all your own way Tiger!
For Team Europe's sake, we hope Lee's recent solid play (Darren alluded to the fact that from a statistical basis, Lee's recent form has in fact been very good and the scores will come) will translate into better scores and results and Team Clarke & Westwood, albeit in a different dynamic, can continue their considerable Ryder Cup successes together.