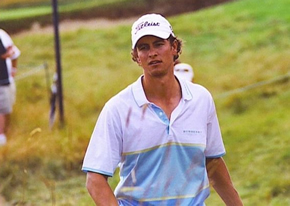 This game of golf we all strive to master can be a fickle thing. You can shoot the round of your life one day and come back the next looking to repeat your same score only to be disappointed and end up scoring ten or twenty strokes higher. It comes and it goes, we all know that today's birdie could be tomorrow's double bogey. It is the same way at all levels of golf. The weekend hacker and the tour professional face the same dilemma although to a different degree. You stand on the first tee and wonder, "Will I have it today?" The it, is that indefinable thing or sense or feeling that lets us play our best and score well. It comes and goes each and every round. Pro players are not immune to losing it. Ian Baker–Finch and David Duval are two famous cases that have lost it. Baker-finch lost it quickly after his British Open win and left competitive golf. Duval was a former world number one after his British Open Championship and lost his game soon thereafter. He is still attempting to get his form back on the US PGA Tour and insists he is close.
There may be a case on the tour today. We have seen Adam Scott drop from number three in the World Golf Ranking at last year's US Open to a current ranking of twenty nine. Scott was a much heralded talent when he started playing the world tours. He was called one of the best ball strikers on tour and his game was advanced beyond his years. Scott has accumulated twelve career wins and is always among those mentioned in the "Best Player Never to Win a Major" discussions. He became the youngest winner of The Players Championship in 2004 when he was twenty three years old. This past week he missed the cut at the 2009 Players championship and seems confused about his game. It was his fifth consecutive missed cut on the PGA Tour. He had previously never missed four cuts in an entire season.
He has had some injuries this past year but insists he is healthy again. Scott has long time world class instructor and coach Butch Harmon to help him on his swing. Scott and Harmon have changed his swing and this may the adjustment period. But you can sense Scott's disappointment, "My golf swing is just horrible and I have no feeling of where the club head is and I'm hitting terrible golf shots. I get myself in so much trouble I can't recover." Harmon, who has coached Tiger Woods and is coaching Phil Mickelson, says, "He's dejected and he knows it. If you had told me that Adam could miss five straight cuts I'd never would have believed you." They both are certain that Scott is getting closer to finding it than his numbers indicate. "I need to work my way through it," Scott said and Harmon confirmed the thought, "He's going to work his way out of it."
Adam Scott is much too talented and much too young to be thought of as having "lost it" but you can see the concern on his face and hear it in his words. Hopefully he'll get his stroke back and win again and maybe even get a major or two.