When it comes to golf holidays, Ireland punches way above its weight considering the relatively diminutive size of the island, as well as the sheer volume of world class courses found there.
I've been lucky enough to experience more than my fair share of them, mostly due to the access I have to courses thanks to my role at Your Golf Travel, but also because my family is from Ireland, I was born there, and I'm always keen to head back "home' whenever I can to experience as much of the country as I can.
Ireland's a magical place, and as a country boy at heart, the beautiful scenery on offer all over the country appeals greatly.
With that in mind you'd be hard-pressed to find a more beautiful location to play golf in than County Wicklow – Killarney would run it close – and Wicklow also has the added benefit of being very easily accessible from Dublin. A night or two in the Irish capital is an essential part of any Irish Golf Tour on the East coast of the country!
---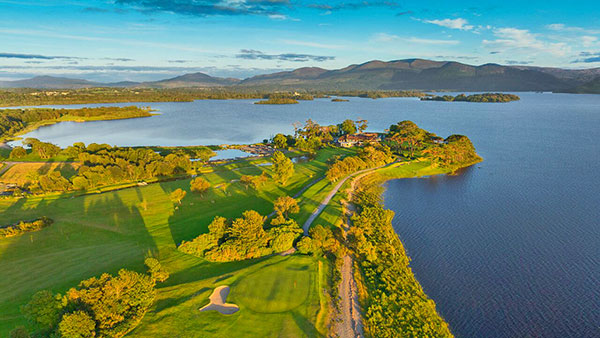 Killarney, on the opposite side of the country, is another stunning place to play golf in Ireland.
---
Whether you catch the ferry into Dun Laoghaire from Holyhead in Wales, or fly directly into Dublin Airport and hire a car for your trip, the journey to Wicklow is as easy as it gets from my place in London and on my most recent trip to the Emerald Isle, I had two of my favourite golf courses on the itinerary.
I've played both Druids Glen and The European Club before, and while the courses are worlds apart in style and feel, both are amazing places to play golf, each for their own unique reasons.
My first round was at Druids Glen.
Often referred to as "The Augusta of Ireland", I can confirm, having been to the actual Augusta…twice…(*wipes smug grin from face)…that the comparison is wholly understandable.
Obviously Druids Glen isn't in the same league as the host of The Masters, but it's remarkably beautiful and there are distinct similarities between the two courses. Beautifully sculpted and impossibly green with gorgeous flowers all over the course, Druids is a parkland beauty and in the par 3 8th, you have a hole that's very reminiscent of the famous 16th at Augusta National.
---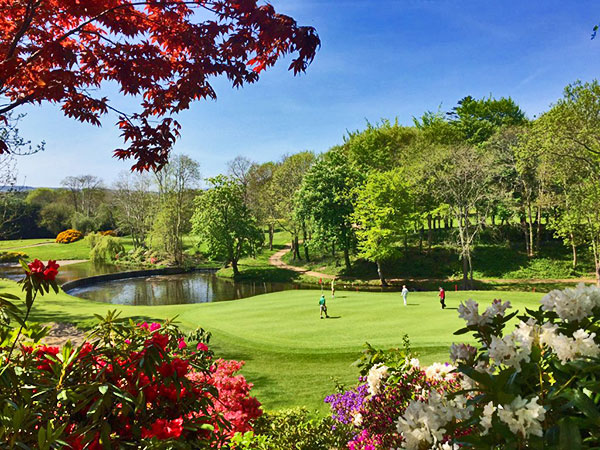 Par 3 8th – Druids Glen
---
Speaking of par 3s, these are the real standout holes at Druids Glen. The par 4 13th is the Signature Hole in my eyes but in the 8th, 12th and 17th holes, you have a trio of one-shotters that really are hard to top.
The raised tee and huge Celtic Cross in the flowerbed on the 12th, and the island green at 17 are truly memorable features and there are other superb holes on the course too.
---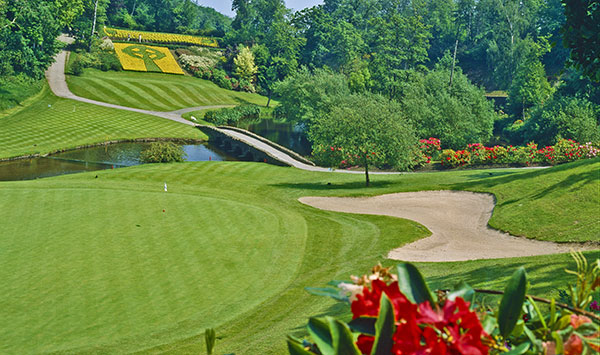 Par 3 12th – Druids Glen
---
The 18th for example is one of the best closing holes in Ireland, with a staircase-style water feature running up the left hand side of the hole and a raised green beautiful framed by the clubhouse. 
The resort is also home to a second course called Druids Heath which is a super course in its own right too. The hotel's no too shabby either so if you're looking for a stay & play style break in Ireland you really can't go wrong with Druids Glen. I'd thoroughly recommend it and will be back one day for certain.
At the other end of the spectrum, not in terms of beauty and enjoyability, but in terms of style and the test that awaits, is The European Club.
Owned and operated by the Ruddy family, this course is a links of epic proportions. There are 20 holes (2 additional par 3s were built to give you something to do while walking between greens and the next tee) and a par of 78, and from start to finish the course just blows you away.
When I first played it a few years back, The European Club immediately went into the number one spot of my all time favourite courses and while in the years following that it had been shunted down a couple of spots, it was still firmly in my top 3.
---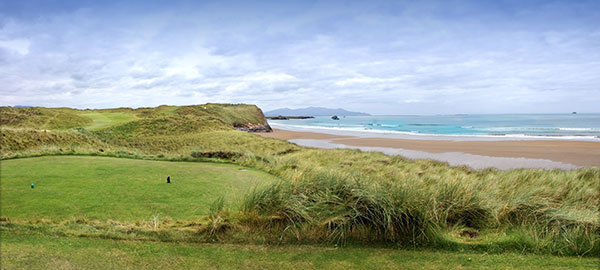 Tralee, pictured above, was the course that shunted The European Club off top spot a couple of years back, but has now suffered the same fate after another crack at Pat Ruddy's masterpiece!
---
Those of you who follow my journeys with Your Golf Travel and Mark Crossfield and the gang will know that I'm in the extremely lucky position to have played some pretty awesome courses. So a spot in my top 3 is no easy thing to achieve.
Upon my second inspection though, I was reminded just how special The European Club is though, and it clambered its way back into the silver medal position! (NB – I'm fairly certain I'll never have a new number one having been completely and utterly bowled over by Pinnacle Point in South Africa)
---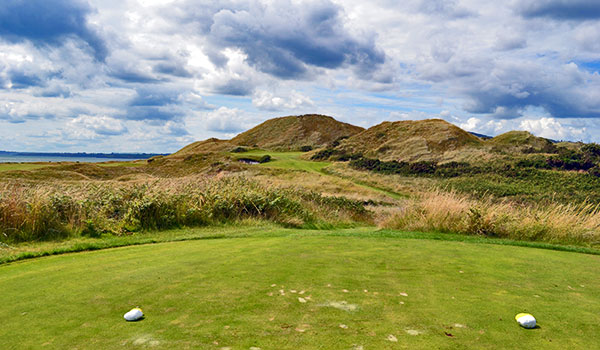 Par 3 12a – The European Club
---
It's no secret that the course is a brute. Don't expect to play to your handicap here because you'll only be disappointed. Manage your expectations though and you'll have a blast.
As well as the two additional holes, this amazing course has more unique and slightly quirky features that make it stand out from the pack. Bunkers are treated very much as hazards and are lined with railway sleepers – a quite striking feature visually -, there's a 125 yard deep green at the par 4 12th and there are a handful of holes ranked among the very best in the world by those in the know. The setting is pure drama and the enormous dunes make you feel very small indeed in certain parts of the course.
---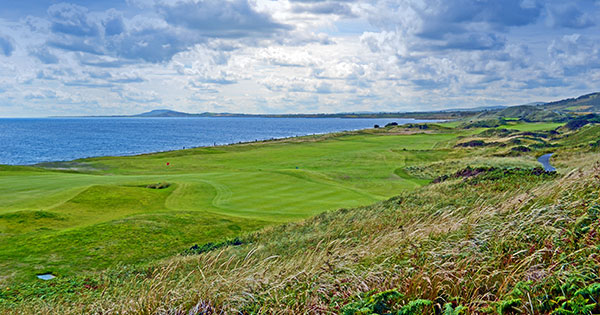 Par 5 13th – The European Club
---
You couldn't wish for a warmer welcome either. The Ruddy's are as charming as they are accommodating. In short; I really don't have a negative thing to say about this place.
There aren't many places in the world where you can play a tranquil, serene parkland beauty one day and a beast of a links course the next, all the while being in one of the most beautiful counties in Ireland and within a stone's throw of Dublin so if you're in the market for an Ireland Golf Holiday, why not give this itinerary a go? You won't be disappointed…and if you are, we'll probably never be friends. ;-)
---