"Look good, feel good, play good," has long been the mantra of Ian Poulter – Your Golf Travel's 'Golfer's Hero of the Year' in 2012 and Ryder Cup legend in the making – and for anyone looking to up their game and get their hands on a pair of Poulter's famous tartan trousers, we have good news!
Simply visit Your Golf Travel on facebook, LIKE our page and TAG A FRIEND in one of our 'Get Trousered with Your Golf Travel' posts and you (and your friend) will be entered into a draw to win a pair of IJP Design tartan trousers each!
See you on facebook and good luck!
*Winners announced next Friday – (27/09/13)
---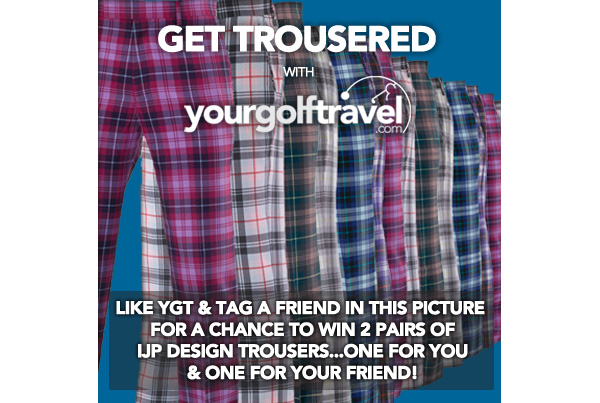 Keep an eye out for me on facebook and be sure to LIKE YGT and TAG A FRIEND to be in with a chance of winning some IJP Trousers!
---
Click here to visit the Your Golf Travel facebook page.
---
Poults accepting his 'Golfer's Hero of the Year' award in 2012.