Gary Player has always prided himself on his physical fitness and often boasts of the fact he manages to complete 1,000 sit-ups a day, even though it's been a long time since he was a regular on the professional tour.
Nevertheless posing nude for the whole world to see is certainly a bold move for a man of 77. As we reported at the end of last month.
The nine time major champion's pictures have finally been released in the hotly anticipated ESPN The Magazine's annual Body Issue.
---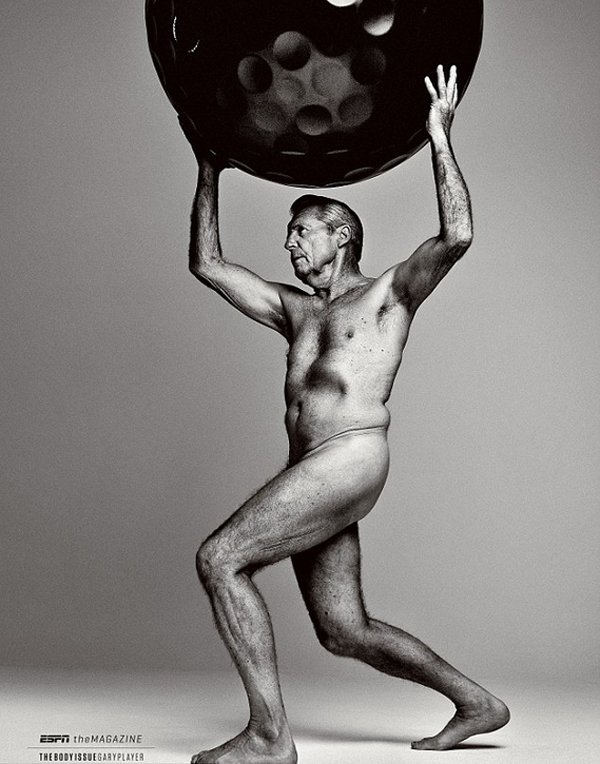 ---
As stated on their website, The Body Issue stands "to unapologetically stand in awe of the athletes who've pushed their physiques to profound frontiers."
And there's no doubting that 77-year old Mr Player falls into this category, as do another 19 sports stars that have also stripped down to their birthday suites for the fifth edition of the magazine.
Even though the last of Player's major wins came in 1978, he has undoubtedly attracted most of the attention. Among his nine majors include three Open Championships and three Masters Titles, the first of which came in 1959 at Murfield, the venue for next week's Open. He was even winning tour events right up to the age of 63, when he was victorious at the Northville Long Island Classic, showing that his exercise regime managed to prolong his career.
---
[youtube width="600″ height="400″ video_id="qB9O8WMcMHE"]
Here is a behind-the-scenes video of Gary's photo shoot.
---
Another golfer joining Gary Player in this year's edition is the 21-year old Scottish golfer Carly Booth, who is currently playing on the Ladies European Tour.