Whether it is the fantastic climate, stunning golf courses or the decent prize purse the desert swing has a habit of attracting the biggest names in golf and this week at The Emirates Golf Club in Dubai, some of golf's best players are out in force again. The headlines once again will all be about Tiger Woods but he is not the only big name in the field this week.
Master's champion Danny Willett will be looking for his first win since he won the coveted green jacket. The Big Swede, Henrik Stenson will also be looking to get another win on a golf course he is particularly fond of. The field also features both winners of the two previous desert swing competitions, Tommy Fleetwood – Abu Dhabi and Jeunghun Wang – Qatar Masters, who will both be looking to continue their recent run of form.
In this blog we take a look at the history of the tournament, Tiger's return and of course you will get to see what our YGT 'pundits' who will be looking for their first correct prediction of the year.
Tiger's return at Torrey
Tiger lovers all over the world were desperate for him to prove that he is not done and dusted just yet when it comes to competing at the highest level. However, what we saw was not the Tiger of old. His driving and approach play was very poor in the first round often leaving him with a lot to do in order to scramble par. Despite this, there were some signs that the 14 time Major Champion was rediscovering some form, as his chipping around the green was extraordinary and saved him from dropping shots on more than one occassion. Sadly though, the truth of his return to Torrey Pines was that his short game was called upon way too often for someone looking to get back to winning ways. Woods produced many a bad swing whether he had the driver or the wedge in hand meaning he often leaked the ball right (by a long way) and more often than not this took the chance to birdie the hole well out of the question. (I think us all going with our heads over our hearts last weeks was a wise move.)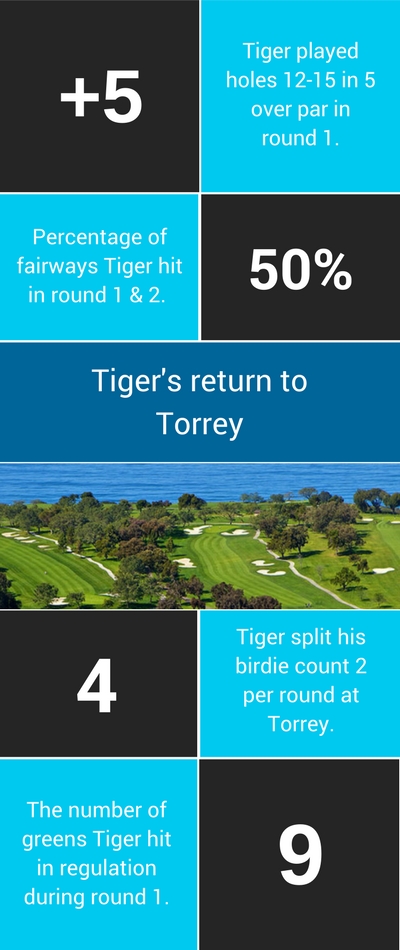 So I may have been a bit harsh on Tiger there especially since Torrey Pines is not an easy to place to come back and play well at after such a long layoff and like all Tiger fans we want to look at the positives of his game, of which there were a few. The short game was definitely his biggest strength on Thursday and Friday but also towards the end of his second round the drives were starting to find the fairways and his swing speed was back up. Therefore, this week at the Emirates Golf Club in Dubai Tiger fans should be glued to their seat as he makes his first European Tour appearance since his comeback on what is a slightly easier course.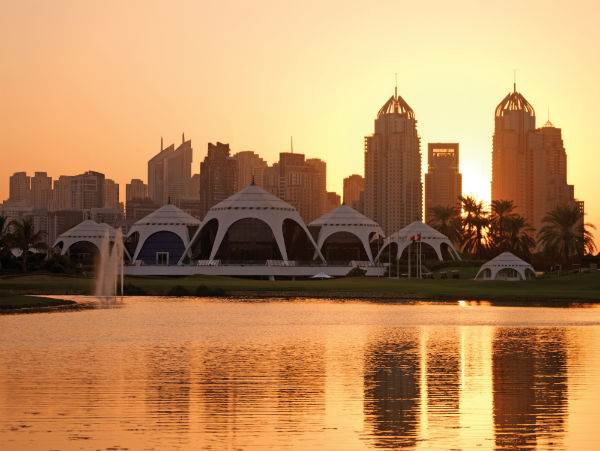 Dubai Desert Classic Tournament History
The tournament first began in 1989, where Englishman Mark James became the first ever winner shooting 11 under and won in the playoff against Peter O'Malley. The 2018 Ryder Cup Captain, Thomas Bjorn, has also enjoyed a lot of success at the Emirates Golf Club having won there in 2001 where he fended of both Tiger Woods and Padraig Harrington to win and in the process set the 72 hole course record of 266. The Omega Dubai Desert Classic is yet another tournament where the great Tiger Woods has reigned victorious on more than one occasion having won in 2006 and 2008. Going back even further than Tiger, 'The Big Easy' (Ernie Els) has also had a huge amount of success in Dubai, his most recent victory came in 2005 but he also lifted the trophy in 2002 and 1994. His first win featured a course record of 61 which still stands today.

The Course
The Omega Dubai Desert Classic is hosted on the Majlis Course which is the Emirate's oldest course but still remains as the toughest in the region. Karl Litten designed the course and incorporates great swathes of sandy wasteland and under the instruction of General Sheikh Mohammed bin Rashid Al Maktoum, the indigenous flora has been maintained making the only thing easy about the course is its appearance on the eye. The course is a traditional championship layout holding a par of 72 and measuring in at 7,301 yards it is by no means the longest course on tour but numerous bunkers and array of saltwater lakes places an emphasis on a accurate stroke play as opposed to sheer power off the tee. The course's signature hole is arguably its hardest too. The par 4, dog legged, 434 yard 8th whole is an anomaly because it plays slightly uphill and requires a very good first shot to even give you the chance of really attacking the flag with your approach. Once on the green, it does not get much easier as the undulating nature of it has more than once lead to even the best players 3 putting. This amazing hole has the recognition of some of the best golfer's in the world, with Justin Rose saying it is in his top 10 favourite golf holes.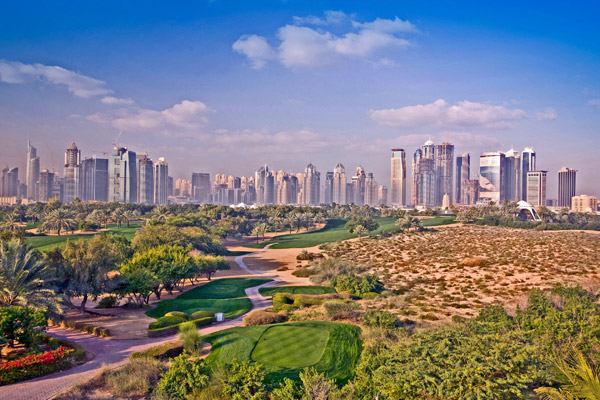 Who do our YGT 'pundits' think will do well this week in Dubai?
Nicholas Goldie (YGT) – Henrik Stenson 7/1
Although, Stenson did not play last week he's coming into this event with some good form following a tied 8th showing at the Abu Dhabi Championship just two weeks ago and will be looking to start this season how he finished last season (1 Finish outside the Top 10 since winning The Open). Stenson is a good player around the Middle East and with a tied 6th finish at this event last year and a tied 13th the year before, he'll certainly be the near the top of the leaderboard again this week.
Nick Martin (YGT) – Rafa Cabrera Bello 16/1
Rafa had an incredible 2016 season playing 23 tournaments and gaining 2,343,049 Race to Dubai Points. This took him into the European Tour's ROD Top 10, which was a personal record. He ended the year by qualifying for the 2016 Ryder Cup Team and in my opinion did a fantastic job despite being a rookie. Into the 2017 season, he had a solid performance last week in the Commercial Bank Qatar Masters finishing 6th with a fantastic score of 14 under par and he also had a top 20 finish at the Abu Dhabi HSBC Championship. With two solid weeks under his belt, do not be surprised if you see the name Rafa at top of the leaderboard come Sunday afternoon.
Freddie Pestana (YGT) – Tyrrell Hatton 20/1
Tyrrell Hatton is never the first name that springs to mind when it comes to selecting a player who is going to storm ahead and win a tournament but he has been threatening to become that type of golfer for a while now. The Englishman is enjoying a recent run of form having finished T13 in Abu Dhabi and T2 in the DP Tour World Championships in Dubai at the end of last year. Furthermore, his lowest finish is T23 in his last 6 tournaments on the tour which is not a bad statistic coming from a player who only has 1 previous tour win so you would feel he is due another one soon.
Oliver Gunning (YGT) – Lee Westwood 25/1
Obviously we're big fans of Lee in the YGT Towers so it won't come as a huge surprise to see him on this list of picks for The Dubai Desert Classic. Not only has he got great tournament pedigree having won on five continents and claimed 42 professional victories but Westwood's game seems perfect for taking on the Majlis Course at Emirates Golf Club, with long, accurate driving the key to taking on the 7,200+ yard layout this should be right up Lee's street. His season started well in Abu Dhabi with a tie for 8th and a 4-round total of -13 so hopefully he can continue this form and improve on the 3 runners-up positions in 2012, 2010 & 1999 that he's already had in the event.
Rory Anderson (YGT) – Kiradech Aphibarnrat 45/1
It seems Henrik Stenson will take some stopping at The Emirates Golf Club this week, such is the form of the big Swede. After T2 and 2 placed finished in his last two PGA Tuor starts, Stenson finished T8 in Abu Dhabi after a stellar opening round of 64. He's also a master of desert golf, with four of his eleven European Tour wins coming in the Middle East, including a win in this very event in 2007. At 13/2 though, he doesn't represent the best value for money which is why I'm rooting for one of my favourite European Tour players to bring home the bacon for me…
Kiradech Aphibarnrat, once dubbed the "Asian John Daly", recently admitted the reason for his busy playing schedule is so he can spend lots of money on watches and white Ferraris and with just under €2,500,000, he'll no doubt be eyeing up his latest purchase as he heads to Emirates GC. He's clearly enjoying the desert swing too, with finished of T4 and T9 in Abu Dhabi and Qatar respectively, so I'm hoping an EW bet on the big man at 45/1 will bear some fruit…and maybe even a Ferrari.