Golf is a great sport to get into and a social game that you can enjoy with friends and family close to home or on holiday. If you're new to the game and thinking about going on your first golf holiday, read this Beginner's Guide To Golf In The Algarve – our recommendations of where's best to start your journey in Europe's golf Mecca.
The game saw a positive rise in the popularity following lockdown earlier this year thanks to it being a sport where you can easily social distance and is a great form of exercise. And one thing better than playing your local course, is playing on holiday in the sunshine with your pals.
Penina Hotel & Golf Resort
Our first recommendation in the Beginner's Guide To Golf In The Algarve is Penina. There are 3 courses here, the Championship course, the Resort course and the Academy course. The Academy is a 9-hole track which is perfect as a practice round before you start placing any bets with your friends. There are lakes and hazard to test your skills which should set you up nicely to play other courses in the region.
If your game needs a bit of tweaking before you tee off, The Penina Golf Academy offers a vast array of practice facilities including a driving range, chipping green, practise bunker, a putting green and PGA Professionals offering beginner lessons to learn the basics.
Amendoeira Golf Resort
The Amendoeira resort has 3 fantastic courses, two designed by golfing greats Arnold Palmer and Nick Faldo. The resort also has its very own 9 hole floodlit course, so you can play and practise in the evenings. The academy boasts great practise facilities including a driving range, putting greens and short game areas.
After a round here or a few dozen balls on the range, it's time to play the Palmer or the Faldo. And if you still don't quite manage to hit the ball where you're aiming (we've all been there!), a cold refreshing beverage on the way round will certainly perk up your mood.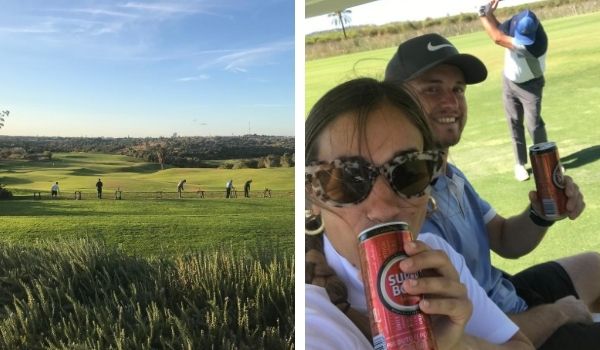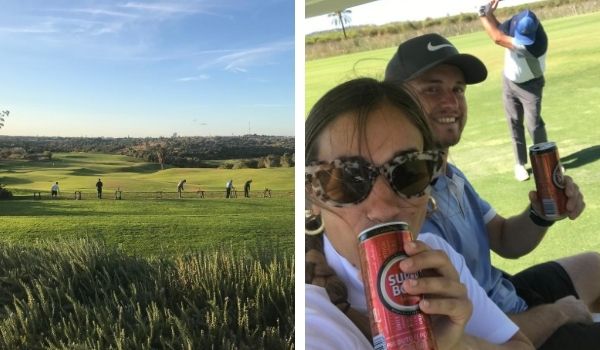 Click here to play at Amendoeira >> 
Quinta Do Lago
Three outstanding championship courses await you at Quinta Do Lago and it is also home to the Paul Mcginley Golf Academy, the winning 2014 Ryder Cup Captain. The resort has absolutely everything you need to practice your golf technique, as well as to relax afterwards. 
If you've done enough practicing on the driving range of your own, you can sit back and relax with a drink, with a lovely view to watch watch fellow golfers tee it up and master their own game. There is even 'mini-golf' on-site too, for a bit more of a friendly competition!
Click here to find out more about Quinta do Lago >> 
Vale Do Lobo
You will find beautiful views of the Atlantic coastline and two championship golf courses at Vale do Lobo. The 16th Hole on the Royal Course is probably a hole you already recognise. It is known as being the 'face of golf in the Algarve'. Before your round here, why not check out the incredible academy, with a specific netted area especially for beginner golfers.
Always a treat to play the 16th on the Royal Course @vale_do_lobo – Which tee you playing if from? 230 yards, 177 yards or 130? @YGTRory tried all three today just for the lols… ? @algarvetourism_ pic.twitter.com/BjkI7iZEGQ

— Your Golf Travel (@yourgolftravel) November 13, 2019
The great thing about the Algarve as a golf destination, is that it really has everything you could wish for from both a golf and a holiday perspective. There is a such a choice of golf courses that no matter which course you choose, as long as you play from Tee's that are suitable to your ability (Don't go from the very back if you're new to the sport) you're going to have a great round.
With plenty of academies and practice facilities, we recommend spending a day or so working on your technique – perhaps even getting a lesson with a PGA Professional – before you step onto the fairways.
Watch the Golf Vlog with YGT Rory