The Masters, a tournament so special for some golfers they'll put their entire life on hold for 4 days (Mr / Mrs Masters). Whether you find yourself consuming every blade of grass at Augusta National on google earth (Golf Geek) or you simply won't watch it because Tiger's not playing / competing, this event each April brings out the very best in golf, providing you can watch it (The Closet Golfer) or understand it (Golfing Know-it-none).
First off, we head to the golfer we all know…
The Golf Geek
Has The Masters playing on the TV, Sky Sports on an iPad, connected to every social network and all they can muster for the weeks of The Masters is "hashtag Masters"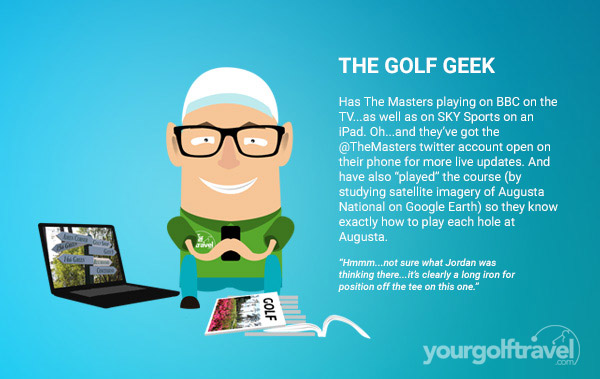 Most likely to –
Send more tweets than the winner will have shots
Least likely to –
Miss a shot
The Closet Golfer
Walking into the office this guy thinks he's cool, "golf, that's so boring" "The Masters, what's that?" – this is all a facade, inside he or she absolutely loves the game. They spend the entire tournament refreshing updates on their phone with the veracity of a teenager who has just got Tinder, too scared that someone will find out the truth. THEY. LIKE. GOLF.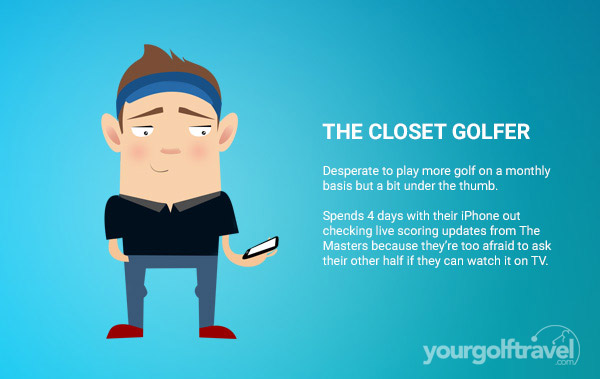 Most likely to –
Be seeking wifi everywhere having exceeded their data allowance on The Masters website, Sky Sports, Twitter and every other available source of Masters info.
Least likely to –
Ask their other half if they can watch The Masters on TV.
Golfing Know-It-None
Expect questions out of the blue…
"how many birdies make up a par"
"why did they miss that putt"
"I could've done that better"
This person has a love of golf but doesn't necessarily have their eye on the ball when it comes to detail.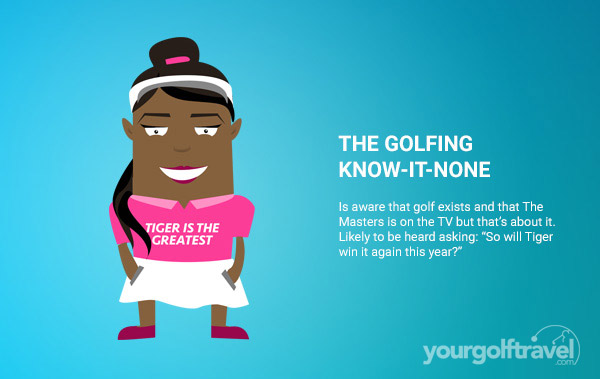 Most likely to –
Expect Tiger to win every hole, every round and every Masters, forever
Least likely to –
Know who Jack Nicklaus is
The Sunday Sleeper
Perhaps our most unlucky golfer. Having lived and breathed every shot in the tournament, plus the par-3, plus every Masters rerun since the previous tournament, they fall at the final hurdle…Amen Corner is their sleeping pill with drowsy eyes taking their toll.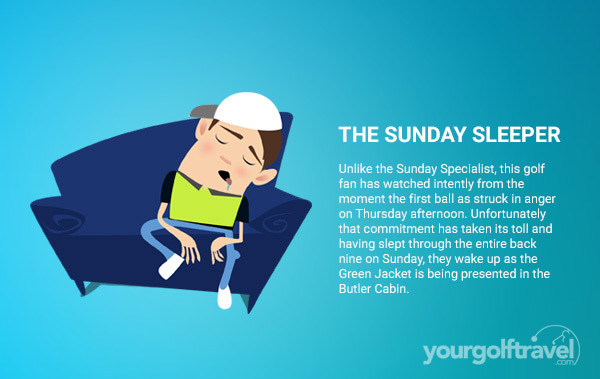 Most likely to –
Wake up at for the presentation in the Butler Cabin
Least likely to –
Have any comprehension about how the winner got into the Cabin
Tiger's Number 1 Fan
Spieth, McIlroy, Day, they're not as good as Tiger Eldrick Woods.
Why?
Because.
This rich and compelling argument leaves you with at least one positive…there's more golf for the rest of us.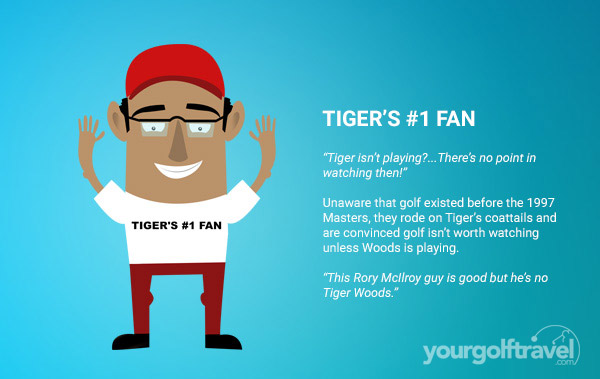 Most likely to –
Wear Red every Sunday
Least likely to –
Wear anything other than Nike
The Sunday Specialist
Turning on the TV exactly as the leaders hit their approaches into the 11th hole at Augusta National on Sunday. This person is driven by efficiency and precision, their efforts to absorb all that The Masters has to offer them in the next few hours puts them in the driving seat for golf based conversation on Monday morning.
Most likely to –
Know the yardage and stroke indexes of the back nine at Augusta
Least likely to –
Know anything about the front nine…"I thought it was just a nine-holer"
Mr / Mrs Masters
They're in the zone. 4 days of Augusta National Golf Club at The Masters. Their only contact with the outside world is with a delivery driver who will probably be bringing them Masters essentials like Pimento Cheese sandwiches. They're never more than 1 metre from a golf club, they own Masters merchandise which they wear religiously for the tournament, cracking out a new Polo shirt for Sunday so they watch their best.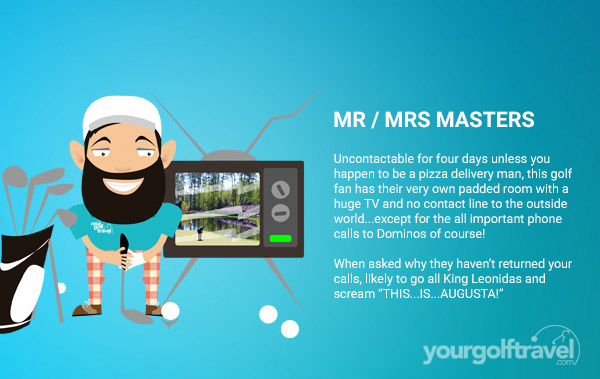 Most likely to –
Have a Masters tattoo. Own a Green Jacket. Be applying, on a daily basis, for membership to Augusta National.
Least likely to –
Have an interest in any other golf tournament.
Any of these describe you and your Masters experience? Share it with them.
Whichever golfer you are, be sure to check out Your Golf Travel for incredible Masters packages and tickets.