Northern Ireland Cloud Nine by Darren Clarke
In this article, Darren talks about his favourite golf courses in Northern Ireland as well as some great insight into planning your next golf trip there.
What golf course in Northern Ireland has the best opening hole?
The first at Royal Portrush, out of bounds right and left, hit it straight. If it's windy, it may be a driver, if it's not so windy, it's just a case of get it on the fairway, keep it in play and hit an iron down there then take your chances from there.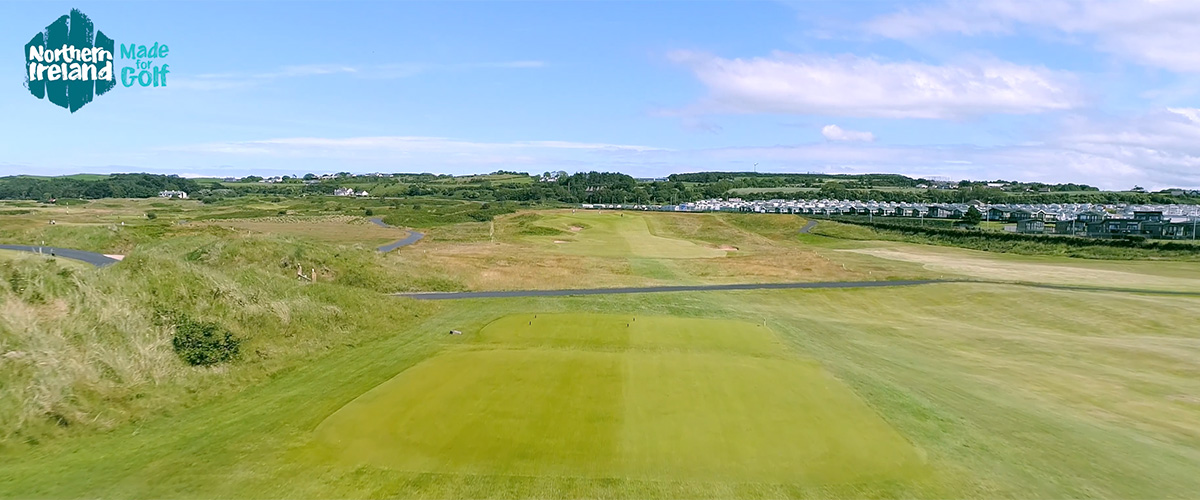 What is the best Par 4 in Northern Ireland?
I'm slightly bashed but I would say the fourth hole at Royal Portrush. Out of bounds on the right-hand side, rubbish on the left, bunkers up there, all sorts of nightmares going on there with the green that's just perfectly set into the topography of the land. Just in around the corner, you run the ball in if you can, but a very demanding hard par four.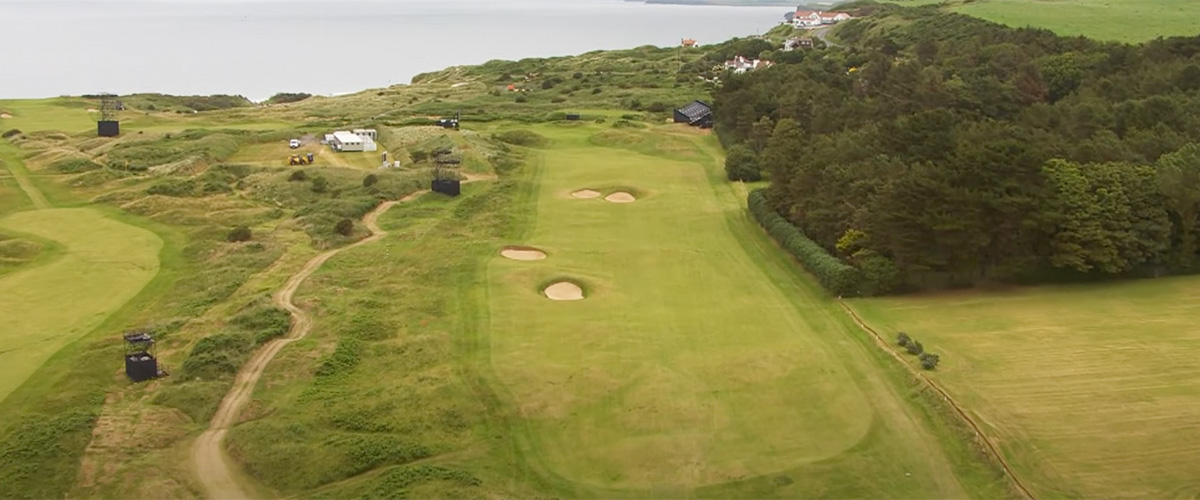 What is your favourite Par 3 in Northern Ireland?
So my favourite par three in Northern Ireland would probably be Calamity at Royal Portrush. For those that have played it before, you know what I'm talking about. A 220-yard par 3, big dropdown onto the right-hand side, do not miss it right. Up on the left-hand side, there's a little bit of a collection area called Bobby Locks. So for those experienced guys that have played before, they aim it a little bit left and run it into that collection area. Anytime you make par on Calamity at Portrush, you've done pretty well.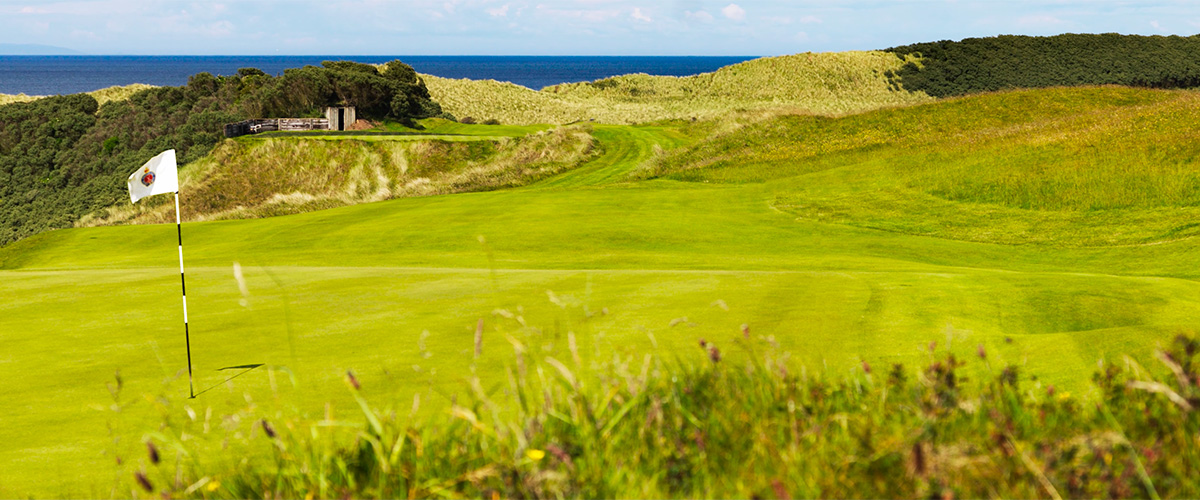 What is the best Par 5 in Northern Ireland?
I probably have to put the 18th of Royal County Down up there. It's a pretty tight teeshot with bunkers left and right and then into a very narrow green with runoffs both sides if you are going for it in two., It's one of those holes where you've got the opportunity to make a three or a four with a couple of really good shots but you can also make a six or worse very, very easily. So, great finishing hole.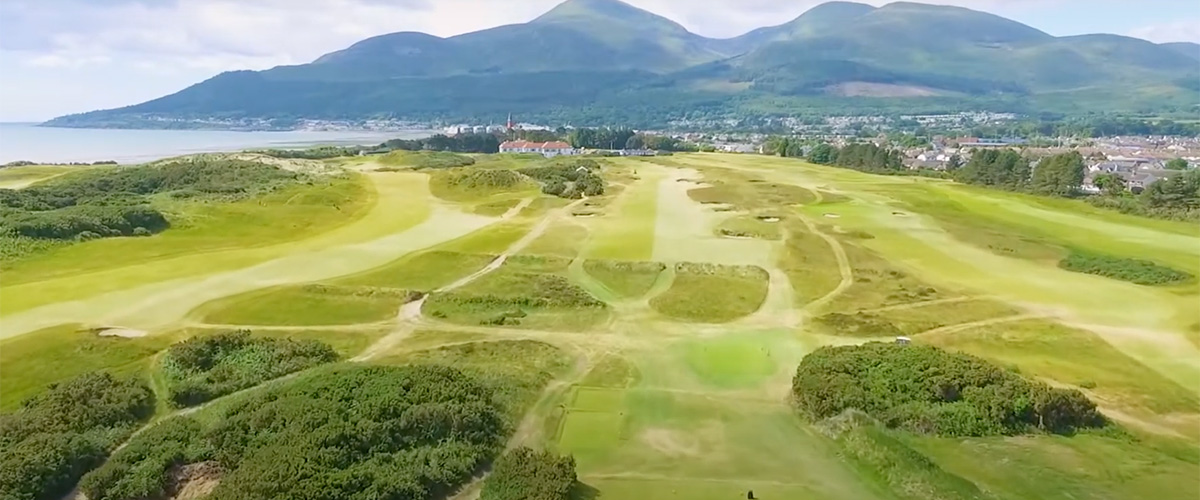 What would you consider the hardest hole in Northern Ireland?
Well depending upon the severity of your hangover, if you're teeing off early the next morning. It's probably anytime you get on any of those great links like Royal Portrush, Royal County Down, Portstewart or Ardglass when the wind's blowing every hole is going to play tough.
You get those conditions, which are a far cry from what we get maybe over in America or whatever. But at home, when the weather is inclement it's tough. If the rain is coming sideways, it depends on what way the wind is blowing. It's gonna test you and you're gonna have to play a little bit of a different game. Keep the ball low to the ground, use the ground, the ground is your friend and make that work for you.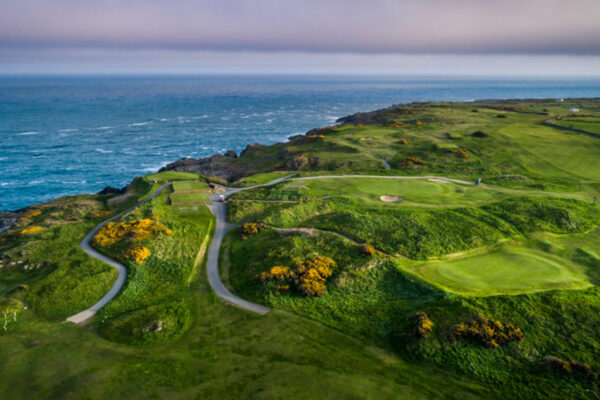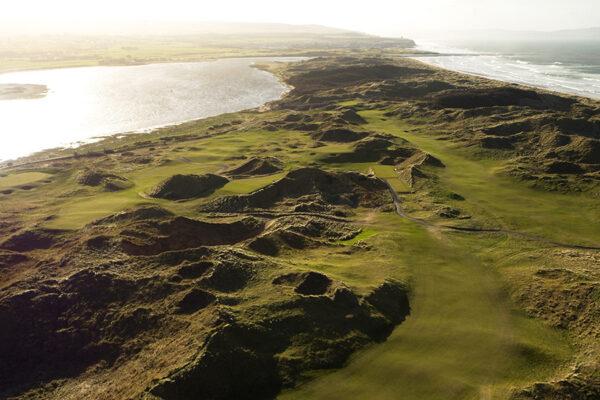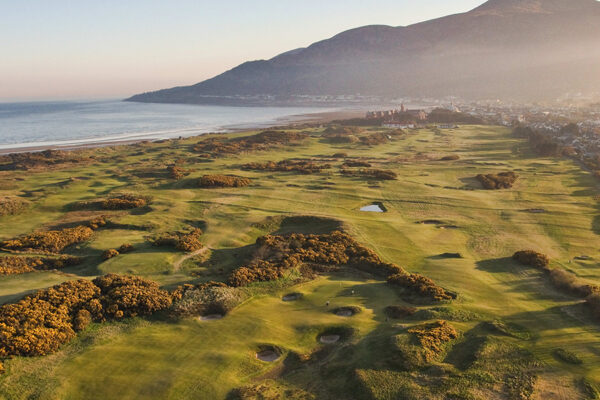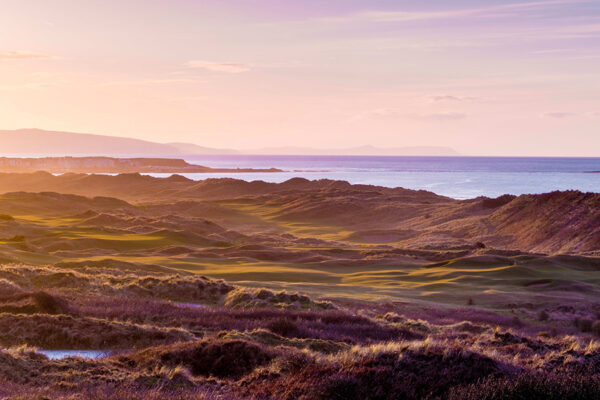 Which hole in Northern Ireland is the most picturesque?
That will be a big call, you've got two of them I would say.
You either have the fifth hole at Royal Portrush, where you tee off and hit towards the white rocks with the Skerries in the background. It's downhill and you see everything, it's beautiful. Or the ninth hole at Royal Count Down where you hit it up over the hill. It's a blind tee shot but you walk up and you get to the top of the hill, you look down into the mountains with the green sitting down there. It's just beautiful, just stunningly beautiful.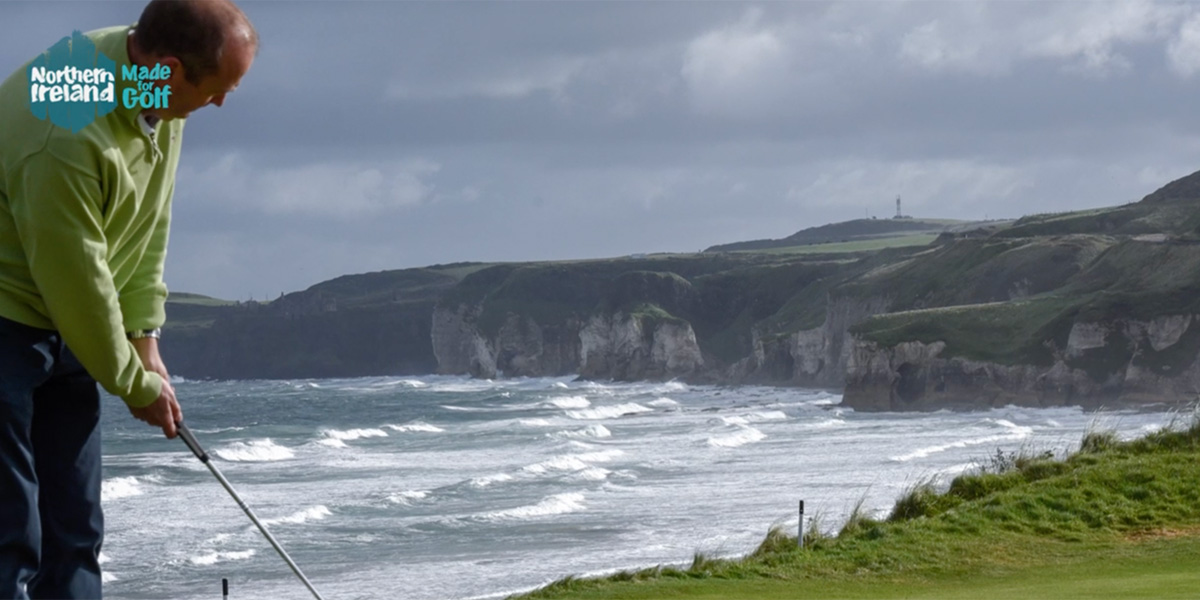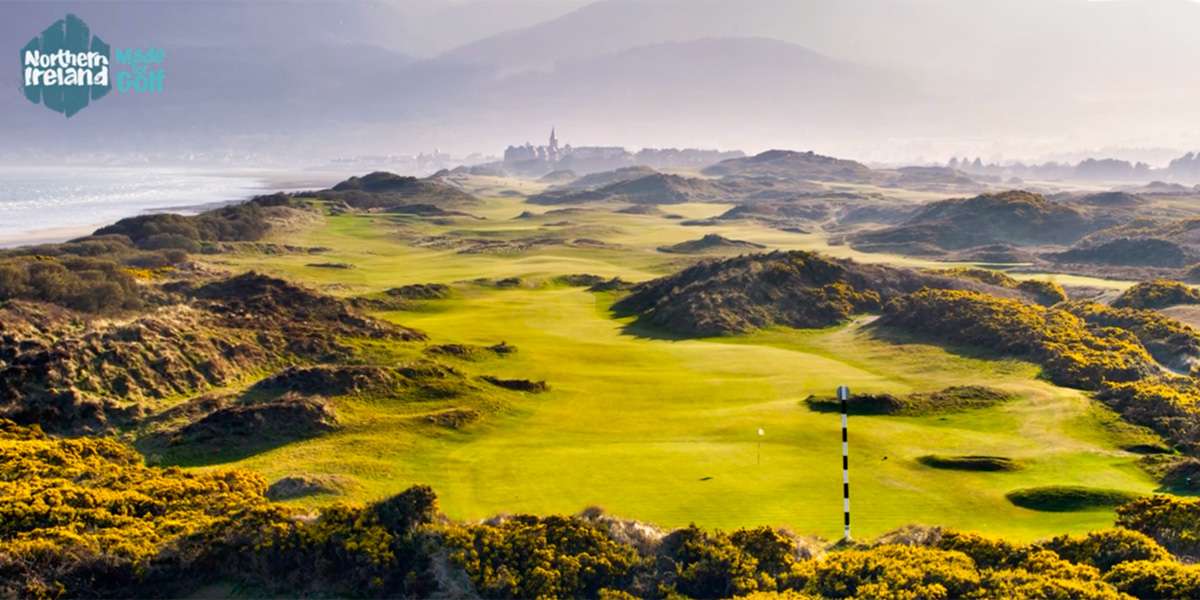 What is your favourite hole in Northern Ireland?
"My favourite hole in Northern Ireland would probably be the last one, wherever that would be, because it means that it's not too long before we go in and have a pint of Guinness or more."
Darren Clarke
Which hole did you hit your best shot on?
The hole that I've hit my best-ever shot on in Northern Ireland might have been a long, long time ago.
In 1990, I was playing against Paul McGinley in the final of the North of Ireland Amateur Championship. We were playing the last, I think I hit a two iron from 240 yards to about 15 feet into the wind and managed to hole the putt and make birdie to beat him one up.
What is your favourite 19th Hole in Northern Ireland?
There is only one, it's the Harbour Bar in Portrush.
Willie Gregg, when you go in there, just ask for Willie, he's mad, but when you go in there you'll figure that bit out yourself. You get in the little bar at the front which holds a maximum of 40 people and they have Ricky Lorimer in there playing the guitar, singing along, it's wonderful.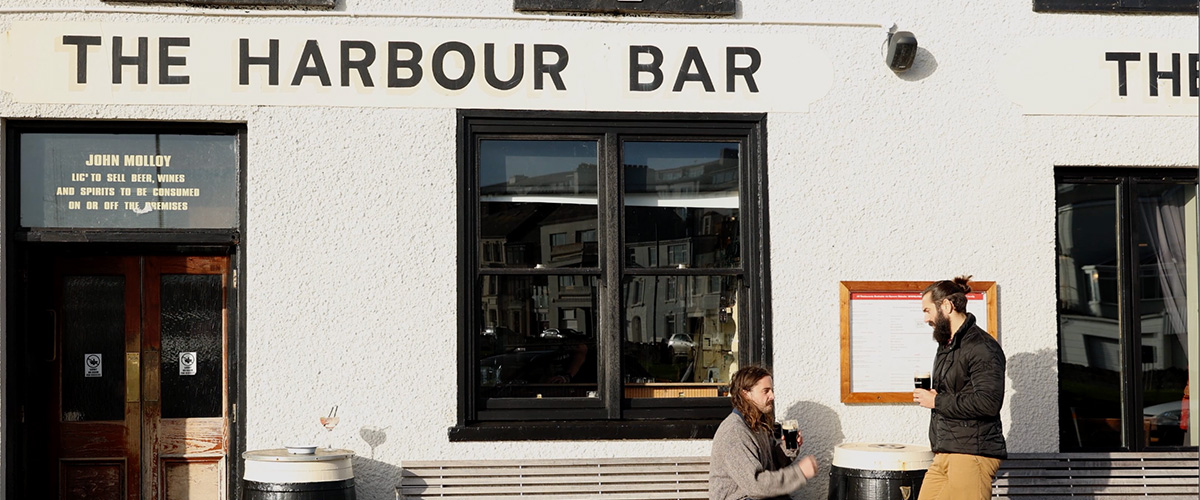 The whole area is owned by one family, the McAlpins. They own the Harbour Bar, the Harbour Bar Bistro, Mermaid, Basalt, Neptune & Prawn across the road. All the restaurants are fabulous and the idea is you go for a couple of drinks in the Harbour Bar, go and have some food in one of the restaurants, and then go back into the Harbour again. You'll have a good time.