Here at Your Golf Travel, we're all about providing entertainment, giving real insights and expert tips into golf around the globe. Hear the tales about Augusta National from a 4 time (soon to be 5 time) YGT Masters Patron… read Dave's Patrons Guide to The Masters.
Introducing Dave Donovan
Hi, my name's Dave Donovan, I'm 54, married with two daughters and have a huge passion for golf. I'm currently a member at Corhampton GC, a fantastic track on the South Downs in Hampshire. Although, to be fair I came to golf pretty late – aged 30 as I'd grown up playing tennis to a high standard thanks to my dad.
Upon meeting my step father-in-law (Geoff), it became apparent he had a strong connection with golf and he particularly loved The Masters. He invited me to play a local municipal course with him, just for a bit of fun. There were some good shots, but loads I'd care not to mention. This was the start, I had properly been bitten by the golf bug. 
Sadly, Geoff passed away a few years ago but I will always remember the great times we had on the golf course and will always be thankful for his encouragement in driving my passion in this sport. 
Four trips to Augusta and counting
It was Easter Sunday 2015, as a family we were having lunch in a local pub. My dad said to me 'would I be watching The Masters' which was due to start the following week. 'Of course,' I said, 'I'll be all over it'. Then from nowhere, my dad said 'Why don't we go'? Now, my dad's not a golfer, never has been, but he wanted to see for real from what he'd seen on TV, the colours, the course, the roars and the overall excitement the event at Augusta bring. I must admit so did I.
After some research, it became clear that it was possible to get to Augusta and this is where my relationship with Your Golf Travel began. With the help of Tom Francis (Long Haul & Tournament Specialist), we created a bespoke package for 2016 of 4 nights in Columbia arriving on the Thursday with badges for the Friday and Saturday. This was the beginning of my Masters journey.
Our chairs were positioned at Amen Corner on the Friday, behind the 12th Tee, being able to see the action unfold on the 11th Green, in front of us and watch the players walk up to the 12th Tee. The area at Amen Corner was ideal for my dad, concessions were close by which allowed me to wander and walk the course knowing that dad was comfortable and with plenty of fellow patrons to chat to over a cold beer. On the Saturday, our chairs were positioned around the 18th Green. Having a Masters Chair allows you have this base to go back to and chill, watch some golf and chat to fellow patrons around you.
Each trip we've done, we've created different packages which YGT have been able to accommodate thanks to their flexibility to match what we need. What keeps me coming back year after year is that view from the beside the first fairway overlooking Augusta National – it takes your breath away.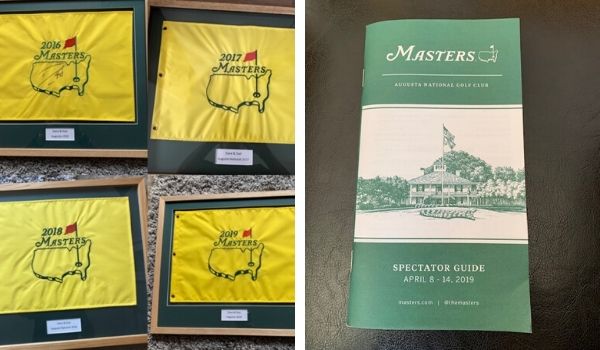 Favourite experiences at The Masters
Dad & I have completed four trips now and we've created so many great memories together. My favourites include:
Walking the course brings the whole thing into perspective.
The drop from the 1st Tee to the 16th Green is bigger than I ever thought and the roars from all around the course always keeps you in touch with what's happening. Who remembers Phil's escape from the trees on the 13th Par 5 for his second shot? You can stand on that exact spot and visualise it so easily in your mind. 
Having your photograph taken outside the clubhouse (its free).
I've had a photo taken on every day I've been into Augusta over the four trips. I can then memorise that day in my head. A word of advice – do it first thing as the queue gets pretty long in the heat of the day.
The people at YGT who I now consider as friends have helped create many of our memories.
The service and client commitment in ensuring the Augusta experience is exactly what it should be.
The concessions at Augusta are one of the most talked about as a patron, why?
They are priced very reasonably and the food is delicious, compared to other high profile sporting events. The patrons are made to feel like welcomed guests.
Finally, being on the 18th Green when Tiger won his fifth Green Jacket in 2019.
I had front row and everything unfolded in front of me. To witness the whole explosion of noise was a memory that will last forever!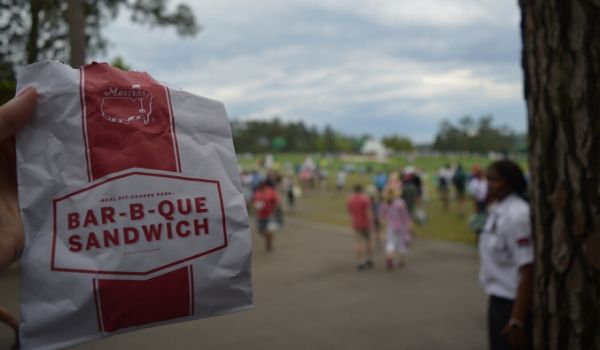 5 Tips for visiting The Masters
#1 Purchasing a Masters Chair ($35) is the first thing that should be done. The queue into the shop can be long first thing, but moves so quickly – so don't worry about the line. 
#2 Put your chair down as a base in your favourite spot. This is ideal for when you want a break, to chill out and reflect on your time at The Masters
#3 Walk the course, but remember it's hilly, so take regular breaks. You can sit in empty chairs anywhere on the course, but please vacate them when the owner returns. Take your time, you won't see everything but have a plan to do the things you want to do.
#4 Sitting on the practice ground gives you time to see the players practising before they head up but also gives a chance to plan to your day and take in all that Augusta National has to offer.
#5 Use the grandstands, there are some fantastic vantage points on number 4, 8 to name a couple. Get to the top of the grandstand on the left side of the green on 15, to have a direct line to the 16th Green – this is where I was for Tiger on the Sunday of 2019 – remember the Augusta roars as Tiger almost got a hole in one!


Browse Masters tournament packages (including Masters Tickets)