With Wimbledon getting underway this week we have both golf and tennis on our minds here in the Your Golf Travel offices so we thought we'd take a look at famous tennis players who also have a fondness for the fairways.
Novak Djokovic
ATP Rankling -1
Handicap – NA
At first the current top dog in the world of tennis didn't take to golf but has more recently admitted his growing passion for the game. Although it is unclear whether or not Djokovic has an official handicap he insists he is good enough to be out on the course.
'I play well enough so that you don't have to wait for me.'
---
Novak and Maria Sharapove take on a par 3 at Stoke Park…
---
He might soon get better as well after taking advantage of Rory McIlroy and Sergio Garcia's presence the ATP World Tour Masters 1000. The enthusiastic Serbian apparently took some advice on how to improve his game from the two European golf stars.
Andy Murray
ATP Ranking – 2
Handicap – Depends who you ask!
Being a Scot you'd get the feeling Murray would be a dab hand at golf but in an effort to protect his back Andy doesn't spend as much time on the golf course as he'd like.
The current world number 2 assigns himself what some say is a questionable handicap when he does make it out onto the fairways…
---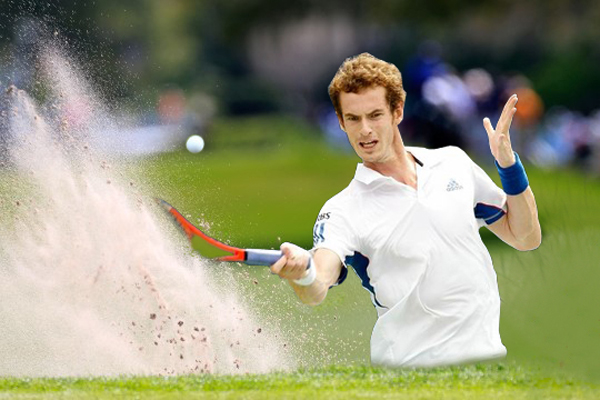 Andy Murray says he hasn't lost a game of golf for 5 years and that he isn't a bandit playing off 15…hmmm…something isn't adding up!
---
"Everyone thinks I am a bandit because I always give myself 15 or 16 shots," he said. I've not lost a game of golf for five years, but it's not me being a bandit. So many people who I play with say I'm about seven handicap but I would rather just say I am a 15 rather than some macho thing like I have to be single digits."
Dress it up how you like Andy…sounds like a bandit to me! Either way, Andy isn't the best golfer in the Murray household…his brother Jamie apparently plays off 3…and loses to Andy whenever they play! Maybe Andy's coach, Ivan Lendl, has better luck against the reigning US Open champion…he plays off scratch!
Rafa Nadal
ATP Ranking – 5
Handicap – 11
Rafa's prowess on the tennis court doesn't exactly carry over to the golf course but a handicap off around 11 is not too shabby. Nadal is one of the more enthusiastic golfers on the tennis scene and is a particular fan of the Indian Wells Masters event on the ATP Tour as it allows him to visit some of his favourite golf courses.
---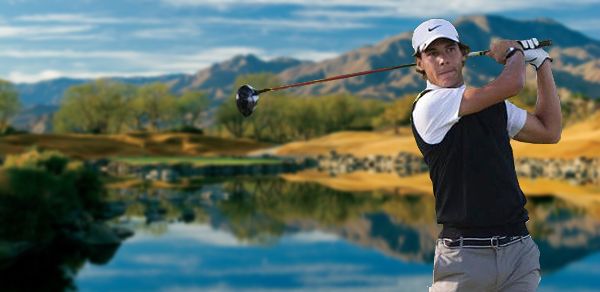 Rafa Nadal loves playing golf and his favourite courses are in and around California.
---
With courses like the Stadium Course at the La Quinta Resort and the Celebrity and Players Courses at Indian Wells on the doorstep, we can understand the Spaniard's feelings towards this event!
Andy Roddick
ATP Ranking – Retired

Handicap – 5
Roddick said farewell to tennis after the US Open, amid emotional scenes at Flushing Meadows and has since been spending time working on his golf handicap ever since. The powerful American is obviously a fast learner and his participation on the sport doesn't end with him playing it.
---
Andy Roddick hitting a tee shot at the Masters Par 3 Tournament…there's a joke here somewhere…something about aces and second serves?
---
In April Roddick caddied for Zach Johnson at the par 3 tournament at The Masters and was even allowed to hit a tee shot for his buddy. Judging by the direction of the shot, Roddick may well have taken a second serve had one been offered!
Tim Henman
ATP Ranking – Retired
Handicap – Scratch
Following his retirement from professional tennis, Tim Henman, the former British No 1, can be found on the golf course more often than not and as they say, practice makes perfect. Henman has got his handicap down to scratch and often plays in the Alfred Dunhill Links Championship. In fact if he had not chosen tennis at an early age, Tiger Tim says he would have tried to make it as a golfer.
---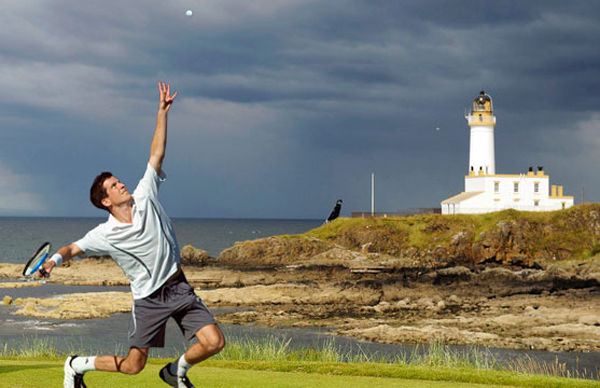 Tim Henman is a talented player and struts his stuff at St Andrews, Kingsbarns and Carnoustie during the Alfred Dunhill Links Championships.
---
After ten more years of practice, perhaps a stint on the European Seniors Tour isn't out of the question!