Trips for golf societies & groups can be complicated to put together yet the ingredients required to make a success of a group trip are simple. You need good golf courses that allow golfers of various levels to enjoy, big enough accommodation for the group and enough courses close by so you don't spend most of the trip on a bus.
As everyone knows, Scotland and golf go together and have done for a very long time. This is where the modern game of golf began and to play in Scotland should be an aim for all golfers. This article is designed to help society members plan their trips to Scotland.
Before you start booking, you will want to consider what kind of budget you are planning to work with – do you want to stay over or is it a day trip/smash and grab? If you aren't the organiser, the below will give you some ideas to take to the person in charge and help them out before you book.
Dumfries and Galloway
Golf is a great leveller: even if you are a highly skilled player, you can have off days and weather can make this even worse. Whilst we all prefer a great day on the course, tricky conditions on a tricky course mean that anyone can win. For this, Southerness is a great venue for your society.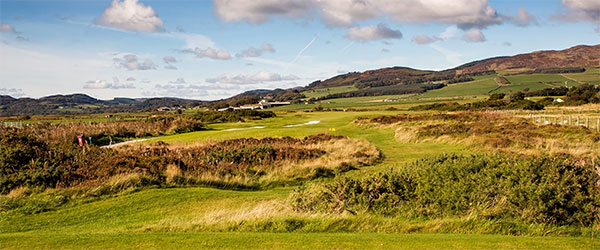 This championship links is a rugged and natural masterpiece that is nice and flat so is an easy walk. This is something that isn't to be underestimated when you're travelling with a group. Another great aspect at Southerness is the food and drink, it's tremendous and great value!
Stranraer Golf Club is another strong contender for a society trip in Dumfries and Galloway. This is an incredibly picturesque course with views over Loch Ryan. The firm and rolling fairways invite you to swing it freely and there is plenty of room for manoeuvre which adds to the enjoyment.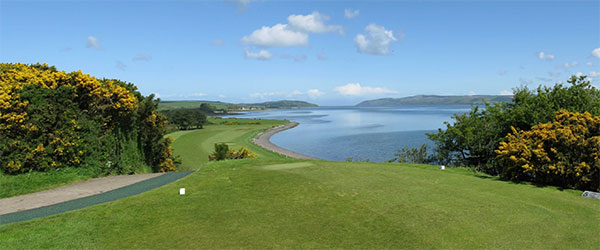 Look out for the 5th hole: it is stunning on the eye but don't be distracted or the apparently magnetic water will get you. The clubhouse makes the most of the views that Stranraer has to offer, grab some pre- and post-round food and drink in the stunning vistas.
Fife
Whilst Dumfries and Galloway is great for the single day trips, Fife is a wonderful venue for something that lasts a little longer. When your society is going for a trip to Fife, you simply must stay in St Andrews. There is a lot of choice for places to stay and the whole town revolves around golf so you know you'll have everything you need.
If you are planning on playing in St Andrews then the Fairmont courses represent great value. However, if you travel just a bit out with the ancient town you will find some great venues. The newest and an absolute must is Dumbarnie Links. Opening in 2020, this is already one of the best courses in Scotland.
The holes are very generous and with many teeing options you can ensure everyone has a good time. To describe Dumbarnie fully you can run out of superlatives, just go play it yourself and you'll see. In the area you also have the phenomenal Crail Golfing Society.
Home to two courses, the Balcomie and the Craighead, this is a great venue for a 36-hole event over two courses. Crail is a fantastic venue for society golf, it is relaxed and incredibly welcoming whilst offering you truly world-class golf.
Aberdeenshire
Aberdeen is a part of Scotland that doesn't take itself too seriously. That means that your golf in this area can be relaxed and more fun. Just 30 minutes north of the city, toward the fishing town of Peterhead, is one of the jewels in the crown of Scottish golf, Cruden Bay.
This is a club that prides itself on the welcome that they afford visitors and the course is just perfect. The value is unbeatable and you may even leave thinking that they got the green fee wrong and undercharged you. Cruden Bay is natural links golf at its absolute best.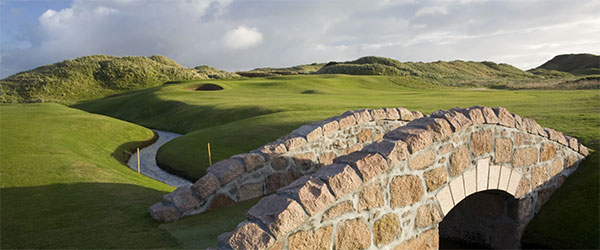 Your society members will thank you forever for organising a trip here for them. To change up the pace a bit and bring an inland option into this, the MacKenzie Championship course at Hazelhead is a great course and it was designed by Dr MacKenzie of Augusta National fame.
There is definitely an Augusta feel to the course as it is set in dense and high woodland. Heavy investment was recently made in this course and it has really benefited from it. This is a municipal course so you can get a large group on for a great rate and just relax into your game.
The Scottish Borders
On the face of it, the Borders isn't an immediately obvious choice for society golf trips. However, if we all did the same thing life would be boring and sometimes it's great to make your own path and find somewhere new to take your group.
The Woll Golf Course is a beautiful facility with USGA greens and 18 great holes. It also has a great clubhouse which is a great place to start and end your trip. At 6,000 yards from the back tees, this is a perfectly long course to suit a wide-array of golfing skills. This is a really fun track.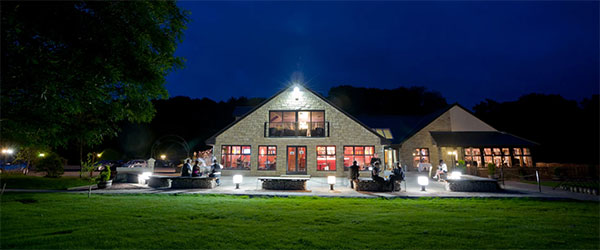 Another great aspect of visiting here is the chalets. With the right size of group you can make a few nights of this great venue and savour it a little longer than a quick trip. Just 15 minutes south of The Woll is Hawick Golf Club, a beautiful Borders club that welcomes societies.
This is a course that has been here since the late 1800s and is full of incredible views. This course is a similar length to The Woll at around 6,000 yards which is a great length. This course has a lot more elevation change but a welcoming and beautiful clubhouse to help replenish you when you're done.
The Highlands
There are some great places to stay and play up north towards Inverness. Some classic and old venues as well as some new places that fully deserve their place in glittering company. We will start with one of these young bucks, Castle Stuart.
Sitting proudly overlooking the Moray Firth with a glorious clubhouse, Castle Stuart is the epitome of the modern links. Designed by Gil Hanse and a former host of the Scottish Open, this course has some serious pedigree. This is a very playable course, don't be put off by the tour course status.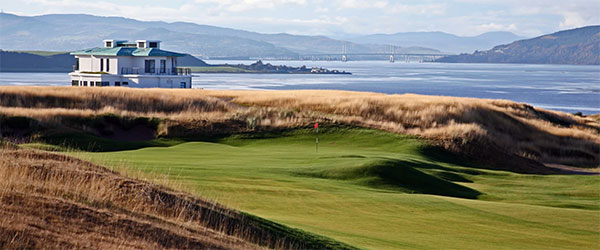 A trip a little further north takes you to one of the most exciting golfing areas in the world. A patch of land with three absolute powerhouses of links golf: Brora, Tain, Royal Dornoch and Golspie. A trip taking in these four is as good as golf gets and would make any golfer incredibly jealous.
Brora is a seaside masterpiece by James Braid. Hugging the shore of the North Sea this course just feels like it never leaves the coast. It is heart-warmingly quaint, full of character and in sumptuous condition. This course holds a place in the heart of anyone who has played it before.
This course feels like a golfing sanctuary. You are away from the bustle of modern life and stepping back into a simpler time. It is also great value, especially for UK residents. This is the start of a wonderful golfing pilgrimage and as you travel south you arrive at Golspie.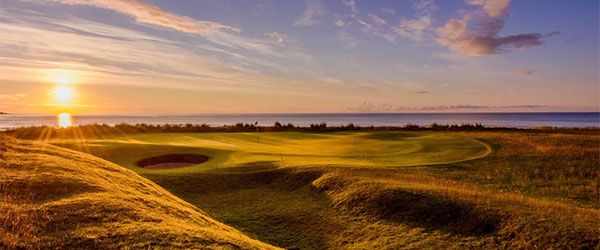 Golspie Golf Club
Another great track by James Braid, Golspie is somewhat of a hybrid course and not completely links like Brora. The course starts as links and then gives you some heathland-type terrain around the turn and back to links to finish.
Golspie oozes the highland welcome and your party will feel very welcome when you arrive here. The course gets extra pretty when you're in the heather. At just over 6,000 yards the course is a lovely length for a society and it is basically impossible to leave this course without a smile on your face.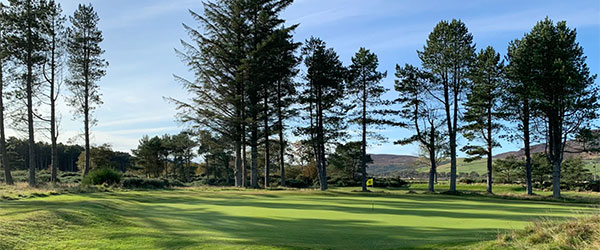 Royal Dornoch Golf Club
Time to move south again, to Royal Dornoch. The biggest compliment that you can give Dornoch is that when you visit here you forget you're a visitor. As soon as you arrive you are made to feel like a member who has been around for decades.
Royal Dornoch has a cult-like following, anyone who has played it just cannot say enough good things about the experience. The Championship Course is just phenomenal and is currently being refurbished to be even better. The Struie is as good a second course as any you will find.
You could spend an awful lot of time enjoying life at Royal Dornoch. All good things must come to an end, but this golf trip ends on a high. From one Old Tom Morris course to another; we close out with Tain Golf Club.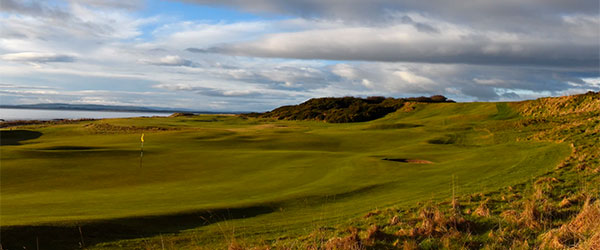 Tain Golf Club
The Aldie Burn snakes its way through the course and is a frequent hazard to avoid as you play. This is another really fun course that is perfect for a society trip. Sitting between the Dornoch Firth and mountains of the Northern Highlands, this is a course in a stunning setting that will undoubtedly make for a joyful round.
Courses like Tain have the ability to make you smile even when your golf isn't going well. However, if the golf isn't enough to please you, Tain is very famous for something else – whisky. This is the home of Glenmorangie so you can have a dram in the clubhouse to cap-off your day.
A society trip is as much about the people you are with as it is the courses you play. That doesn't mean that you should accept sub-standard golf though. There are plenty of options in this article to help you create the perfect golf trip for your society or club.
From luxurious to great value, from day-trip to full-on golfing pilgrimage, everyone is catered for here. The most important thing about a venue for this kind of trip is a welcoming clubhouse with a relaxed atmosphere and a nice little cluster of courses.
The challenge that you will have when choosing where to go for your society trip to Scotland is choosing between the incredible options. You know your golfers best so speak to the team at YourGolfTravel and they can help you craft the perfect trip so that you're the hero in the end.