The Turkish Open Knockout 2014 June 2014 - October 2014
Hosted by Darren Clarke and Chubby Chandler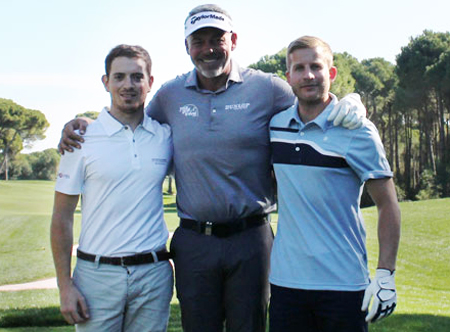 The Turkish Open Knockout ran over three rounds from June - October 2014, across twelve regions throughout the UK. Your Golf Travel received approximately 250 entries for the 2014 competition, with teams battling their way down to 32 pairs for the regional finals.
The regional finals were split in two regions, the Northern location at Stapleford Park and the Southern location at Hanbury Manor on Wednesday 22nd October. With a big prize at stake, all 32 golfers battled it out to become one of the top 4 pairs from each location, with scores ranging from 23 up to the winning score of an incredible 49 points.
Top 4 pairs from Stapleford Park:
Stray Cats (Jonathan Hunter & Stephen Bentley)
Bobs Boys (Luke Eustace & Robert Cooper)
Mag'n'Lad (Gavin Keyworth & Steven Keyworth)
Roseberry Lads (Kevin Bowman & David Jenkinson)
Top 4 pairs from Hanbury Manor:
Hack Attack 2 (Tim Hollis & Jak Alcock)
The Badondes (Jon Ni'Man & Liam Swann)
Bulldog (James Temperley & Jimmy Temperley)
G R (Gary Begbie & Rob Wheeler)
Ten days after the regional qualifiers, our 16 pairs were met at Gatwick airport and flown to the all-inclusive 5* Cornelia Diamond Golf and Spa Resort in Antalya, Turkey.
After a practice round to familiarise golfers with the course, the finalists continued their battle over three further knockout tournament rounds to earn a place in the final on Tuesday 11th November.
The final saw the Yorkshire pair Alan Cooper and Luke Eustace take on Dorset duo Jon Niman and Liam Swann in an extremely tense affair, where victory was claimed on the 19th hole when Swann holed the winning putt.
After a group evening of dinner and celebrations, winning duo Jon and Liam took to the stunning Montgomerie course to play alongside Your Golf Travel ambassador and former Open Champion, Darren Clarke in the Turkish Airlines Open Pro-Am.

Clarke congratulated the players on their play-off victory, saying "It's always nice to hole a 15 footer in the dark to win, I haven't managed it myself for a while!"
Niman said, "We're obviously over the moon to win, playing with Darren was a surreal experience and getting to play the course in tournament conditions was something we'll never forget".

Not content to just rest on their laurels, the dynamic duo, with Darren's help of course, then went on to shoot an amazing score of -20 in the Pro-Am, and in doing so claimed a 2nd place finish in the event, only being bested by a single shot by the team of Swedish sensation, Jonas Blixt.
Niman also managed to beat the pros and claim longest drive!
Back for 2015, the event will return to The Cornelia Diamond Golf and Spa Resort in Turkey with pairs from across the UK to challenge the Knockout Champions title.
Looking forward to next year's tournament, Darren Clarke welcomed entrants saying, "If you'd like to follow in these guy's footsteps and play with me next year be sure to Tell Them Darren Sent You and not Lee!"
If you want to be in Turkey with us in 2015 then please enter the competition now! Entries close at midnight on Thursday 30th April 2015.