Book Golf Holidays including flights to Spain, Portugal, USA, Turkey & more!
As ATOL and IATA licence holders, Your Golf Travel are pleased to offer golf holidays including flights to many of the great destinations throughout Europe and the Rest of the World. Whether it is a short weekend golf trip to the Algarve or a luxury golf inclusive package to Mauritius, we're sure to find the perfect fairway for you. With a host of flights and airlines to choose from, all you'll need to do is, let us know your preferred date of travel and departure airport and we'll do the rest.
With our specialist flight department, we are able to secure flights at the best available contracted rates, so that your entire golfing holiday can be booked with confidence. We have negotiated airfares with all the major airlines for both short and long haul, such as British Airways, Thomas Cook Airlines, Virgin Atlantic and Etihad Airways to make sure that just a standard deposit is required.
We also have some fantastic opportunities with regards to group bookings of 8 or more:
Small Deposit per person required to secure the group
Names not required at the time of booking
Flexibility to change names until the final balance is paid
With flight prices changing on a frequent basis, the below are listed as a guide, however we'll be pleased to provide you with a tailored quote to any of our 3,500 destinations across the world.
Golf Holidays to Spain Including Flights
When it comes to golf holidays in Europe, Spain has some of the very best flight routes. With the likes of Malaga and Alicante amongst the most popular tourist flight destinations for golfers travelling from the UK it is easy to find a fantastic flight to match in with your golfing package. Those travelling to the likes of La Manga or Mar Menor in Murcia have options of travelling into Murcia which is a much shorter transfer into resort while Alicante airport is a simple drive of around an hour.
Golf Holidays to Portugal Including Flights
Faro airport in the Algarve is one of the best in the world for golfers, the popular destinations of Vilamoura, Vale do Lobo and Quinta do Lago are around a 20 minute drive from the terminal, while other golfing spots such as Penina and the West Algarve can be reached in less than an hour. For this reason many people opt to travel early morning from their departure airport which will in turn allow a round of golf to be played in the afternoon on the day of arrival. Those wanting to experience the great golf on Lisbon's coast will enjoy regular flights out of Heathrow and Gatwick which open up a wide variety of different courses, from the links layouts at Praia D'El Rey to the popular tree-lined designs at Aroeira.
Golf Holidays to Italy Including Flights
Its hard not to fall in love with a golf holiday to Italy. With great regional airports and lots of low cost flights getting to Italy has never been easier. Superb Hotels and beautiful Golf courses from Sicily to the Italian Lakes and Rome, Ryder Cup host city in 2022, await you in the country renowned for its passion.
Golf Holidays to Turkey Including Flights
When we head to Turkey, Antalya International Airport is only a 30-minute drive from the centre of Belek, where you will find many stunning golf courses along with 5* luxury Resorts. Travelling from the UK, major cities including London, Manchester, Birmingham & Glasgow all offer direct flights to Antalya.
Golf Holidays to Morocco Including Flights
In recent years the improved flight routes into Marrakech, Agadir, Essaouira and Casablanca has opened up some fantastic golf resorts to exploring golfers. With year-round sunshine and a host of championship designs by the likes of Jack Nicklaus and Gary Player, it is easy to see why this North African destination has become a place people return to year after year.
Golf Holidays to America Including Flights
The USA is arguably the best place for a long haul golf trip. With the likes of Scottsdale, Florida and California boasting courses ranking amongst the Top 100 golf course rankings across the globe, its easy to see why golfers head to America. For those wanting to follow in the footsteps of the PGA Tour, we have a host of fantastic packages to PLAYERS Championship host Sawgrass, AT&T Pro-Am host Pebble Beach as well as a chance to recreate one of the most lively tournament experiences at TPC Scottsdale playing the famous par-3 16th hole.
Golf Holidays to Dubai, Abu Dhabi, Mauritius & Caribbean Including Flights
Dreaming of some white sand beaches while enjoying a golf holiday? Well, look no further, we have some incredible options playing and staying at incredible golf resorts with access to some of the most picturesque golf courses in the world. Fancy playing golf on a private island, only accessible by speedboat? Head over to Le Touessrok in Mauritius...or maybe some guaranteed sunshine playing some hidden gem Championship courses? Grab your clubs and go to Abu Dhabi to play the impressive Yas Links, Saadiyat Beach and Abu Dhabi Golf Club.
FREE Golf Club Carriage with CityJet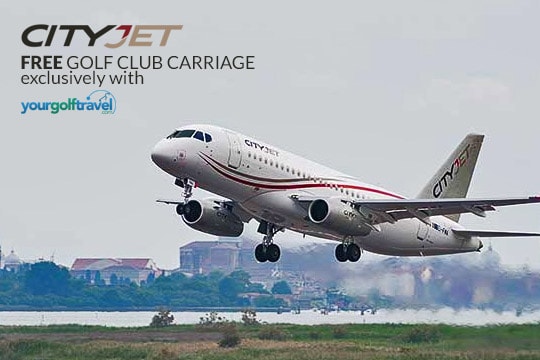 For those seeking to take a golf holiday with a flight out of London's City airport should look no further than the fantastic CityJet. With amazing options into Dublin, Avingnon, Florence and Toulon you'll enjoy some world class golf at the likes of 2006 Ryder Cup venue, The K Club, which is just outside of Dublin or the stunning Montecatini Golf Club which is within easy reach of Florence.
There are very few golfing locations in the world that offer the sheer abundance and quality of world class Links & Parkland courses which the Island of Ireland provides.
London City Airport is ideally located for those travelling to and from London and Greater London. With great public transport links and road connections on the doorstep, central London is no more than 30 minutes away. In under 1hour and 30 minutes from your office in London, you can be on the fairways of some of the best golf courses in the world!
For a limited time, exclusively with Your Golf Travel and our partnership with CityJet, we're pleased to offer FREE golf club carriage as part of your booking, saving £70. CityJet also offer generous 12 kg carry on luggage and a fantastic selection of complimentary drinks and snacks onboard. Simply select one of the fantastic offers below and we'll be thrilled to assist with your next city golfing trip.
Terms & Conditions
Free golf bag allowance up to 23kg
A deposit will be required at time of booking, subject to availability
To selected destinations Dublin , Florence, Avignon and Toulon from London City Airport.
Promotion available on CityJet operated flights only.
CityJet baggage policy applies.