Lee Westwood Your Golf Travel Ambassador
We're thrilled to have 9-time Ryder Cupper Lee Westwood as our ambassador, joining his good friend and ISM stablemate Darren Clarke to bring Your Golf Travel customers, the very best golf holidays and deals at fantastic destinations across the globe.
With 40 professional victories, Lee's golfing highlights include best finishes of 2nd at The Open and The Masters as well as ties for 3rd in the US Open and USPGA. As a regular on the PGA Tour, Westwood will be bringing YGT customers a unique insight and advice from the US.
Lee's career has seen him reach the very top of the game, assuming the mantle of World Number 1 in October 2010. As one of Europe's most successful Ryder Cup players, Westwood is now just 2 points shy of Nick Faldo's record of 25 points.
Lee will be hosting exclusive giveaways, competitions and even opportunities to play with him so make sure you keep checking back here for your chance to win!
---
Exclusive Ryder Cup Interview
We caught up with Lee Westwood on Tuesday following Europe's victory at Gleneagles where Westwood claimed 2 points from his 4 matches.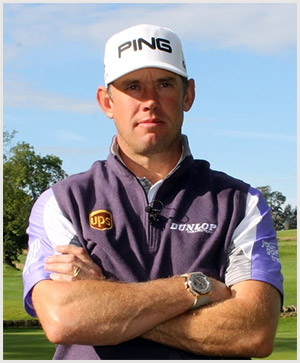 Lee, thanks for joining us so soon after another momentous Ryder Cup victory. Can I start by asking what the celebrations entailed?
Quite a lot of drinking (laughs). It went on quite late. I left the party at about 5.30am and I was definitely not the last to leave. It was a case of all the lads and the team around us getting together and celebrating the win afterwards and letting our hair down; just having some fun really.
How does the head feel this morning?
The head feels a lot better this morning than it did yesterday morning, I can tell you. I had a good night's sleep last night which followed on from the hour's sleep I had on Sunday night.
What does Lee Westwood prescribe to cure a Ryder Cup hangover?
Definitely a big fry-up.
You and Jamie Donaldson formed quite a strong partnership with 2 points from your three matches. When did you find out you would be playing together?
The seed was sown a couple of weeks beforehand and we played with each other in Wales and then we played with each other in the practice rounds. That was obviously part of Paul's plan and I guess part of the reason why he picked me really; he saw a match-up there with Jamie and it worked out well. We've got very similar games and we complimented each other well.
In recent Ryder Cups you've been paired with similarly experienced guys in Darren Clarke and Sergio Garcia. How did you find partnering a rookie?
It was good. I've played with a few rookies now; obviously I've played with Sergio and Darren... Faldo and Monty – all with plenty of experience - but at the same time I've played with Martin Kaymer at his first one and Soren Hansen and obviously this time with Jamie. I enjoyed it. When you're a senior player you have to take on that responsible role where you show somebody the ropes.
I'm sure that you're aware of Phil Mickelson's very public criticism of Tom Watson's captaincy on Sunday afternoon. How much does a captain and the way they set up the week actually impact you as a player?
The captain can make a big difference. Paul showed that he pulled his team all together, got us bonding well and got the right partnerships and sent us out in the right order. Whereas Tom, the lads have criticised him a little bit, a few of them felt alienated and a few thought he was a little bit out of touch with some of the team. But it's very difficult to talk about somebody when you're not in that team room and in that atmosphere; a lot of it you're hearing second and third hand. I don't want to comment too much too much on Tom's captaincy because I respect the man and I've got on well with Tom for years; I think he's a legend and a nice guy. But I will comment on McGinley's captaincy and I thought he did an unbelievable job. I couldn't pick any holes in his captaincy to be honest.
Looking towards Hazeltine in 2016, who would you like to see fill Paul McGinley's shoes?
I think Darren should get the job next time around. I think it was very close between Paul and Darren this time. Darren is well respected in the United States and obviously the match is in Minnesota. He's well respected by the players aswell and he's still playing on the Tour, so he knows a lot of the players and is still in touch with a lot of players. He's obviously got a great Ryder Cup record and I think he'd make a good captain. He's got a lot of other recent European captains to pick bits off their captaincy and I'm sure Paul would sit down with Darren and help him if he ever needed it. I think Darren would be the ideal choice.
---
Lee's Favourite Overseas Venues
I've put together a brief selection of some of the venues I've either been lucky enough to win at or been the scene of a great Ryder Cup!
---
Lee's Favourite UK & Ireland Venues
From Ryder Cup's at The Belfry and The K Club to my attached course, Close House, I take a look at some of my most memorable courses in the UK and Ireland.
---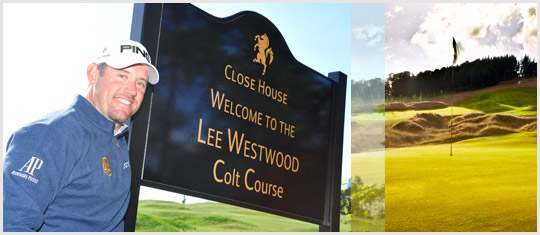 Lee Westwood and Close House
As the attached Tour Professional at Close House, Lee has been involved in some of the exciting new developments at one of the North East's premier golfing destinations. Having been involved in the design of both courses, Lee is looking forward to the resort hosting a major tournament in the not too distant future. For those wanting to play the course now, simply check out the Close House page here.
Those booking a group of 12 or more with Your Golf Travel will receive an invite to play in the Lee Westwood Golf Day at Close House for them and a partner! Terms and conditions apply, speak to your YGT consultant at time of booking for more information.