Mark Crossfield, one of Your Golf Travel's digital partners, has been affiliated with the brand for 5 years now and while known as a YouTube pioneer, he is also a highly successful PGA Pro/Coach. With fellow pro Matt (Coach) Lockey and our very own (YGT) Rory Anderson, Mark travels around the world showing our audience the best golf courses you can play.
Mark's career thus far has been one of huge progression; he started out coaching at Clifton Hill Driving Range, then began to review equipment and give online lessons on his YouTube channel. Nowadays, many look to Mark's channel for unbiased golf reviews still, but predominantly to watch him and 'The Muppets' take on courses in the UK, Europe and America, inspiring golfers of all abilities to travel the world and play these famous courses.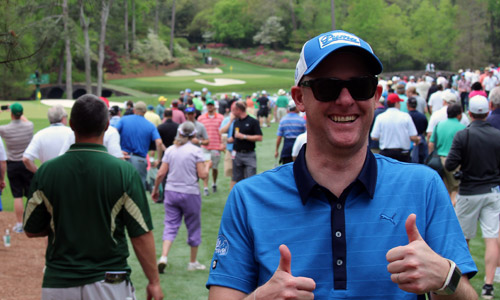 Your Golf Travel Tours
With the aim to show both his own and our audience just how accessible, affordable and simply amazing the golf courses he plays are, the YGT golf tours have become an internet sensation.
Along with Rory, Lockey and occasionally PGA Pro Dan Hendriksen, they have visited some truly astonishing venues and recorded course vlogs which offer everything from brilliant insight and amazing footage to terrible shanks and hilarious gags.
Ireland Tour
With so many fantastic golf courses in and around Dublin deciding where to play can be very tricky. So in order to help you out, in the summer of 2018 we sent Mark and co. across to The Emerald Isle to take on its best courses.
Northern Ireland Tour
As well as covering the best that Ireland has to offer, the gang crossed the border and began filming on some Northern Ireland fairways. With some heavenly links golf at their disposal, some brilliant filming took place, really showing the beauty of the likes of Lough Erne and co.
US Masters Tour
Augusta National is arguably the world's most famous golf course and watching the Masters live is something on every golfer's bucket list. It just so happens that we have sent Mark there a couple of times now, each with a mix of golf tickets & local golf, which you can see from his videos below.
Turkey Tour
Turkey has rapidly become one of Europe's golfing destinations with a number of the world's greatest golf course designers flocking to the area to take advantage of the stunning natural landscape. We sent Mark and the gang to Turkey earlier on in 2018 to play what we think are both the best courses and give you the greatest value for money.
#Greatest18 Tour
Last year, we attempted to break down the plethora of golf courses in Andalucia, showcasing what we thought were the best 18 holes in the region. Across five days, we covered 18 golf courses, playing just a single hole at each and the outcome was one of the best golfing tours we've ever done.
Italy Tour
Having been announced as the 2022 host nation of the Ryder Cup, Italy is on the rise as one of Europe's leading places to play in Europe. The combination of fine cuisine, stunning scenery, excellent vineyards and glorious golf courses were on all show when we went The Muppets there in 2017.
Future Tours
So you've seen heard about some of the places where the boys have been but what is on the horizon for Mark, Lockey and Rory?
Well in the latter half of 2018 they will head back to the Costa Del Sol to play 5 of the courses that featured in the #Greatest18 and bring some of the region's best courses to your computer screen. They will also take a trip across the pond to the Sunshine State of Florida where they will try their hand round PGA National among others as well as a trip to the South of France.