Where would you like to go on your self catered golf holiday?
There are two main benefits derived from choosing a self catered golf holiday from Your Golf Travel.com - the first, and most important one is that it translates into fantastic value for money, with high end 4* and 5* destinations available at remarkable prices, while the second is that self catered accommodation ensures the extra privacy that is important to many.
Your Golf Travel.com works in partnership with leading resorts throughout the golfing world, many of which are complete with apartments, townhouses and villas that serve as the perfect base for a self catered golf holiday.
With the popularity of short breaks on the rise, many golfers are taking advantage of the low cost airlines to reach first class destinations like La Manga, Praia D'El Rey and Aphrodite Hills with incredible value. Families and larger groups are perfectly suited to self-catered accommodation, which is a phenomenal starting point for so many great golf holidays.
Self Catering Golf Breaks in the UK Self Catering Golf Holidays in Spain Self Catering Golf Holidays in Portugal Self Catering Golf Holidays in America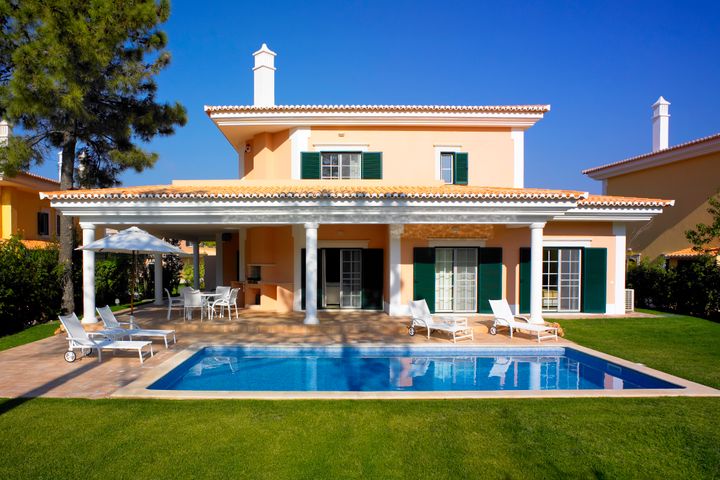 Self Catering Golf Breaks in the UK
A self catering golf holiday in the UK is an ideal solution for everyone involved. The golfers can enjoy a few rounds on the course while the other members of the family can visit any local tourist attractions. Of course while the appeal of staying in a plush hotel is obvious, staying in golf lodges, log cabins or holiday cottages on golf courses have many benefits. Having your own space gives you the freedom of enjoying your very own golf holiday without any requirements or constraints, while the authentic feel of many holiday homes provides a homely environment, perfect for ultimate relaxation after a day on the course. Our self-catering golf holiday deals in the UK feature some of the finest venues which incredible pedigree, from the Ryder Cup lodges at Celtic Manor to the lavish villas at Trump Turnberry, the accommodation is fit to match the golf.
Golfing Breaks & Holiday Lodge accommodation for groups
Self Catering Golf Holidays in Spain
Spain is one of Europe's most popular golfing destinations. It's excellent climate combined with fantastic access from UK airports make it the perfect short haul trip. Across the famous regions of Murcia and Andalucia there are incredible golf courses and resorts with five-star hotels. However they also feature some incredible self-catering accommodation through well-appointed villas and holiday apartments just a stones throw away from the championship golf courses. From the village villas at La Manga to the luxurious apartments at Roda Golf & Beach Resort, you can enjoy an affordable and unforgettable self-catering holiday in Spain.
Self Catering Golf Holidays in Portugal
With some of the best golf resorts in Europe, Portugal is often top of the list for golf holiday seekers. The amiable climate of the Algarve draws in golfers from across the globe with the likes of Vale do Lobo, Quinta do Lago and Monte Rei all considered must play destinations. For those seeking self catering golf break, the best options are found in the West Algarve around 30-40 minutes from Faro airport. Destinations such as Pestana Carvoerio Resort are a fine example of just how impressive golf villas and apartments in Portugal can be with exceptional facilities and perfect for large groups of golfers.
Self Catering Golf Holidays in America
With fantastic value flight options from UK airports, Championship golf courses and as well as almost year round sunshine, it is easy to see why so many take their golf holidays in America each year. Many of the best self-catering golf holidays to America can be found in what is potentially its greatest golfing region; South Carolina is not only home to hundreds of incredible courses but also a host of off-course activities which help make it the complete destination. However to accompany many of these Championship Courses are brilliant self-catering accommodation, whether staying at the well-appointed villas at Kiawah Island to the enviable location of Palmetto Dunes' apartments.
Here's what our customers thought of YGT's Self Catering holidays...
Self Catering Golf Holidays
Rated

4.9

/5 based on

11

customer reviews
A selection of reviews for Self Catering Golf Holidays to the UK, Portugal, Spain and more...
Stu
-
January 2016
5

/

5

*****
Not only was the villa secure, it was seriously awesome: with its own pool, back gate onto the beach, massive barbecue and walk-in fridge there was very little reason to leave the house.
Jason
-
December 2015
5

/

5

*****
Accommodation was first class, a 3 bed villa between the three of us overlooking Vale de Pinta. The courses were spectacular, we played Gramacho twice, Vale de Pinta once, Silves Twice and Vila Sol on our last day.
Richard
-
August 2014
5

/

5

*****
Just like to say thank you for organising a great golf trip to Cornwall for us. We played Trevose, Perranporth and Lanhydrock, where we were made to feel most welcome.
Fiona
-
August 2014
5

/

5

*****
Rockcliffe Hall is a brilliant place to go for a special golf break, whether you are a golfer or not. The staff are very friendly, helpful and efficient and the rooms were spacious and of a very high standard. The leisure area is one of the best I have been to - you could spend hours there...and we did!
Aaron
-
October 2013
5

/

5

*****
With our tee time looming we headed off to the lodge to prepare for our battle with the course. As we got closer to the lodge we got a sense of the tradition and history of the place. So many top golfers had played here, be it the Welsh open or last year's Ryder cup.
Karen
-
October 2013
5

/

5

*****
Checking in at Roda was quick and easy and everything was ready for us as soon as we arrived. There were 12 of us in the group so we had three separate apartments, each of which had three bedrooms with twin beds in each room. All three apartments were spacious, well equipped and in great condition; they were perfect for what we needed.
Kevin
-
October 2013
4

/

5

****
Our accommodation was excellent. We stayed at the La Manga Las Lomas Village and although it was a little remote, there were plenty of shuttle buses running between courses, bars and the apartments.
Paul
-
September 2013
5

/

5

*****
Great choice of championship courses. Accommodation was very nice. Best value golf resort in the Algarve, our 4th year planned.
Matthew
-
August 2013
5

/

5

*****
Just got back from Pestana Carvoeiro Resort, my group of 14 unanimously voted to return next year as our 1st choice destination, all enjoyed the top class accommodation, pools and facilities, Gramacho and Pinta courses were in great condition and the greens very true.
Ian
-
June 2013
5

/

5

*****
May I say that every body in my group including my self could not fault this trip in any way the Royal and Ocean courses were superb offering us some breathtaking views and good golf all the staff were extremely helpful and polite.
Joanne
-
May 2013
5

/

5

*****
Many thanks for suggesting this fantastic new resort for a golf holiday. The apartments were spacious and comfortable, and the location was perfect. Will certainly be returning!